This Victoria Beckham 73 Qs Spoof Is Perfect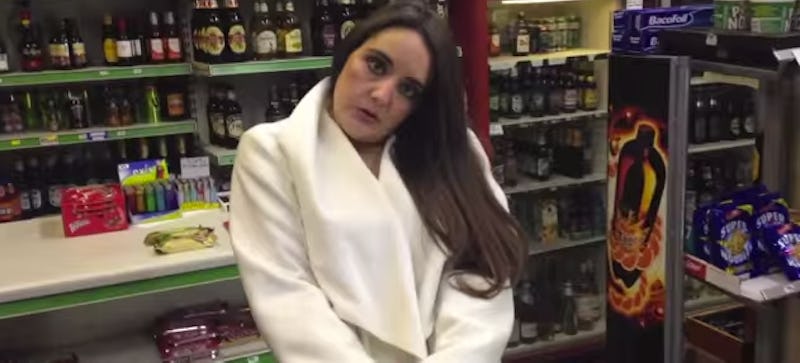 It's impossible not to love Vogue's "73 Questions" videos. They're like a secret, private, heavily scripted look behind the scenes into our favorite celebrities' inner lives. The series is also great because often the celebs they profile are notoriously mysterious — Anna Wintour, anyone? So, when I saw that Victoria Beckham was doing a 73 Questions video, I had to watch. I can't say I'm a Beckham super fan, but I do appreciate Victoria's work in the fashion world and her husband's abs, so I figured why not? And the video was all I hoped it would be: Glamorous, funny and utterly ridiculous. Ridiculous in the best way, of course. Beckham is such a character and the video was shot in a very... peculiar way. What does all of this add up to? A wonderful opportunity for a parody! Cut to: 17 Questions With Victoria Beckham, the spoof. Yes, it's hilarious.
The video features "Victoria Beckham," played by comedian Holly Burn, roaming around a convenience store, mirroring the same head-tilting mannerism as the real Beckham and, honestly, it's just all-around amazing. But, then again, so is the original video—and that's what makes it so funny. You'll have to watch for yourself to get just how hilariously silly it is, but just to give you an idea: Pop Tarts are referenced within the first 30 seconds. Like I said.