On 'RHOBH' Kyle & Brandi's Fight Over Kim Got Ugly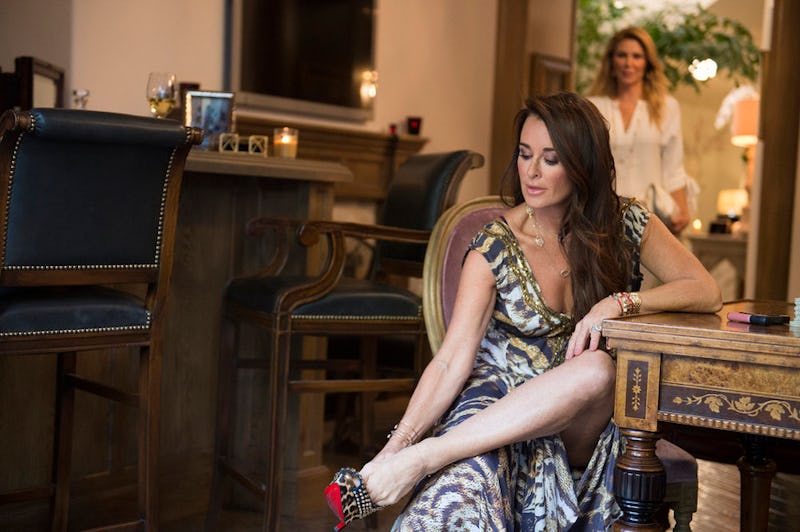 The cast members of The Real Housewives of Beverly Hills sat down for a poker game at Eileen Davidson's house at the tail end of Tuesday night's episode. Unfortunately, it wasn't really a win for anyone. Instead Kyle Richards and Brandi Glanville royally flushed Eileen's hopes for a pleasant evening down the drain by getting into a huge fight about Kim.
From the awkward wine tasting to Kim's car ride with Lisa Rinna, the entirety of Tuesday night's episode of RHOBH was hard to watch. It only got worse once the ladies sat down for a good-natured card game. Unfortunately with Kim's erratic behavior that night, tensions were high, especially with Kyle who had a feeling why Kim wasn't acting like herself.
Due to Kim's defensive behavior and saying "fuck you" to nearly everyone at the table, Kyle suspected that Kim had broken her sobriety before coming to Eileen's shindig. Kyle was also visibly frustrated at not performing well in poker as her sister seemed to shine, which Brandi picked up on. To make matters worse, as Brandi always seems to do, Brandi told Kyle she was "acting stupid" because she was so bad at poker. Now we didn't get a full-blown table flip from Kyle like The Real Housewives of New Jersey's Teresa Giudice when Danielle Staub insulted her intelligence, but you could tell Brandi was stoking the fire within Kyle.
Eventually we found out why Kim was acting so weird. Apparently, she was in pain and her ex-husband Monty had given her some medication before she left for Eileen's. Knowing her past problems with substance abuse, Kyle was disappointed that Kim would take medication like that again, although it's unclear just how much Kim took.
Feeling that things are getting a bit too hot at Eileen's, Kim decides to get out of the kitchen with Brandi. Speak of the devil, Brandi was getting along great with Kyle on the way to Eileen's. The two were gabbing over a bottle of champagne.
However, it's clear that Brandi had too much to drink. She was her usual obnoxious self, but this time with the bonus of saying she felt like she wanted to have sex with Eileen's husband Vincent when both of them were sitting right in front of her. Eileen was like, "Maybe not." I'll never understand why Brandi, who has so much vitriol for women that cheat, is so carefree about saying she wants to have sex with her friends' husbands.
But I digress. The most explosive moment came at the very end of the episode (of course) when Brandi tried to leave with Kim, but Kyle kept trailing behind wanting to speak with Kim. There was a bit of a scuffle between Kyle and Brandi, which resulted in Brandi shoving Kyle a bit. The preview for next Tuesday's episode shows that this will escalate to a shouting match between the three.
I love Housewives drama as much as the next person, but having Kim's issues be at the center of it and seeing her so clearly in pain just makes it feel wrong.
Image: Nicole Weingart/Bravo