What I Learned From Being A Bridesmaid 12 Times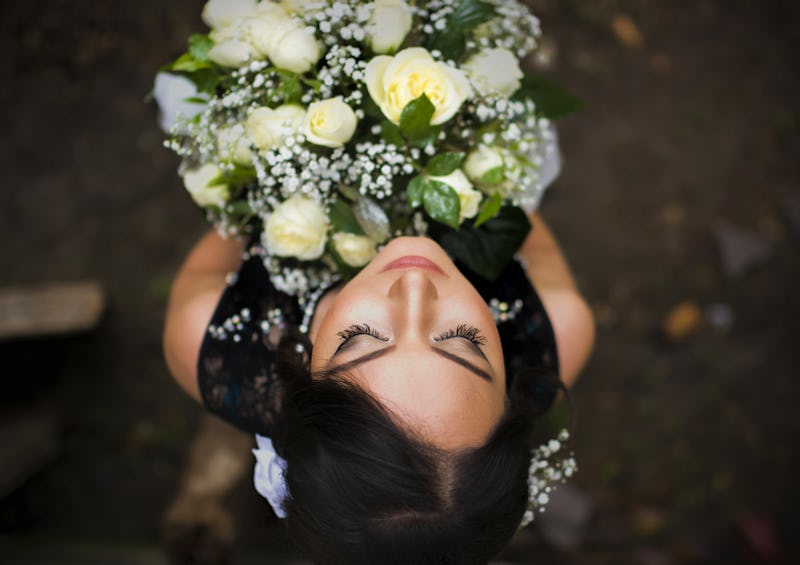 By Sarah Kiernan
"Will you be a bridesmaid?" is one of the sweetest questions a friend can ask. I've answered with a resounding "yes!" 12 times. Being a bridesmaid is wonderful. I'm honored my friends trust me to make their bridal experiences as amazing as they want them to be, and I get to be involved in an array of fun bridal activities like bachelorette parties, showers and dress shopping.
My excitement each time I've been asked was so great, it managed to overshadow what inevitably comes next: figuring out how exactly to pay for it.
For the majority of my bridesmaid experiences, I was either in my early twenties, making an entry-level salary, or in my late twenties, working for a non-profit company. Those factors combined with an expensive lifestyle in New York City means my expendable income was next to nothing. I was always aware of my limited resources, but in the moment I was asked to be a part of a friend's wedding, I resolved to just "figure it out" as the expenses came in — and that typically meant adding to my credit card debt.
Each wedding has cost between $1,000 and $1,500. Of course, this includes the bridesmaid dress, which has run me anywhere from $100 to $325. Spending that much money on a dress hurts, considering it's an outfit you'll wear for a maximum of six hours. No matter what anyone says, no one feels good in a bridesmaid dress (emotionally or physically). Once you factor in another $100 for alterations and the fact that my plus-sized options were usually more expensive, you've got a recipe for extra stress, embarrassment and a large credit card payment.
Next there's the bridal shower, which adds on more unpredictable costs. Most bridal showers I've hosted were split between bridesmaids and/or the bride's family and have been between $100 and $150 — plus another $50 for a gift. This is one of the more stressful events because planning is tough! I would get sidetracked at work because I was consumed with RSVPs and registries and taking care of all the details.
And of course, the bachelorette party: Through the years, this has evolved from a fun, debaucherous night out with girlfriends to a full-blown weekend of expenses — meaning you're paying for out-of-town travel, which can end up costing hundreds. The stress of planning a weekend away for a group of women is enough to throw anyone over the edge: In one instance, another bridesmaid was insistent we sign up for a full spa day, costing each person more than $200, which created a huge divide between her and the rest of the women that lasted throughout the wedding.
Then there's the big day. If it's a destination wedding — and eight out of 12 times it has been — airfare and hotel rooms run up another $500 or so. Once the wedding day arrives, small add-on costs build up too, like $100 for hair and makeup, manicure and pedicures and many pre-wedding cocktails.
All of these costs can feel overwhelming, and the financial stress has the potential of creating a dark cloud over the wedding and resentment toward the bridal party if you're not careful. The initial glee of being a bridesmaid can fade quickly as your bank account depletes. But through my many experiences — both good and bad, I've learned some lessons on how to have fun without having a financial meltdown.
Here are three lessons:
1. Be honest.
It can be embarrassing to be that girl who says something costs more than she can afford. However, you'll likely find the rest of the women in the bridal party will be thankful you spoke up. It's the bride's big day, and while she certainly has her own vision, you're the one who will be making the payments.
Whenever a friend asked me to be a part of her wedding, I made a point to tell her I didn't have a lot of money and things were going to be hard for me. I felt better putting this out there in the beginning. One bride threw a fit when I bought slightly different (but much cheaper) shoes than the ones she picked out. I initially felt shamed and panicked about it, but I was honest and told her it's what I could afford — and in the big picture of her wedding, it was a small detail. She understood and got over it.
2. It's OK to say no.
Apply this lesson whenever you need to. It's OK to say no to being a bridesmaid at all if you aren't up for all the financial (and non-financial) responsibility that accompanies this commitment. And it's also OK to be in the wedding party, but to say you can't attend the bachelorette party or you can't afford to co-host the shower.
Once I was in a destination wedding, and the bride also wanted to have a destination bachelorette party that involved a flight and a lot of activities. I had to call her and say, "I don't have the money to attend because of all the other wedding expenses." It was awkward in the moment, but I felt better saving the money rather than feeling resentful for such an extravagant weekend the whole time I was there. She understood my situation and didn't think any less of me as a friend or a bridesmaid for sitting it out.
3. Be resourceful.
Much like a bride who is furiously flipping through DIY bride books, you can find ways to save money for yourself and the rest of the party, too. Use your Google skills to find the least expensive pair of open-toed silver shoes on the Internet and send a link to the bride and other bridesmaids to show them the deal your found. Or plan the perfect bridal shower brunch where everyone can make something inexpensive to save on catering. Remember, at the end of the day, there's always a way to do anything for less money; it just takes more time and brain power.
So would I be a bridesmaid for a 13th time? Yes, I would. Even after looking back at all the money and time I've spent, I still believe that good friendship justifies the investment. Celebrating the people we love is worth it. But I'll make sure to follow my own advice and only participate when I'm comfortable. That's not only best for my bank account, but my friendships.
This article originally appeared at DailyWorth. Copyright 2015. Follow DailyWorth on Twitter and Facebook.
You Might Also Like: How Much Should You Spend on a Wedding Gift?6 Common Money FightsIs It Anti-Feminist to Let Him Pay?
Image: Fotolia