This Is The Easiest Way To Find Perfect Officewear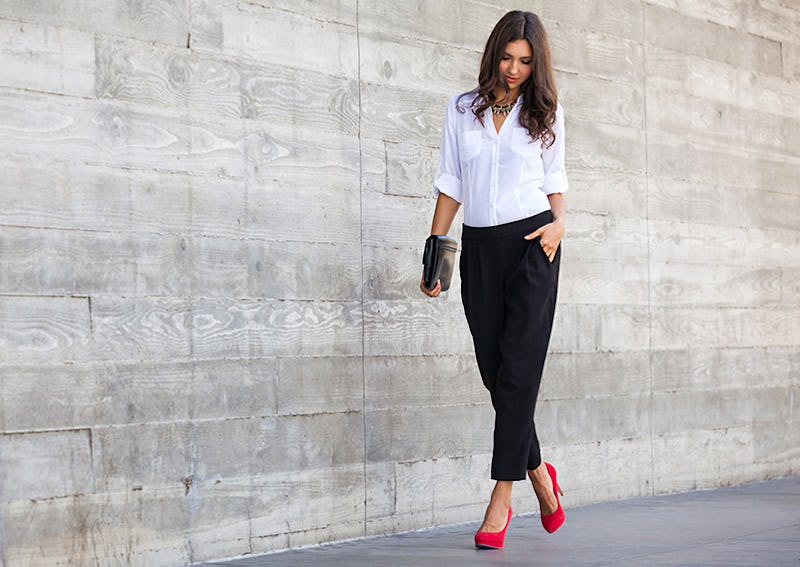 For the fashion-obsessed, selecting a streamlined work wardrobe is akin to mandatory candy consumption, but not all professionals enjoy the task. In their defense, office dress codes are often not the most malleable, and those "adult wardrobe staples" come with a steep price tag if you desire a baseline level of quality. You can't find anything that's good, fast, and cheap (or so the expression goes)... but retailer Byer California is attempting to overturn that idiom.
In addition to an array of trendy items, such as diaphanous '70s-inspired dresses and slim cigarette pants, the company offers a Byer Basics Box for those indispensable items without which a closet wouldn't be complete. Composed of a white button down, a black two-button blazer, a slim black pencil skirt, and black trousers, the reasonably priced $98 box covers every fundamental item needed to build an office-ready ensemble. If a complex, multifaceted wardrobe is the equivalent of an impossibly difficult to assemble Ikea shelving system, Byer's Basic Box is the tool kit you need to get started. In pursuit of what could be the next Banana Republic or Ellen Tracy for the professional wardrobe, I secured a box for myself.
The selection process on the Byer website is as streamlined as can be. After selecting the Basics option, Byer's site provides a window with each of the four Byer basics with available colors and sizing to choose from and place in your cart at once. The Basic Button Down Shirt and Basic Blazer run on a Small/Medium/Large sizing scale, while the Basic Skirt and Basic Pant are available in numerical sizes from two to twelve.
It must be said that packaging is an essential facet of any shopping experience, and Byer deserves high marks for presentation. The Basics Box itself is rendered in a beautifully cheery shade of yellow, making what could be a mundane task to some into an more enjoyable experience entirely.
Much like the average Ikea purchase, the Byer Basics Box isn't for those who crave unexpected frills or avant-garde details last seen on the Fashion Week Runway. Each item comes exactly as pictured, fitted to your form based on the chosen sizing. Byers' sizing additionally runs slightly larger than your average department store brand; after trying on the Basic Skirt, I found several inches of extra room around the waist and upper thigh, though admittedly the discovery was kinda nice after years of attempting to squeeze into microscopic designer sizes when I occasionally decide to splurge. Though I detest trying on jeans, trousers, or pants of any sort, I was pleasantly surprised by the Basic Pants, which hugged the thigh and then fell to the floor in a wide leg pattern — even if there were several inches of fabric pooling on the floor thanks to my shortness
The blouse and blazer fit true to size down to the cuff length of the jacket, which hit at a flattering point on my wrist instead of at the elbow or several inches above the hand.
Aside from my lingering craving for unique detailing or idiosyncratic accents, the Byer Basics Box's only detriment is one which boils down to personal preference: the fabric. Comprised of a combination of polyester, rayon, and spandex, the clothing does take comfort and movement into account, but I found myself missing the stiff rigidity of wool in the blazer, and the relaxed feel of cotton in the skirt. The slight sheen of the button down mimics the look of silk and the stiff yet slightly pliable cut of the skirt may appear like wool, but more meticulous consumers may hesitate at the difference in quality.
Despite a foible here and there, the Byer Basics Box is a college graduate's saving grace for entering the work world. Few have the finances or know-how to choose a streamlined or commanding wardrobe at 21, and Byer simplifies the grueling process with an unbeatably low price tag. For a quick fix to a lack of closet essentials, Byer is a pretty good bet.
Images: Courtesy Byer California; Tyler Atwood