'With This Ring' Has Very Impressive Ladies BTS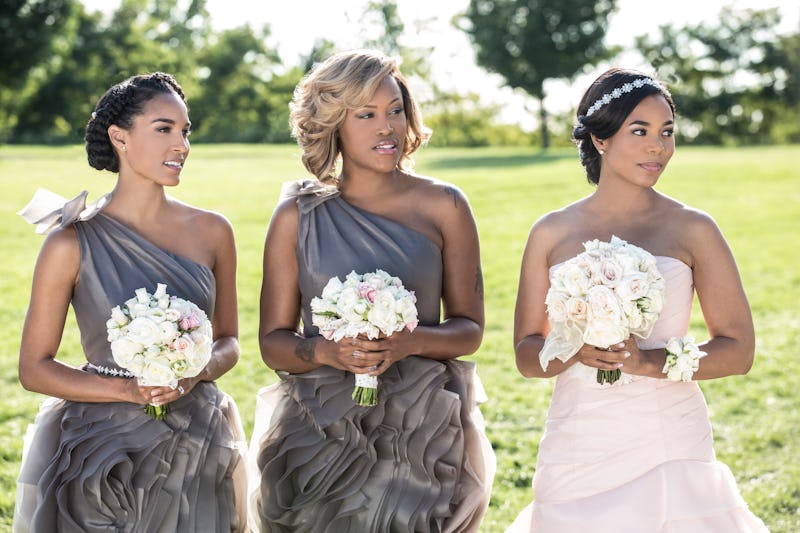 In the first moments of Lifetime's new TV movie With This Ring, Trish (played by Regina Hall) tells the audience that there might not be anything worse than being a bridesmaid as a single woman. Right on — it can be hard to try to keep those eyes dry while you watch your friend(s) tie the knot with their supposed soulmates. Of course, you're thrilled for them, but being surrounded by the singles at the singles table is enough to make you wanna eat your piece of wedding cake in the coat closet. Alone. With This Ring premieres Saturday night on Lifetime and it has plenty of relatable moments like those, even though it's not necessarily based on a true story. The movie is pure fiction and based on another work — the smash hit novel The Vow by Angela Burt-Murray, Denene Millner, and Mitzi Miller. Burt-Murray, Millner, and Miller wrote the chick-lit phenomenon that was published in 2005. Ten years later, it's made its way to the TV screen as a Lifetime TV movie starring Regina Hall, Jill Scott, and Eve Jeffers-Cooper.
Actress and NBA enthusiast Gabrielle Union serves as an exec producer for the telefilm that's been in the works since 2008. "Gabrielle has never given up and Nzingha [Stewart] came onboard and turned it into a screenplay," Miller told CocoaFab (which was co-founded by Burt-Murray, see below). "She kept her word and she pushed our story through and now it's finally being told. It's like a circle. It feels like an absolute dream come true. It's just one of those things where it's a vision realized and when those things happen you just feel so incredibly blessed."
Here's some more information about these talented writers, authors, and editors who wrote the book on which With This Ring is based.
Angela Burt-Murray
Burt-Murray has topped enough magazine mastheads to make you feel just a little inadequate. Most recently, she was the editor-in-chief of Essence from 2005 until 2010. Under her leadership, the magazine established news and relationship sections, as well as publishing books and establishing a book club. Burt-Murray left Essence to relocate with her family to Atlanta, where she co-founded CocoaFab.
Before that, Burt-Murray was the executive editor of Teen People from 2003 to 2005 and the executive editor of Honey Magazine from 2001 to 2003. It was during her time at Honey when she got some of her inspiration for Trish in The Vow and With This Ring.
"At the time I was working as a journalist at Honey magazine and I was in that celebrity world and I had contacts with a lot of agents and managers and publicists and I always found that world to be quite interesting," she told CocoaFab. "I built the character of Trista out of dealing with those sorts of people and wanting to create this character who is very driven about her career but who is also maybe neglecting another aspect of her life."
Denene Millner
The Vow is actually one of 22 books Millner has written over the course of her career — whoa, right? She's also co-authored with Steve Harvey the New York Times No.1 bestsellers Straight Talk, No Chaser and Act Like a Lady, Think Like A Man, a book that inspired the popular feature film franchise Think Like a Man.
Millner is an accomplished journalist, as well. She worked as a reporter for the Associated Press and the New York Daily News, then as an editor at Honey magazine and Parenting. Millner incorporated her experience as a journalist into the character of Viviane, played by Scott, who she always envisioned as the character.
"The way that I wrote her is she was supposed to be every woman," Millner told CocoaFab. "A single mom who built a really nice life for herself and her child. I have never been a single mom but I'm a mother and a woman and I know what it means to put so many other needs in front of your own and how that translates. Between that and the fact that she was an entertainment reporter like I was, I brought a little piece of who I am in creating this character."
Mitzi Miller
Miller is another accomplished lady in this very successful bunch. She was just named editor-in-chief of Ebony magazine, the No. 1 African-American lifestyle publication, last year. Previously, she revamped Jet as editor-in-chief for three years, worked as an editor at Jane and Honey. In addition to those titles, Miller has authored four other books. She calls herself an "opinionated personality." Refinery29 calls her a "firecracker" and a "next-level trailblazer."
It's that experience as an editor and collaborator that Miller said made writing The Vow with Millner and Burt-Murray more fun than fighting. "All three of us are writers and editors so we understood that all we could do is make each other better so there wasn't ego involved," she told CocoaFab. "I think we all had personal and professional respect for each other so it was a seamless process."
Image: Bob Mahoney/Lifetime