9 'Glee' Performances That Were Pure Girl Power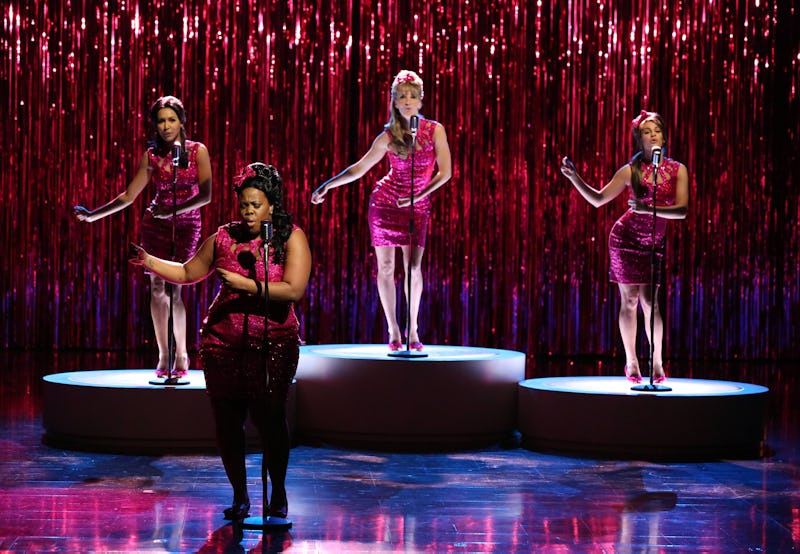 Can you hear it in the air, Gleeks? It's the swan song of Glee. As the series is drawing to a close (the Glee finale airs on March 6), it's time for us to reminisce and recount the show's best musical moments. On a series with so many strong, opinionated, and varied female characters (and unbelievable singers), personalities were bound to clash. Of course, this ignited true bouts of divadom throughout the Lima land: Rachel Berry belted against Santana while Mercedes faced off against Tina, and then a whole new crop of Lima losers popped up out of the fertile Ohio earth for a chance at having their voices be heard. And don't forget the solo-ready voices of Kurt and Unique: All of that competition breeds crazy talent. Naturally, we need to take a second to remember Glee's most powerful women-led performances as it comes to a close.
So what, for the purposes of this list, constitutes a pitch-diva-perfect musical moment? In a nutshell, it's the trifecta of a set of killer pipes, savagely good dance moves (Brittany makes it onto this list just for that), and, most importantly, a whole hell of a lot of attitude: No wallflowers need apply for these performances. This list boasts Glee's top ten best, most diva-crowning moments, spanning tunes from Barbra to Beyoncé.
Mercedes: "And I Am Telling You"
What better song to sing to prove your aptitude for a solo? This is not an easy tune by any means. Mercedes absolutely murders this track, taken from the musical Showgirls: She's vying for a solo spot at Sectionals in lieu of the oft-chosen Rachel Berry. With vocals like this, how could you deny her?
Santana, Mercedes & The Girls: "Rumor Has It/Someone Like You"
This is unequivocally the best mash-up that Glee has ever done — and it's a nice redemption from that garbage "Halo/Walking On Sunshine" mash-up the girls did on the first mash-ups episode. Anyway, this performance boasts two of the show's strongest female vocalists, some swag-tastic dance moves, and some brilliant emotion from Naya Rivera, whose Santana has just been rejected by Brittany. Heartache yields some wonderful musical results.
Rachel: "Don't Rain On My Parade"
I am admittedly not a big Rachel Berry fan (Glee wasted so many other great voices in order to constantly feature Lea Michele), and even though this is fairly early in the series, it's one of Rachel's pinnacle moments. Her dream is to play Fannie Brice in Funny Girl (a role she eventually gets because of Murphy), and she nails this whole performance: vocals, attitude, and pure, unadulterated talent.
Brittany: "Run The World (Girls)"
Is this the best vocal? A million times no. But a diva list without Beyoncé is like peanut butter without jelly. Heather Morris is the best dancer on the show, and I could watch this number for hours. Though her voice is meh, but her moves are killer.
Holly Holiday: "Do You Want To Touch Me?"
Can you believe GOOP mistress herself Gwyneth Paltrow made this list? Me neither, but her Holly Holiday character came in and really shook things up on Glee. A sex education lesson to Joan Jett & The Blackhearts? Holly completely captivates everyone in the room, and if that's not divadom, I don't know what is.
Jake, Marley & Bree: "Nasty/Rhythm Nation"
Jake's clearly not a diva, but he is the so-called "Nasty" boy in this song and serves as the necessary fuel to Marley and Bree's fire. Marley is sick of him being a jerk (and Bree, the other woman in the cheating situation, is, as well), so she decides to tell him off with one of the tracks from Janet Jackson's coming-of-age Control, an album in which Jackson declared her own womanhood and autonomy. You go, girls.
Unique: "Boogie Shoes"
Ryan Murphy and Brad Falchuk covered a lot of ground on Glee, so when a young trans woman showed up on the scene, I wasn't too surprised. Was I surprised when her character was well-written and had the singing voice of an angel? Yes — these writers don't always get it right. The performance above is the first time we hear Unique sing, and it cements her as the diva for a new generation of Gleeks.
Mercedes, Tina, Santana, Sugar & Brittany: "Cell Block Tango"
If there was ever a female diva anthem to get revenge on all the men who have done you wrong, this is it. Though the reason for including the song on the show is problematic (the ladies of Glee are trying to support Coach Beiste, who is the victim of domestic violence at the hands of her boyfriend), the delivery is nothing but girl power.
Santana & Cheerleaders: "Nutbush City Limits"
What's more divalicious than showing up somewhere you're not really wanted and rocking the hell out of the room (and a Tina Turner tune)? That's what Santana and her St. Louis cheerleaders do here, arriving at Glee Club much to the chagrin of Tina and the other remaining Glee Club members. The episode is also titled "Diva," so of course her singing and dancing in a cheerleading outfit (but college this time) makes this list.
Images: Mike Yarish/FOX