No Word About Fate of Japanese ISIS Hostages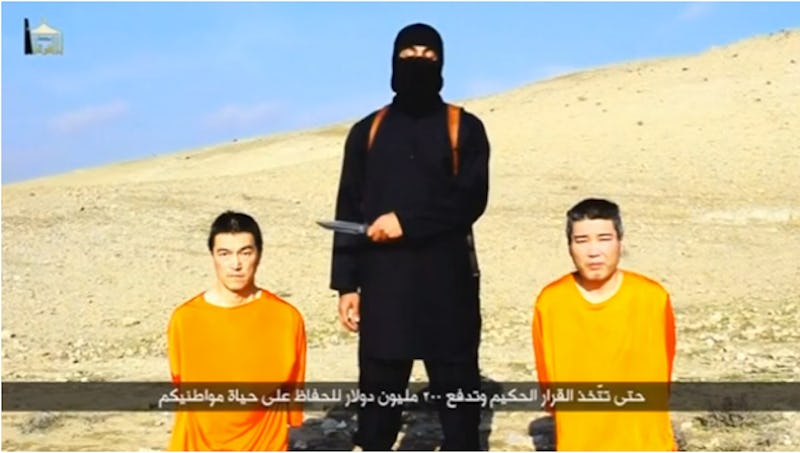 As Friday came and went in Japan, the ISIS deadline for Japanese hostages passed, their fate unknown still, as there remained no reports of progress in the effort to release the two men.
ISIS issued a video on Tuesday revealing the kidnapping of two male Japanese citizens, Kenji Goto and Haruna Yukawa, and gave the government 72 hours to pay a ransom of $200 million in exchange for the captives. By the estimates of that time frame, the government set the deadline at 2:50 p.m. Friday, Tokyo time (12:50 a.m. EST Friday). Hours before the deadline, reported CNN, an ISIS spokesperson told NHK, a Japanese broadcaster, that the extremist group would release a statement "soon" regarding the hostages — but as of now, ISIS has yet to be heard from.
Speaking an hour after the estimated deadline, Tokyo's top spokesman Yoshihide Suga told reporters at a press conference that the government still had not heard from the group. Suga said:
We will continue to make the utmost effort to release the two while asking relevant countries and various persons involved for their cooperation.
When pressed by NHK as to whether it was in negotiations with the Japanese government, CNN reported that the ISIS spokesperson declined to comment.
Earlier on Friday, Goto's mother Junko Ishido issued a plea of mercy to ISIS, saying that her son was not an enemy of the group. Ishido also expressed her apology for "the trouble" her son had caused:
Kenji is not the enemy of [ISIS]. Please release him. Japan has vowed never to engage in wars under Article 9 of our Constitution. We have not participated in a war for the past 70 years. Not only is Japan not an enemy of Muslim people, but we have always upheld our mutual friendship.
[I] would like to apologize from the bottom of my heart to the Japanese public and to the government of Japan the trouble Kenji has caused.
ISIS claimed that the ransom amount matched that of Prime Minister Shinzo Abe's non-military financial pledge to countries affected by the group. The government, however, has repeatedly stated that its military was only constitutionally allowed to make moves in self defense, and that Japan was not involved in military airstrikes against ISIS, CNN reported. Upon news of the men's capture, Abe said that the country would do all it can to secure their release, but vowed never to give in to terrorism.
Goto, a veteran journalist, is reported to have traveled to Syria attempting to establish contact with ISIS to free Yukawa, the founder of a private security company, who was captured in sometime after July 2014. Goto himself disappeared in late October.
Although their fate remains unsure, what's clear is that the abductions left the Japanese government, lacking political weight and diplomatic reach in the Middle East, scrambling for a solution. The possibility of the government shouldering blame for the situation remains, too, as reports that its botched attempt at an earlier hostage deal with ISIS pointed to a messy strategy in dealing with foreign extremist groups.
Images: CNN/Screenshot (2); Getty Images