Kendall Stars In Yet Another Campaign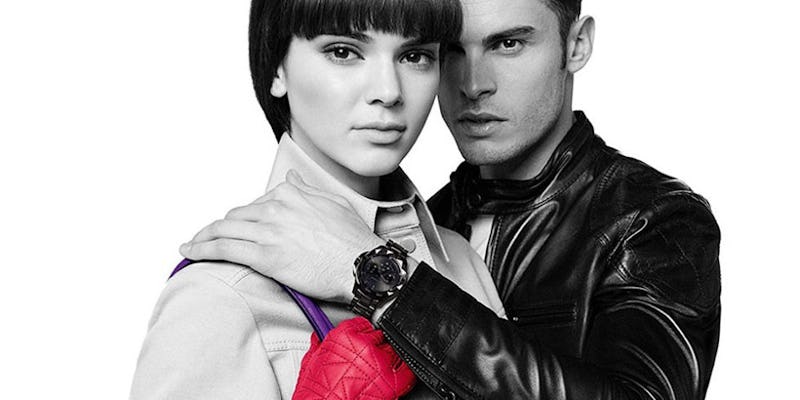 So apparently, we're just going to cast one model for every single fashion campaign from here on out. Kendall Jenner stars in Karl Lagerfeld's spring campaign, so between modeling for Chanel, Marc Jacobs, being the face of Estée Lauder, and countless numbers of Vogue editorials, forget "face of" x and y designer, this girl is clearly just the face of fashion, period.
Lagerfeld's Spring 2015 campaign is all black and white, with pops of color only on the accessories. It's kind of genius, and I'm honestly surprised we haven't seen this advertising tactic more often. But the most obvious feature is 19-year-old Jenner, who is the face of the spring/summer line, rocking blunt bangs. It's a new look for the supermodel, whose hair is characteristically middle parted and lengthy around the face, but she certainly rocks the fringe. The ads also feature models Sasha Luss, Ming Xi and Baptiste Giabiconi. Scoring this campaign, combined with walking in the recent Chanel runway shows, proves Kendall certainly has a fan in Karl, and that is definitely one of the biggest accomplishments in a young model's career. Could she have a future Chanel campaign in the near future? Time will tell, but I'd say it's not too far out of the realm of possibility.
Images: Karl Lagerfeld