Who Is Chloe The Copy Girl On 'Friends'?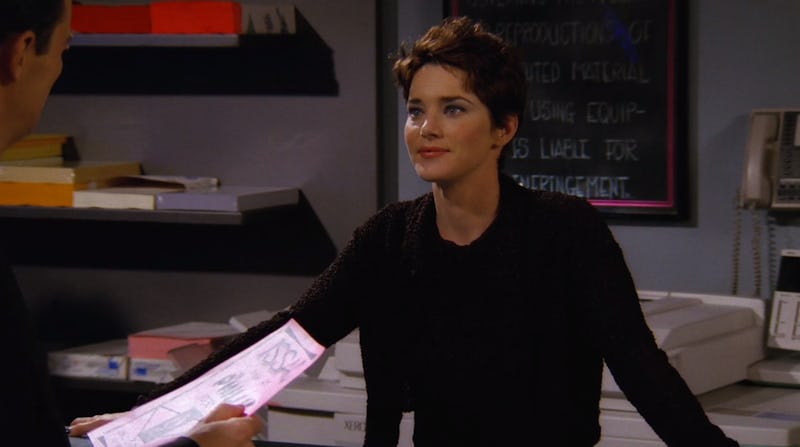 She may not have played the most popular character in Friends, in fact her character might be one of the least popular, but Angela Featherstone is so much more than just the copy girl Chloe on Friends who played a part in ending Ross and Rachel's "lobster" relationship during season 3 (if you don't remember, Chloe and Ross slept together when Ross believed that he and Rachel were, well..."on a break!")
Now, I'm not going to take sides over Rachel and Ross' debacle, as my opinions could start a heated debate that has plagued Friends fans for decades (or, at the very least, a heated back-and-forth exchange of "They were on a break!" or something). But, I have to admit, I've always found the character of Chloe to be an interesting one, and I firmly believe she could have been memorable for so much more if Friends had given her the chance. Featherstone is an accomplished actress, after all: In fact, I'm also impressed at how much Featherstone has done since her appearance on Friends! From movies to television shows, Featherstone has popped up on popular and critically acclaimed projects for more than a decade — she still is.
Of course, Featherstone was not a complete newbie when she landed her controversial role on Friends. The actress had already appeared in a few bit roles in shows and films, including a small part in the Evil Dead trilogy's final film Army of Darkness. However, Friends certainly was her ticket to bigger and better characters: After portraying Chloe the copy girl, Featherstone made a few appearances on a few more shows like The Twilight Zone and Dragnet, as well as in bigger films like Con Air and Soul Survivor.
The Wedding Singer (1998)
Possibly one of Featherstone's biggest roles after Friends, though, actually came a year after the show. The actress played Linda in the The Wedding Singer, the character who originally left Adam Sandler's Robbie at the altar and ruined his life, until he later fell for his real true love, Julia. Linda explains to Robbie that she left him at the altar because he lost his true ambitions to become a rock star, and it's while hanging out with Julia that Robbie realizes how shallow and wrong for him Linda really was.
But unfortunately thanks to some miscommunication, Linda comes back into his life and drives Julia away by saying she is once again Robbie's fiancee. Of course everything worked out in the end and Julia and Robbie end up together but Featherstone left quite a mark as Linda in this hit film in her effect on Robbie's wedding singer duties, her scene with Julia and this quotable line below.
Featherstone later appeared on a few short-lived TV series like Cracker opposite Josh Hartnett, as well as Jack & Jill (which has nothing to do with the Adam Sandler monstrosity of a film, for the record) opposite Amanda Peet and Sarah Paulson. She also appeared as supporting characters in films like The Guilty and 200 Cigarettes, which starred Paul Rudd, and Ben and Casey Affleck.
The Guardian (2003)
Her next big break was not until 2003, though, when she landed a role in the series The Guardian starring The Mentalist's Simon Baker. Featherstone played Suzanne Pell, a social worker who worked with Baker's Nick Fallin. She was a recurring character for 10 episodes in Season 3 alongside other major stars who also appeared on the series during that time, including Zac Efron, Chloe Grace Moretz and Chris Pine.
Featherstone once again appeared on a Simon Baker show, The Mentalist, in 2011.
Girls (2011)
Her biggest role of recent years, however, was actually very, very recent: In 2013, Featherstone appeared in Lena Dunham's Girls playing the character Jame (not Jamie), the head of an online blog called JazzHate.com who interviewed Hannah to be a freelance writer that would tackle writing "sexy" topics for the site. When Hannah explained that she wasn't exactly sure what kind of angle she should focus her writing on, Jame gave a pretty explicit example: "You could have a threesome with some people you meet on Craigslist. Or do a whole bunch of coke and then just write about it."
Hannah tried to get out of both ideas by explaining she couldn't focus on one body, let alone three and that she had never done cocaine to which Jame responded, "Even better!" She then focused Hannah's attention to the sign on her wall at the office.
No matter how uncomfortable Hannah was with the site, one thing is clear: Featherstone clearly made a mark on the series and it help solidify the tone of Girls as the series progressed. There's no doubt we'll see more of Featherstone in interesting and hopefully boundary-pushing roles soon enough — because, if there's one thing that's for certain, she is much more than just Chloe copy girl.
Images: NBC/Warner Bros. (screenshot); Getty Images; HBO (screenshot)