The 'Vanderpump' Theme Is Better Than Alcohol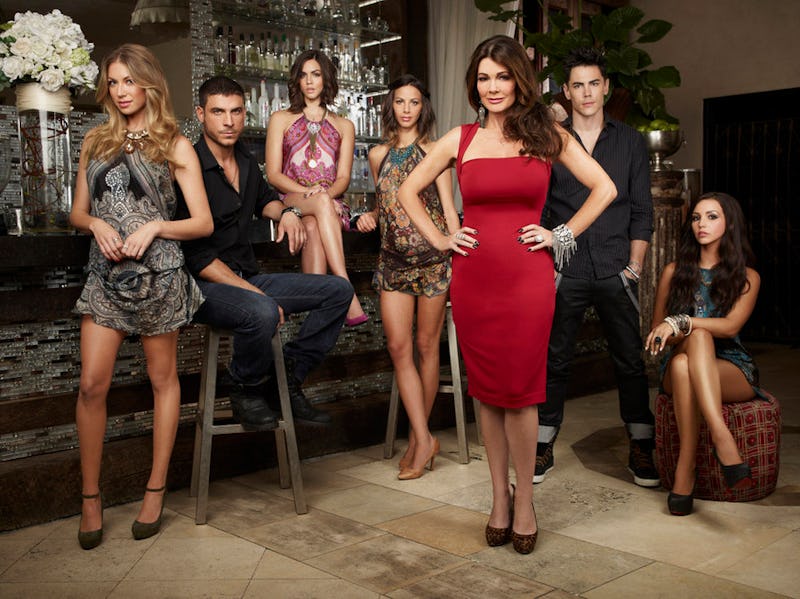 A show like Vanderpump Rules needs a theme song that will stick in your head, mostly so it drowns out the sounds of Kristen Doute shrieking that she will break up Ariana and Tom if it's the last thing she does on this beautiful ball we call Earth. Fortunately, the Vanderpump theme song is "Raise Your Glass" by Dena Deadly, a richly vocaled, club-ready anthem that makes you want to dance and possibly throw a drink at your best friend's head (so you know it's perfect for PUMP and SUR!).
Deadly, along with hubby Zed Kelley and brother Remington Garner, is a part of Los Angeles-based soul-meets-rock-meets-blue band Memoir. As the story goes, Kelley and Deadly met in a North Hollywood recording studio, quickly falling in love and marrying. After collaborating with artists like Cee-Lo, Groove Armada, Jonas Brothers, Warren G, Method Man, and Pitbull, Deadly and Kelley thought, "hey, we should be making our own music!" They began writing and composing together, contributing tunes for television and movies. Their credits include shows like The Lying Game, Make It Or Break It, and Shake It Up! and feature films like Failure to Launch and Playing For Keeps. Deadly's brother, Garner, joined the band soon after, rounding out the funky-cool sound of the group.
Here's Deadly's claim to fame paired with the Season 3 opening credits of Vanderpump Rules:
And the song in full (pardon the cheesy image, maybe just listen):
The band released a four-song, self-titled EP in April 2013 (check out the gorgeous single, "Look Away") and a full-length record, Fire In Me , in September 2013. According to the band's website, the new album was "inspired by the legends of soul, blues, and rock-and-roll." Memoir is always collaborating and churning out new music, hoping to create the next great record of our time.
"Raise Your Glass" is a tune that's ready to party — even Jennifer Lawrence likes it! She and a group of galpals spoofed Vanderpump Rules' opening credits during an evening out at PUMP, one of Lisa Vanderpump's other restaurants. Looks like the tune would also fit in well on The Hunger Games. Just me?
As a dedicated viewer of Vanderpump Rules, I'm always excited to hear "Raise Your Glass": It means the drama is almost ready to pop.
Image: Tommy Garcia/Bravo