The Makeup At Givenchy's Fall Men's Show Is Lush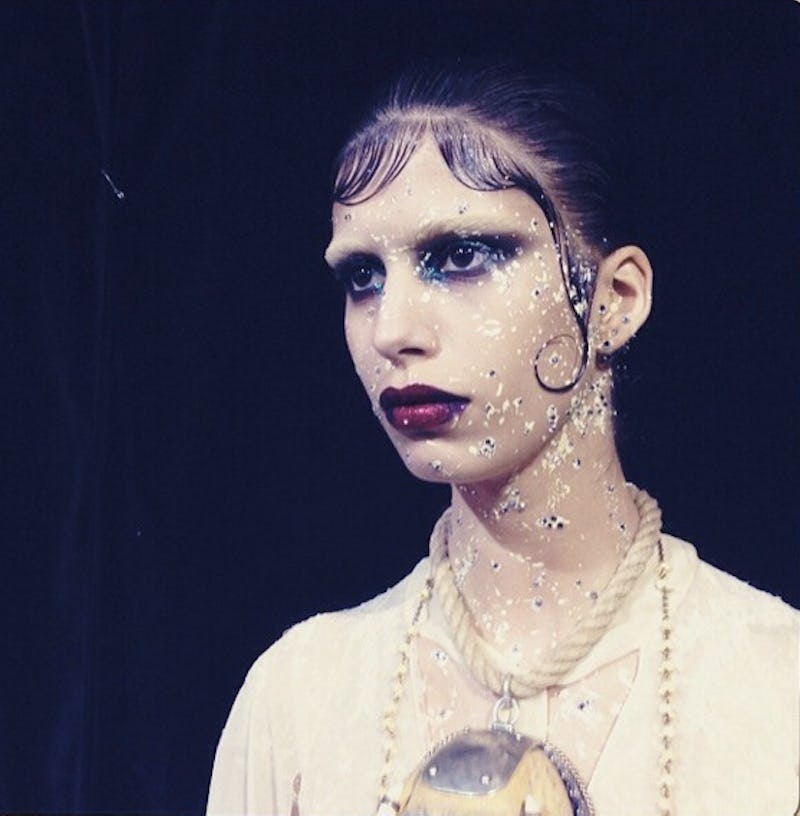 If you thought that Men's Fashion Week was going to just slip away without us getting a major makeup moment, then you couldn't have been more wrong. This week, the legendary British makeup artist Pat McGrath blew our collective mind with her work for Givenchy's Fall 2015 show, mostly due to her stunning, intricate, and gorgeously grotesque handmade masks and a painted-on silvery skull. When Giorgio Armani commissioned McGrath to design a makeup collection in 1999, he said it was because, "She never used cosmetics to try to mask a woman." Whilst a beautiful sentiment, I'm pretty sure that Armani would change his mind about that being a good thing if he saw the mask that McGrath painstakingly crafted out of shells, sequins, jewelry, glitter, coins and beads!
Seriously, these were some stunning temporary pieces: Temporary because they were applied right to the models' faces. Yep. McGrath glued glitter, shells, and coins to models' faces. The masks featured on the runway were reminiscent of McGrath's work for the design house's 2014 spring collection. For that show, she created "futuristic, techno, African masks," with 1500 Swarovski Crystals glued to each models' face. Not only does this require an immense amount of artistry and mastery, but also trust. If I made money off of my face, I wouldn't let just anyone glue 1500 anything to it.
The masks were certainly the showstopper, but McGrath and her team didn't stop there. The show's makeup also featured some smudgy green and white "Joker-esque" looks and what can only be described as flapper goth — gelled, curled bangs à la Josephine Baker, dark lips and eyes, and a little bit of shimmer. Please, let flapper goth be a thing now. See the looks and get a glimpse into the process below:
Images: Instagram/patmcgrathreal