Where Would The 'Parks And Rec' Cast Be In 2025?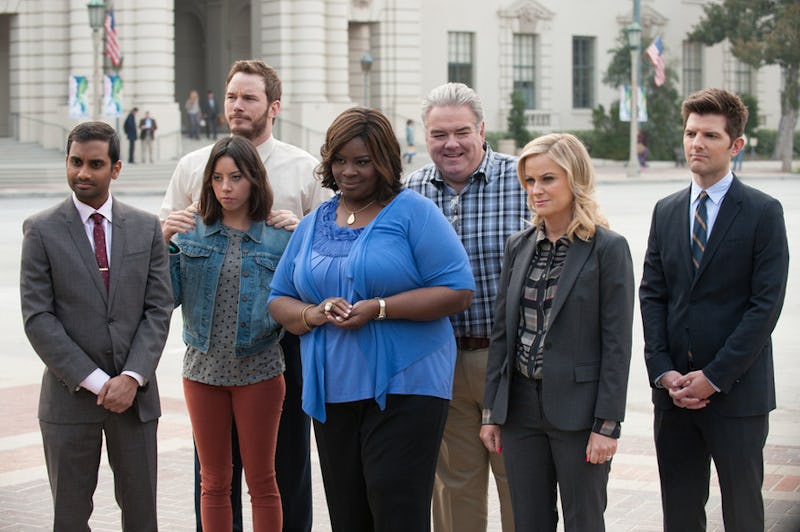 Parks and Recreation may be speeding towards its finale, but that doesn't mean we have to let these characters go. In fact, Aubrey Plaza recently told People what she thought April Ludgate would be up to in 2025, and it got me thinking where would the Parks and Rec characters be in 10 years? Even if the writers won't tell that story for us, they can't stop us from imagining where these beloved characters would end up in another decade.
Plaza offered up her own character's fate, saying that April would be "leading a witches coven in Salem, Massachusetts. Their only goal would be to kill Jerry Gergich." Sounds pretty legit to me. The whole 60 second video with People is proof that this show should never end, but will always stay in our hearts. Plaza, in her characteristic deadpan voice, also clued us in on set secrets like that Nick Offerman always makes her laugh (Ron & April 4eva), and that Aziz Ansari breaks character the most because "he likes to laugh at himself a lot."
It's cruel that such a good show is coming to an end, but it doesn't really have to be over if we take a guess at where our beloved Parks Department would be in another 10 years. Here are my suggestions for the future of these characters.
April Ludgate
In addition to hosting her coven, I think April would no longer be worried she and Andy were getting boring and would just start doing things she loved because she loved them, not because she was trying to stay weird. Sure, those things are still pretty out of the ordinary, but hey, it's April. What did you expect?
Andy Dwyer
Ever the bumbling, doting husband: April would get him to enact her witchy death plans for Jerry knowing full well that Andy would wreak some havoc and the plan wouldn't go off as intended. But that's OK, because secretly she cares a lot about Jerry and wouldn't want him dead. Additionally, Andy will have a new injury in 2025, because he's always hurting himself. Oh yeah, Andy also tests NASA space travel equipment in the future because it's like being an astronaut, but without any of those lame safety precautions!
Jerry Gergich
Sorry Larry, Garry, Jerry, Terry. In 2025, his name is simply Herman because why not? Other than that, he is pretty much the same, and he's never going to change. That's the beauty of Herman.
Donna Meagle
She's put down her fear of commitment and is happy married to an Indiana titan of industry which allows her to star on an upcoming season of The Real Housewives of Pawnee. It's mostly her making fun of drunken Joan Callamezzo, the talk show host who married Tom so she could appear on the reality show.
Tom Haverford
Having Joan as a wife is the best kind of wife to have because she leaves him alone as long as the booze is flowing and her Real Housewives status is bringing mad business to his various companies. He's a mogul now and text books will henceforth refer to him as the new Bill Gates.
Ann Perkins
She and Chris recently had their third baby which Leslie thinks is great because they have a twin number of children now! Chris thinks it's great because he thinks everything is great. Ann and Chris share parenting duties so Ann can still work as a nurse. She has never so looked forward to draining blisters and various other gross nursing duties as she does now that she has three kids at home. She and Leslie have weekly Skype sessions and Leslie says she's working on getting the government to start a branch dedicated to teleportation so they can visit each other whenever they want.
Chris Traeger
He's taken his upbeat attitude on the road as a motivational speaker. One time he met Bruce Jenner on the circuit and the two of them competed in a spontaneous decathlon. Chris won, but his positive attitude allowed him to be a gracious victor and now he and Jenner are best friends. They talk in uplifting athletic cliches 100 percent of the time.
Ben Wyatt
Although still working in city management, Ben has also dedicated some of his free time to inventing new board games in the wake of the success of Cones of Dunshire. He has a rather large following on Tumblr, the only social media site to survive to 2025. Go figure.
Ron Swanson
He has another child and names her Tammy, proving that he is once and for all out from underneath the thumbs of Tammys one and two. He carves wood, loves his family, and is running for president so he can get rid of the pesky government once and for all. The Tea Party loves him.
Leslie Knope
She's finally running for president alongside Ron Swanson, but they have a very good-natured rivalry about it. On election day, they both secretly plan to vote for each other. Leslie's first law will be that breakfast food is required to be served all day by every restaurant. She is beloved by all.
Image: Colleen Hayes/NBC; giphy (11); neverslipaways/Tumblr