Stunning Travel Locations You Didn't Know Existed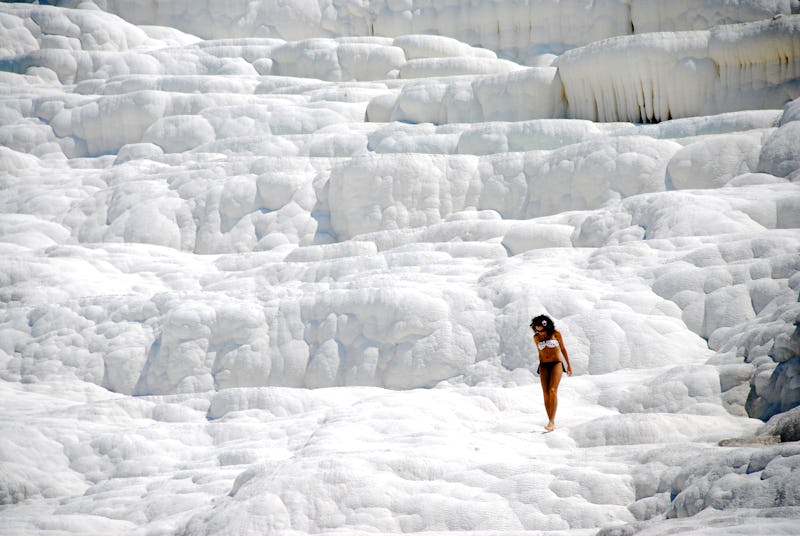 Mother Nature has some hidden treasures up her sleeves — including a whole slew of natural wonders you probably didn't even know existed. Whether you've just been bitten by the travel bug or you're an experienced explorer looking for a new adventure, these stunning travel destinations are just the tip of the iceberg when it comes to breathtakingly beautiful places you have to see in your lifetime. And while this list could easily go on for days, I've managed to narrow it down to 10 of the most awe-inspiring, life-changing locations you'll find on this planet. You can wave goodbye to the metropolises and beautiful built-up cities of this world, at least for the time being. While Venice may have its canals, New York City its skyscrapers, and Paris its cobblestone streets, none of that even seems comparable to these treasured caves, tunnels, and beaches of the wild. Sometimes the best stuff is the stuff man didn't make. You know, the stuff Mother Nature did.
From glowworms to broken glass, these astonishing destinations draw their beauty from a variety of surprising sources — and it's all completely enthralling. So start saving up, because you have a lot of traveling to do — these locations will take you from the very west to the very east, and everywhere in between.
1. Glass Beach, United States
Glass Beach is exactly what it sounds like, but with more of an aesthetic appeal than a dangerous one. Filled with abundant sea glass that's the result of early 20th century residents throwing their garbage over the sea cliffs, this breathtaking shoreline can be found in MacKerricher State Park near Fort Bragg in Northern California.
2. Tunnel of Love, Ukraine
The Tunnel of Love can be found deep in the forests of Ukraine, created by the passing of a lumber train over the course of many years. While it looks like it comes straight out of a fairytale, this tunnel actually exists, and it's supposed to bring good luck to any lovers who make a wish in its pathway.
3. Pamukkale, Turkey
Pamukkale translates to "cotton castle," and that's because that's kind of what this place looks like. This ancient site is filled with hot springs and carbonate minerals that have solidified into place after being left behind by flowing water through the years. Many of the springs are even believed to have healing powers.
4. Rainbow Mountains, China
The Rainbow Mountains are an artist's dream, and a traveler's too. Formed from red sandstone and millions of years of mineral deposits, this beautiful range can be found in China's Zhangye Danxia Landform Geological Park.
5. Waitomo Glowworm Caves, New Zealand
The Waitomo Glowworm Caves are a sight to behold. Filled with a unique species of glowworms that can only be found in New Zealand, the inside of these caves glow from the ceiling. These caves can be explored by foot, or by boat sailing beneath the hundreds of astonishing glowworms.
6. Lake Hillier, Australia
Australia's Lake Hillier most likely gets its color from the high levels of salt found in it, but the exact cause has yet to be proven... making it that much more magical. This eye-catching body of water can even be collected in a jar without changing color.
7. Antelope Canyon, United States
Formed by flash flooding, Antelope Canyon is a favorite of photographers, and can be found near Page, Arizona, right in the heart of the American Southwest.
8. Keukenhof, Netherlands
Keukenhof is the second largest flower garden in the world, and its adored River of Flowers makes it one of the most beloved. With close to seven million flowers planted annually in this garden, it's one worth making time to see.
9. Ruby Falls, Tennessee
Ruby Falls can be found near the main passage into Ruby Falls Cave in Tennessee, and it flows continuously from both rainwater and natural springs. Eventually emptying out into the Tennessee River, this delightful stream finds its way from around 1,120 feet underground.
10. Shifen Waterfall, Taiwan
Shifen Waterfall is one of the most scenic in the world, and it's hardly a surprise considering the romantic cascading formation it has taken. And while it may be the broadest waterfall in Taiwan, this natural wonder stands at a height of only 66 feet, proving that you don't have to be giant to be astonishing.
Images: Claudio Riccio, Images by John 'K', Kashif Pathan, miss_ohara, Evgeni Zotov, Donnie Ray Jones, Hasegawa Takashi, gabri_micha, I dream of Nici, Mindy, Alex Lin/Flickr