Your Ultimate Spring Break Beauty Packing List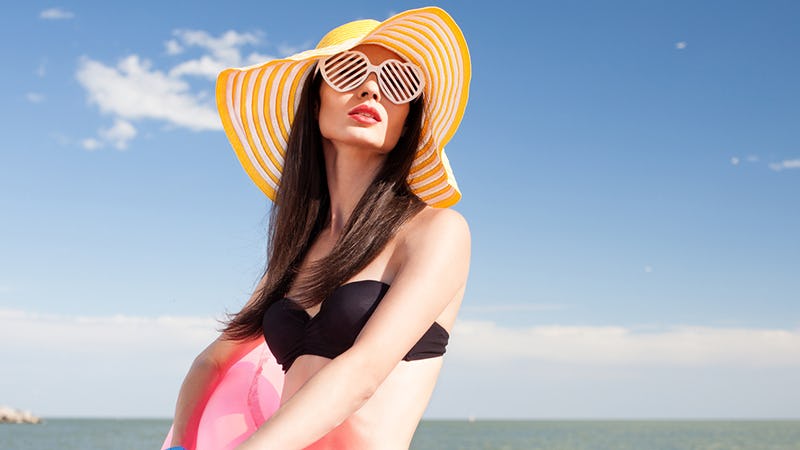 The Northeast U.S. may be in the midst of a serious blizzard at the moment but, believe it or not, spring break (and, therefore, spring break beauty) is right around the corner. No, really! Piña coladas, bikinis, road trips, and sunshine are coming our way, my friend, and it's time to get excited. A break from classes and a little time to get crazy and let loose on the beach and at the bar is the quintessential college experience — and sounds like heaven compared to the current winter vortex. But before you go jetting off to Cancun, Punta Cana, or some other fabulous, warm place, there's a few things that you need to remember just as much as that plane ticket.
All of that sun, booze, and lack of sleep that spring break usually brings with it, can result in some serious makeup meltdown, skin issues, and beauty blunders. Forget your sunscreen, makeup remover, or waterproof mascara and your spring break could start to look like a bad James Franco movie. Not to mention, this will likely be the first time your skin's seen warm weather in a couple of months, so it might freak out a little. So, I present you with your ultimate spring break beauty list. Before you let loose on spring break, don't forget to pack these trusty products to save face on the beach, at the bar, and anywhere in between.
1. Badger's Damascus Rose Face Sunscreen
I know you're obviously going to pack SPF for that serious spring break sun (right??!) but your face could use something a little gentler especially with all that makeup and extra oil your pores will be collecting all week long. Badger's Damascus Rose Face Sunscreen is the sweetest smelling face sunscreen I've ever tried and can be worn seamlessly under makeup.
2. The Jet Setter Cordless and Portable Flat Iron
Sweat, sun, and fun equals plenty of frizz. Perfect for on-the-go touch ups and cramped hotel rooms, this nifty little gadget barely takes up space in your carry on!
3. Brad Skincare Anti-Fatigue Mist
Bouncing from the bar to the beach and back again can have your skin screaming an S.O.S. To keep your skin hydrated (you are drinking water aren't you??!!), spitz this hydrating and calming facial mist to keep your skin healthy and happy.
4. A Bright Nail Polish for Sandal Ready Feet
After months of snow boots, you're ready to reveal your tootsies to the world! Make sure your toes are following the official spring break dress code with a bright polish like OPI's Strawberry Margarita.
5. Yves Saint Laurent SPF 15 Lipstick
If you're anything like me, your beach bag is already full of partially used SPF lip balm tubes, but what if you're heading to a daytime beach party and want to look a little extra special? That's where this creamy lipstick comes in! With SPF 15, it'll keep your pucker protected with a pop of color you won't find in normal lipbalm.
6. Jo Malone "My Wanderlust" Linen Spray
So you get to your budget hotel room and find that your sheets don't smell as, uh... fresh as they should. What's a girl to do? With a spitz of this jasmine and oregano linen spray, you can sleep soundly, off to dream of cleaner hotel rooms. It's also handy to spray onto clothes that have spent a week stuffed in your duffle bag.
7. Garnier's Skin Renew Anti-Puff Eye Roller
After days on running on fast food and booze alone, I'm sure your face could use a little pick-me-up. Garnier's Anti-Puff Eye Roller is a must to hide your lack of sleep and keep you going. You'll be saying "spring break foreverrr" in no time.
Images: Rasstock/Fotolia; Getty Images; Courtesy Brands