15 Super Bowl Drinks For Patriots And Seahawks Fans Who Want To Show Off Their Team Colors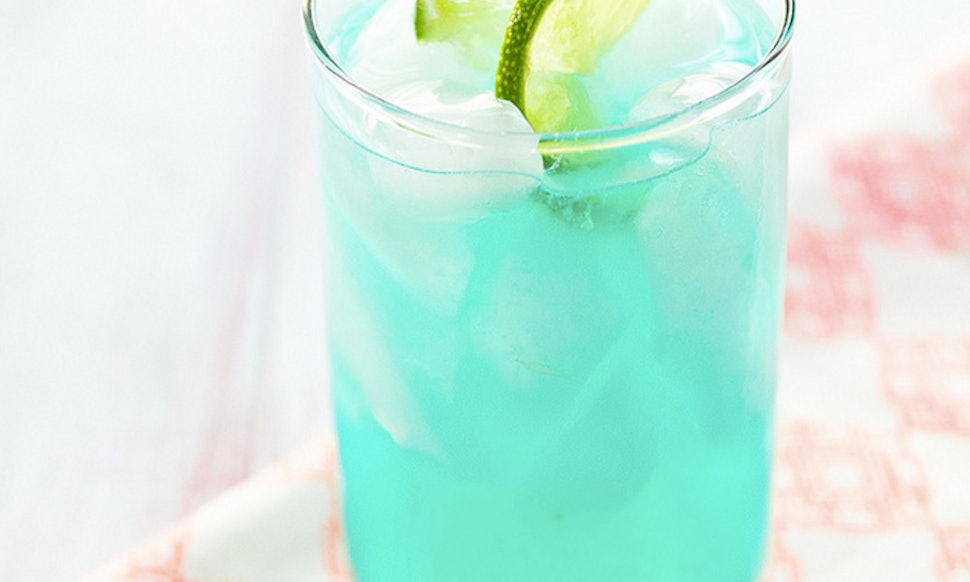 When you think Super Bowl viewing party, you probably think over-the-top Super Bowl snacks, an abundance of nachos, and lots of booze. But this year, don't settle for any old drink — represent your team all the way with a team-inspired cocktail. Whether you're a fan of the Seahawks or you're all about the Patriots, we've got a plethora of delicious options so you can use drinking as a way to support your guys. Whether you're sipping on a Boston Whiskey Sour or downing Seattle Seahawks jello shots, get ready to get your drink on for the sake of your team. Hike!
Image: Confections of a Foodie Bride
Seahawks 12th Man Jello Shots
Savory Sweet Life cuts right to the chase with these delicious Seahawks-colored jello shots, guaranteed to help you cheer on your team properly.
Image: Savory Sweet Life
Seahawk Spike
Simple and sweet, this ginger-infused cocktail is the perfect light drink for any Seattle fan:
2 oz Crater Lake Sweet Ginger Vodka
1 ½ oz Fresh lemon juice
Club soda
Combine vodka and juice in an ice-filled rocks glass. Stir and top with club soda. Garnish with a lime.
Image: Bendistillery
Pats Punch
If you're all about the Pats, this citrus and mint punch is perfect for you and your group:
2 oz Crater Lake Vodka
Tonic water
Mint leaves
Lemon, lime, and orange slice
Place fruit slices in a rocks glass, fill with ice, and add vodka. Top with tonic water. Garnish with an orange slice and mint leaves.
Image: Bendistillery
Melon Gin Tonic
A Cozy Kitchen's cantaloupe-spiked gin and tonic is both a perfectly sweet and melony sip, not to mention a way to represent some green for your team.
Image: A Cozy Kitchen
Cinnamon Apple Shandy
As all-American as any Patriot out there, this cinnamon apple shandy by Mat Snapp, master mixologist for Fox Restaurant Concepts, is something both sides can root for. Here's the recipe:
0.75 oz Lemon juice
0.75 oz Evap cane syrup
0.5 oz Chai tea concentrate
2 oz Unfiltered apple cider
1 oz Vodka
Quick shake, and top with Sam Adams Boston Lager
Blueberry Bourbon Cooler
Whichever side you're on, represent some navy blue with Climbing Grier Mountain's blueberry bourbon cooler.
Image: Climbing Grier Mountain
Cherry Ginger Bourbon Fizz
Climbing Grier Mountain's bourbon fizz is brightened up with ginger and given some true Patriots color with a bright red cherry.
Image: Climbing Grier Mountain
Raspberries and Champagne
Add a bit of elegance to your party and support your Patriots with this raspberry and champagne concoction via The Effortless Chic.
Image: The Effortless Chic
The Boulevardier
Straight up delicious (and Patriots red), this sip by The Kitchn is as sophisticated as the Super Bowl gets.
Image: The Kitchn
The Blue Margarita
Sparkling Lillet Rouge Punch
Perfect for a group, or just for a really thirsty fan, The Effortless Chic's sparkling Lillet rouge punch is on point.
Image: The Effortless Chic
Apple Ginger Cocktail
A Beautiful Mess' apple ginger cocktail is as tasty as any Seahawks-approved green drink can get.
Image: A Beautiful Mess
Fresh Plum Margarita
Refreshing and plum laden, Confections of a Foodie Bride's margarita is an easy-to-mix treat for the Pats fan.
Image: Confections of a Foodie Bride
Fan Girl Cocktail
Be a fan girl this Super Bowl by sipping on A Beautiful Mess' wonderfully blue Seahawks-inspired beverage.
Image: A Beautiful Mess
Boston Whiskey Sour
Crepes of Wrath represents your Patriots' leanings with this deliciously elegant Boston Whiskey Sour.
Image: Crepes of Wrath