Netflix's 'Wet Hot American Summer' Teaser Is Here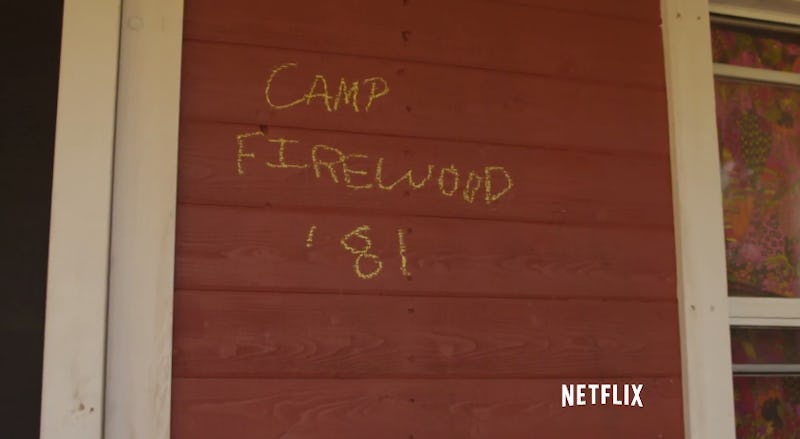 The new (and first) teaser for Netflix's Wet Hot American Summer series should probably just be called what its YouTube title denotes: A "cast confirmation." Seriously, there's hardly a drop of new information to be gleaned from the 52-second-long video — all it does is cycle through the names of its impressively pedigreed cast, reminding us that a (thankfully) staggering number of stars from the original 2001 comedy who went on to be some of America's biggest and/or best TV and movie stars, will be returning for the series...including but not limited to the likes of Amy Poehler, Paul Rudd, and Bradley Cooper.
The teaser also reminded us of another thing: We really don't know much about what this series will actually include. Aside from the names of famous people the "cast confirmation"included, the trailer also featured a curly-haired blond kid writing "Camp Firewood '81" on the side of a cabin; given that's the year the original film took place in, but that could mean a number of things: We already covered that particular summer, but maybe the conceit of this thing will involve some kind of reunion — or it'll be a prequel, as original reports suggested. Michael Showalter's original film script definitely pushed at the bounds of reality, though, so I honestly wouldn't be too surprised if they picked up right around that time despite the fact that the cast's aged 14 years in the actual time since.
For the same of going with the actors' ages, though, let's assume we're getting a time jump. Wet Hot American Summer was full of some great, ludicrous characters — and one of my favorite thoughts about it coming back is that we'll get to meet up with them again, presumably down the line. And I have some questions:
What Happened to Amy Poehler's Camp Theater Counselor?
I mainly care about this because she's Amy Poehler, but Susie was a special joy. What's she up to?
Is Paul Rudd's Andy Still A Player?
I have no doubt he's still a huge jerk, but have his jerkish modes altered at all? It's not like they can pull off pretending he's aged out of being able to pull it off; Paul Rudd's still a beautiful, beautiful man.
Did Christopher Meloni's Gene Get Mental Help?
I'm assuming not.
Are Michael Ian Black & Bradley Cooper's Characters Still Married?
This is far and away the most important to me. One does not simply forget that shed tryst! Did their love last forever as they hoped?
Image: Netflix/YouTube