Is BB Cream Really a Life-Changing Necessity?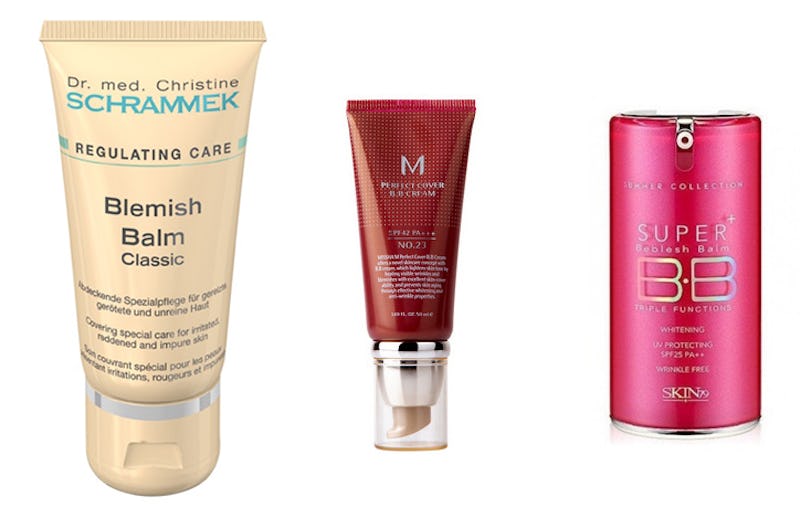 To all my fellow beauty product junkies, it's time to address the double-letter do-it-all miracle cream phenomenon: BB cream. What does it do? Is it really necessary? Or after all the hype is said and done, are we just victims of a brilliant marketing coup?
BB cream, short for beauty or blemish balm, was developed in the '50s by dermatologist Dr. Christine Schrammek (shop the original version here) with the goal of helping chemical peel patients conceal post-mask irritation. Fast forward to the '80s, when BB cream infiltrated the Korean market, igniting a cultish product hysteria that spread through Asia like wild fire. Korean brands, including Dr. Jart+ and Missha, advertised an all-in-one cosmetic skincare solution that was sung to the tune of "Forget your moisturizer, primer, sunscreen, and serums! All you need is BB cream!" Meanwhile, mainstream endorsements from Korean pop singers — who credited their flawless faces to BB cream — didn't hurt the cause either.
Thus, it was only a matter of time before the American market jumped on the BB bandwagon. Perhaps, even a year ago, it would have been moderately harder to find a BB cream at the drugstore. But now, along with higher-end versions like Smashbox and Estée Lauder available, even Maybelline, L'Oreal, and Garnier offer budget-friendly options.
With easy access and a diverse price point, the question remains: is drinking the BB Kool-Aid as life changing as it seems? Sure, they do come jam-packed with the good stuff: SPF, antioxidants, anti-aging properties, and tinted coverage. And it is versatile: it conceals, it primes, and it smoothes out fine lines. But like many a multitasking product (I'm looking at you, two-in-one shampoo and conditioner), the perks can be somewhat modest in execution. With so much going on in one tiny tube, how could you possibly get the maximum amount of sun protection, skin treatment, and cosmetic coverage?
Truth is, you shouldn't skip or replace any of the other steps in your skincare routine. BB creams supply a time-saving shortcut for no-frill beauty days, but they are not the solution to every beauty problem. And, because the Food and Drug Administration (FDA) dictates that anti-acne ingredients and SPF cannot be combined into a single product, you can effectively rule out BB cream to replace a skin-target treatment.
Lucky for you, there are even more alphabet letter creams to get through — that's right, there are CC, DD, and GG creams promising to rock your world, too.
Is it necessary? No.
Is it easier? Yes.
Is it a scam? Not really, but certainly a great discourse in marketing 101. You should read the ingredients label, though, and manage expectations.
My advice? If you already subscribe to low-key skincare maintenance (read: minimal breakouts and little skin discoloration), BB cream is the perfect way to look polished without going the primer-foundation-sunscreen route. But. If you have trouble finding the right shade, struggle with acne, or deal with severely dry skin, be honest with yourself: There's a very high probability that you will still have to tack on a product that matches your skin tone, a foundation that covers up the blemishes, and a moisturizer that nourishes and hydrates more completely.
Moral of the story: Avoid a beauty product identity crisis and know that the BB cream you've invested in is a tinted moisturizer with SPF, give or take a few benefits.
Image: SodanieChea on Flickr, Etude House, and Maybelline