Amy Purdy Has An Inspiring Role On Sunday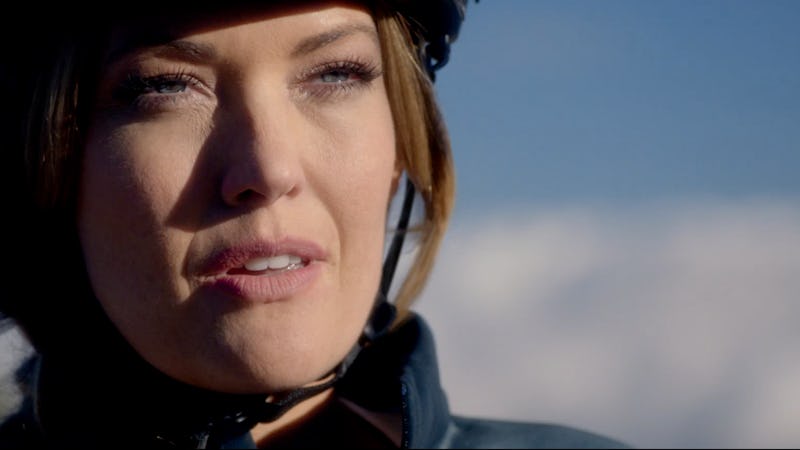 The bold new Toyota Camry just got a kick-ass spokesperson for their new 2015 Super Bowl commercial. The ad, which was debuted this week, features a new Toyota spokeswoman named Amy Purdy. She is seen snowboarding, dancing, posing at a photo shoot, and getting up early and doing it all again the next day. While all of those activities would make any human seem cool and intriguing, Amy Purdy stands out because she's a double-leg amputee, and she does everything on custom steel legs that were made to look like ice picks.
Her story is just as mind-blowing as her current lifestyle. After experiencing flu-like symptoms at 19, she was rushed to the hospital in a state of septic shock. Then she went into a coma and was given a 2 percent chance of survival. Following several blood transfusions, she was diagnosed with Meningococcal Meningitis, and would require a double leg amputation below the knee, due to lack of circulation.
After living through that level of hell and making it through, she vowed to live her life actively and fully. Her resume now reads as one of the most interesting career paths you could imagine. She's won multiple snowboarding championship medals, won a medal in Sochi, and is the only double-leg amputee competing at the world-class level. Amy is also an actress, model, and dancer.
Oh and also? In 2012, she and her boyfriend competed in The Amazing Race, and her TED talk, "Living Beyond Limits" is the number one recommended video by TED x OC to incoming TED speakers. Then in 2014, she competed on Dancing with the Stars.
The message behind Toyota's new ad is a simple one: Never give up. With Muhammad Ali's iconic words narrating Amy's daily activities, as viewers, we're left to ponder our own potential and hopefully, to start living every moment without an ounce of doubt or insecurity.
Image: Toyota