Intriguingly Creepy Face Masks Are Here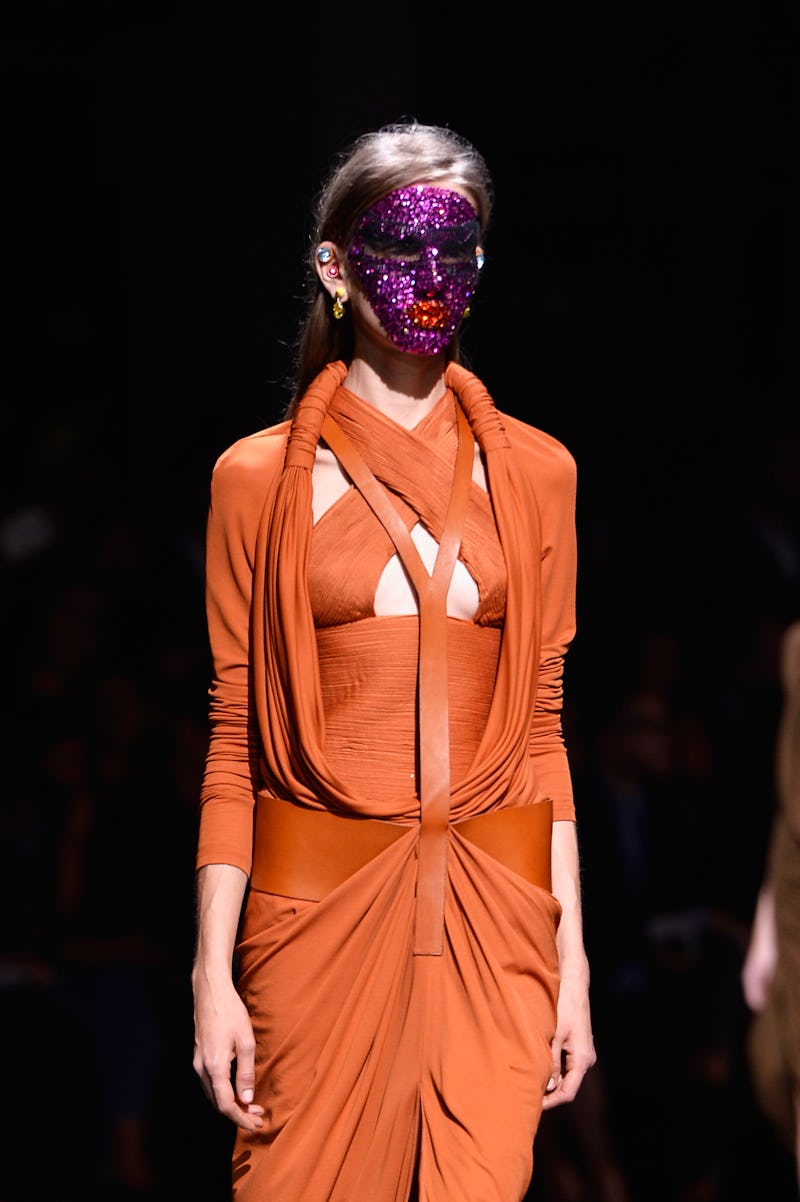 Pascal Le Segretain/Getty Images Entertainment/Getty Images
Riccardo Tisci's spring 2013 Givenchy show showcased a very specific slant on alien beauty: glittering, jolie-laide face masks. The tribal-inspired masks were created by makeup artist Pat McGrath and are intriguingly creepy; they feature tightly overlapped rows of beads and sequins, with black netting covering the models' eyes. The end effect is a pleasantly dissonant one, as though the models are transforming into bejeweled monsters.
Although masks on the runway are used to heighten the effect of the couture, they have so many fascinating connotations. Protection, disguise, enchantment: think the slink of a cat burglar or the debauchery of Carnevale excess. Of course, masks are a marker of antiquity, originally used in everything from tribal ceremonies to grand balls. Today the function may vary, but the essential result is to blur and subsume what marks us as human, while sharpening the weird and fantastical. From Givenchy to Maison Martin Margiela, the fashion mask is deftly employed as a kind of Morse code to the audience; there are secrets here to be parsed.
Personally, I'd wholeheartedly support daily mask wearing. In a hell-black mood? Strap on a circa 16th century plague doctor mask — you know, those terrifying ones with the curved bird beak and glass openings for your eyes. People will be falling all over themselves to get away from you. For happier moods and just for sheer, inventive beauty, though, these are the fashion masks I covet:
First, as the patron saint of beautiful disguise, Miss Isabella Blow in a lacquered Phillip Treacy mask: I mean, this is how you wear one. Perfection.
The fall/winter 2012 Maison Martin Margiela mask: Diamonds covering every inch of the face and hair in a claustrophobically lovely cage. Clearly, I won't be able to do much other than sit around and meditate or something, but whatever, I'll look like a nihilistic Snow Queen.
The fall/winter 2011 Chanel mask: I could make this happen right now, guys. Just a band of black net with lace accents… coquettishly simple, yet arresting.
And two creations from Valentino, circa 2009-10: first, this neutral one of stiffened lace; pure woodland creature, shy but showy all at once. The second Valentino, from the same collection, is the more nefarious version. It basically reads as thorn thickets and raven feathers.
If you're not feeling any of these options, you could just go with the "everything's OK" mask that most of us wear all of the time, anyway. That one is pretty striking, too.