The Star of Rihanna's New Video: Twerking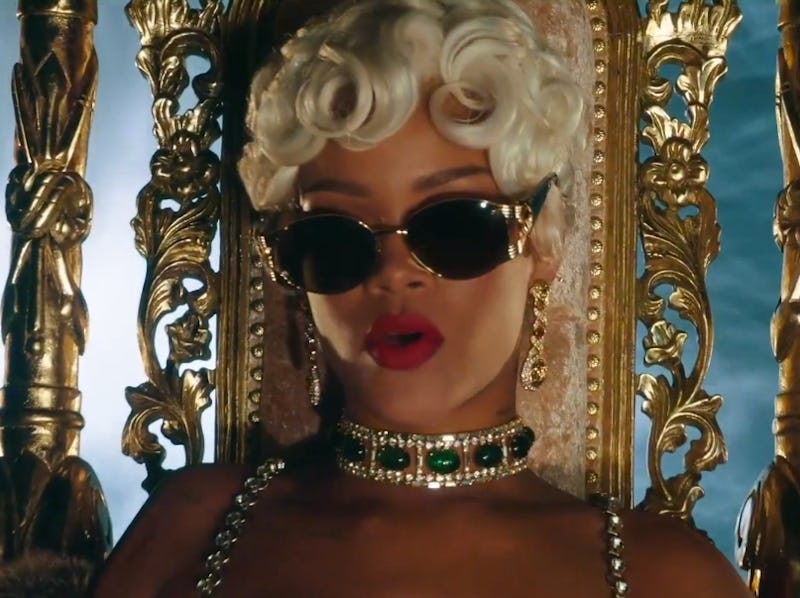 Ever wanted to see a lady painted blue and splashing her gold thong-clad butt around in water? Rihanna's got you covered! The music video for Rihanna's new single "Pour It Up" certainly is strippertastic. As Jezebel's Erin Gloria Ryan said on Twitter in response to the video, "Just watched the new Rihanna video and now I need an adult." We know the feeling.
Rihanna's rocking a sort of Marilyn Monroe meets Dita Von Teese meets the coked-up back room of a strip club look here, which feels appropriate as the song frequently mentions such a strip club and the intentions to "ball out."
Woe are we to use the work twerk as much as we seem to, but "twerking" does seem the best way to describe what Rihanna — and especially her featured extras — are doing in this video. Lots and lots of twerking, with lots and lots of mostly-exposed rear ends.
It's all actually pretty decadent, what with Rihanna's diamond bra/pasties thing and her pink velvet and gold throne. There's water, stripper poles (so many!), trucker hats, thongs, and did we mention how many pasties we've seen in the past three minutes?
It's a lot, but it's certainly a show. A thoroughly twerking show.
Image: Youtube