8 Pretty Epic Real-Life Love Stories To Read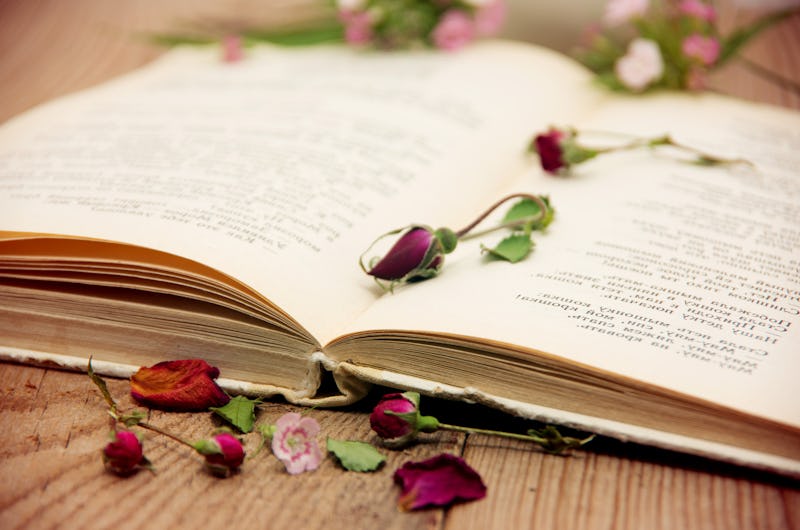 Like many women of my generation, my ideas about love and relationships were heavily influenced by mass media —books about the struggles and triumphs of tempestuous lovers; passionate break-ups and make-ups on the big screen; angelic-voiced boys harmonizing about how they'll never break your heart. This is all well and good until your own love life starts to blossom and you realize that all of the books, movies, TV shows, and songs are made-up fantasies, and real-life romance ain't nothing like it. (Is that a sad trombone playing in the background?)
That's why sometimes, especially around the heart-shaped hullabaloo that is Valentine's Day, it can be easy to be bitter and cynical about love. After all, you're older and wiser now. You know that, while love can be great and fulfilling, it's also rarely anything like how it's portrayed on paper.
Except, of course, when it is. For some lucky people, their romantic relationships are so remarkable and powerful, they inspire books. Sometimes the people themselves are already notable; other times, they're ordinary in every other way but their extraordinary love. Either way, if you need some reminding on Valentine's Day (or any time of the year) that Hollywood-grade romance (and OK, some big-screen drama, too) can exist in the real world, here's a great body of evidence.
Love Stories of World War II compiled by Larry King
Compiled by journalist Larry King, Love Stories of World War II recounts nearly three dozen romances that began, bloomed, and sometimes perished in the shadow of the 20th century's greatest military conflict. Using interviews, letters, photographs and other memorabilia, this book brings to life stories of regular men and women who found and nurtured love through the most extraordinary and difficult circumstances.
These Happy Golden Years by Laura Ingalls Wilder
Sure, in writing her multi-volume account of growing up as a pioneer girl during Westward Expansion, Laura Ingalls Wilder fudged some details for the sake of clarity, brevity, and storytelling, but the story of her relationship with fellow pioneer Almanzo "Manly" Wilder was a real-life prairie romance. Much of These Happy Golden Years revolves around their courtship, including buggy and sleigh rides across the Dakota plains, singing classes, socials, and more, culminating in their marriage in August 1885. Laura and Almanzo's marriage weathered many of the ups and downs common to pioneers in the late 19th and early 20th centuries, including sickness, crop failures, and even the death of their child, ending only with Almanzo's death in 1949.
Of Love and Russia: The 11-Year Fight for My Husband and Freedom by Irina McClellan
These days, many romances end because a text or Facebook message goes unanswered for more than 24 hours. I'm not sure what Irina and Woodford McClellan would say to that, but I'm sure it's something along the lines of, "Are you effing kidding?" Irina (née Shvetsova), a Soviet citizen, met McClellan, an American professor in Moscow in the early 1970s. The two fell in love and married, but when McClellan's visa expired in 1975, he was forced to return to the U.S. The couple spent the next 11 years trying to reunite, but politics and bureaucratic red tape kept them apart (this was during the Cold War, after all). Irina was finally allowed to enter the U.S. and see her husband again in 1986. Of Love and Russia is her first-person account of their fight to reunite.
Tête à Tête: The Tumultuous Lives and Loves of Simone de Beauvoir and Jean-Paul Sarte by Hazel Rowley
OK, this may not be exactly the kind of real-life relationship you want to mimic (then again, different strokes for different folks), it's definitely juicy and exciting and passionate. Author Hazel Rowley analyzes the unconventional relationship between the French writer/philosophers, which lasted more than 50 years and included idiosyncrasies and affairs on both sides. Sounds like a love story perfect for Hollywood.
Radioactive: Marie and Pierre Curie: A Tale of Love and Fallout by Lauren Redniss
Another book chronicling a relationship that was both romantic and professional, Radioactive uses photographs, artwork and graphics alongside text to tell the story of husband-and-wife scientists Pierre and Marie Curie. It's a fascinating interpretation of a fascinating couple, whose work was changing the world even as it was destroying them.
Love Lessons: Twelve Real-Life Stories by Lois Smith Brady
Don't be fooled by the title: Love Lessons isn't a self-help book that will teach you everything you need to know about finding The One. Rather, it's a collection of, as it proclaims, real-life romances researched and collated by Lois Smith Brady of The New York Times' "Vows" column fame. The couple profiled range from young to old, lost love and rekindled love, those that fell in love at first sight to others whose romances developed over time, and more, but they all have one thing in common — a happily ever after you thought could only happen in the movies.
We Two: Victoria and Albert: Rulers, Partners, Rivals by Gillian Gill
Gillian Gill's 2009 book goes behind the scenes of one of history's greatest real-life romances, that of Queen Victoria and Prince Albert, to reveal the complex and caring nature of the royal relationship. More than just a re-telling of their marriage, We Two looks at how outside pressures like their noble status and gender roles of their period (Victoria and Albert were married from 1840 until his death in 1861) shaped and influenced their relationship, using excerpts from the pairs own letters and journals.
Love You, Mean It: A True Story of Love, Loss and Friendship by Patricia Carrington, Julia Collins, Claudia Gerbasi, and Ann Haynes
A book that celebrates the love of friends as much as romantic love, Love You, Mean It details the bonds formed between four strangers who were widowed when their husbands were killed in the 9/11 terrorist attacks. This shared memoir allows authors Patricia Carrington, Julia Collins, Claudia Gerbasi and Ann Haynes to tell their individual stories of their relationships, as well as their mutual experience of regaining hope and optimism in the wake of such sudden, devastating losses.
Image: Fotolia