The App All Starving College Students Need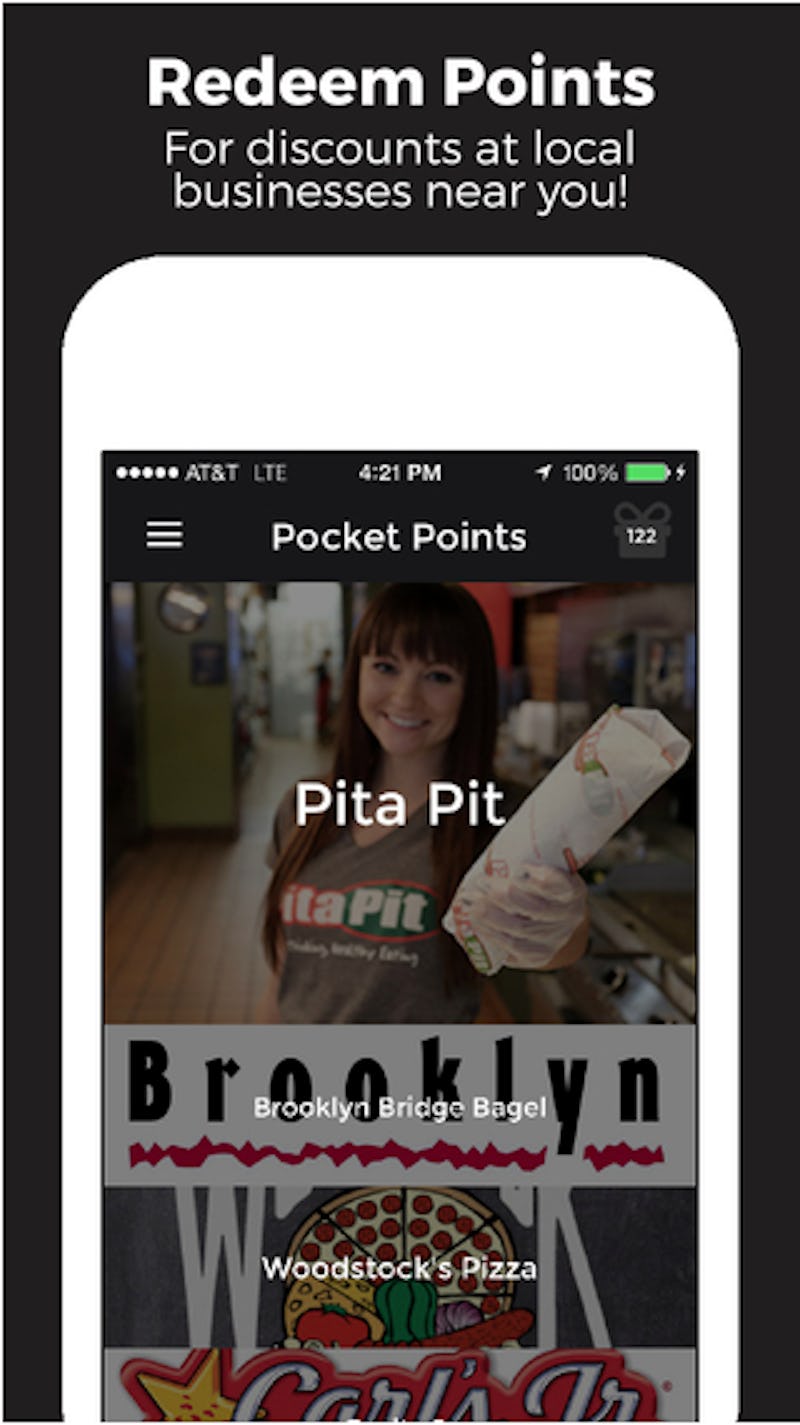 There's a reason the word "broke" is most commonly paired with "student," because anyone who has ever experienced college knows first-hand how wickedly difficult it is balancing financial loans, part-time jobs, classes, assignments, and a social life is, on top of trying to obtain the basic means of sustenance (gross cafeteria food and an eternal stock of ramen, mostly). In college I went weeks at a time depending on the generosity of saintly friends to get by without starving to death. Ingeniously, students at Chico State University (CSU) developed a phone app, Pocket Points, that rewards students with food for not incessantly checking their phones in class.
Developed by Rob Richardson and Mitch Gardner, Pocket Points identifies your location — to determine whether you're in an academic building — and keeps track of how long you go without checking your phone. As soon as a class begins, you open the app and lock your phone. The longer it stays locked, the more reward points you earn that can be redeemed at local participating stores and restaurants. And these aren't for slapdash fast food joints or Chinese hole in the walls where the smell of fried oil clings onto your very being; they're places like D.P. Dough, Underground Burgers & Crepes, and Pita Pit — a pretty sweet deal, if you ask me.
Though it takes about 20 minutes to earn a single point — an eternity, by 21st century standards — the more people use the app on campus, the faster the points accumulate.
Richardson — a computer science junior — and Gardner said they came up with the idea for the app after noticing that their peers were more fixated on their phones than the lectures they were in. Though they developed the app for CSU, a friend of theirs and a sophomore at Penn State, Emily Turner, has since brought Pocket Points to her school, too.
The CSU duo originally aimed for Pocket Points to be used by professors, allowing them to give students extra credit for not using their phones, but after realizing it wouldn't quite work, they turned their focus on students instead. The app has been a hit on both campuses, with 3,000 users in CSU and 1,000 in Penn State so far.
Gardner, a business marketing senior, told Action News Now that they plan to expand Pocket Points to all CSU campuses, and develop one for Androids. And they have bigger plans for it, too. Gardner said:
We want to be the biggest coupon outlet in the country, and we think we can do that.
Image: iPhone App Store (2); Getty Images