A Seahawks Receiver Pretended To Poop A Football?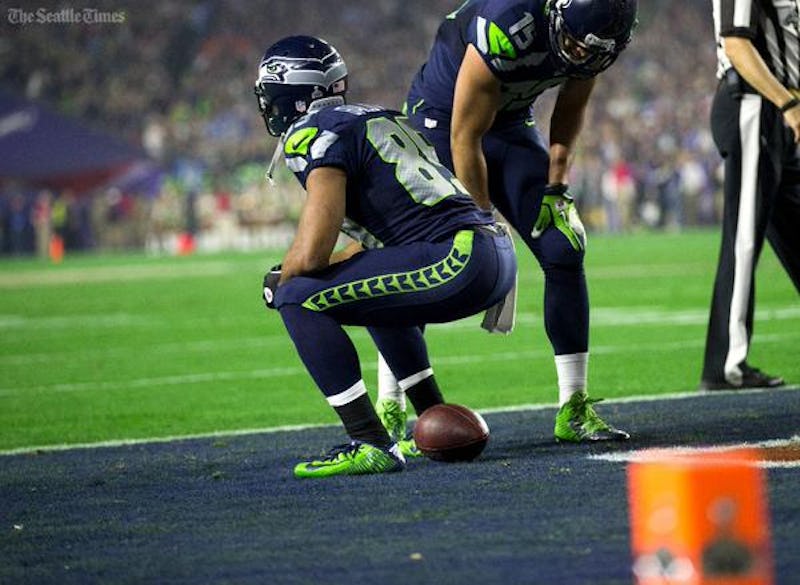 If you scored a potentially decisive touchdown in the Super Bowl, with over 100 million Americans and countless more people abroad watching you, how would you decide to celebrate the moment? Well, one Seattle Seahawks receiver had a somewhat unique idea when he found himself in the end zone halfway through the third quarter of Super Bowl XLIX Sunday — NBC ignored Doug Baldwin's gross football-prop touchdown celebration, and however much we wish we could do the same, basically everyone noticed it. It was an abrupt moment that drew a lot of chuckles and head-scratches on social media, as well as a penalty flag.
To be clear, it isn't unprecedented to involve your hind-parts in a touchdown celebration. In fact, quite the contrary, there's actually a rather unglamorous, iconic moment in football history centering around just that. Back in 2005, during an NFC playoff game between the Green Bay Packers and Minnesota Vikings, all-time superstar receiver Randy Moss decided to pull out the unflattering gesture to the throngs of unfriendly fans at Wisconsin's Lambeau Field. Moss scored a touchdown, turned, and pretended to strip down his pants, throwing in a little booty waggle for good measure.
It drew an infamously sharp, humorless response from milquetoast sportscaster Joe Buck, who called the faux-mooning a "disgusting act" (he sounds like a very fun person to watch sports with). We got no such moment of recognition after Baldwin's score, as the camera cut away right as he did it. But thanks to all those keen-eyed fans in our social media age, there was no chance it was going to go completely missed.
Yup, you saw that right. Unless there's some very nuanced explanation for this, and I don't think there is, Doug Baldwin either pretended that he'd pooped out a football, or merely that he was pooping on the football. Well, okay, man, have at it, I guess. NBC's broadcast abruptly cut away from this underratedly fantastic moment, but they couldn't stop the fire — Doug Baldwin, in addition to being a famous football player, is now also a famous fake-pooper.
Image: The Seattle Times/Twitter