Finally, We Know Who Will Appear on 'SNL's 40th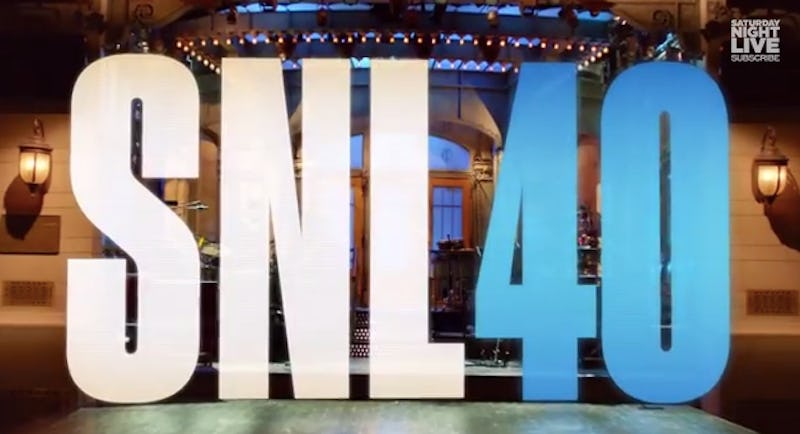 In the fourth quarter of the 2015 Super Bowl, fans still didn't know whether the Seahawks or the Patriots had won the big game, but one thing was revealed to audiences: Who will appear on Saturday Night Live 's 40th anniversary special.
The event, celebrating the sketch comedy series' four decades on the small screen, has been and continues to be shrouded in mystery. Followers of the often times beloved (and often times loathed) live series had been treated to just short ads, announcing that there would be an episode dedicated to its 40th birthday, set to air on Feb. 15. But, up until now, we had no idea who or what to expect. Well, at least now we have an answer to the first part of that last sentence.
According to Saturday Night Live's Super Bowl spot, here is the list of alums and guest star favorites who you will be able to see come Feb. 15:
Justin TimberlakeEmma StoneDerek JeterChevy ChaseKanye WestPaul McCartneyJimmy FallonAdam SandlerWill FerrellTina FeySteve MartinMike MyersMelissa McCarthyJerry SeinfeldRobert De NiroPaul SimonMolly ShannonEddie MurphyAndy SambergBill MurrayJack NicholsonAmy PoehlerJim CarreyPeyton ManningDana CarveyKristen WiigDan AykroydChris RockAlec BaldwinTaylor SwiftGarrett MorrisChristopher WalkenMaya RudolphTom HanksMartin ShortBetty White
Now, we still don't know what is going to happen during the special. Especially since the list of names brings about a slew of questions. Will the 40th anniversary special be a simple clip show? That doesn't seem nearly as celebratory enough. Will it be a live show? That seems difficult because a) the idea of getting all these stars in one room the same night sounds like the stuff assistants' nightmares are made of, and b) it's hard to imagine that SNL would invite its one banned former cast member, Chevy Chase, back into the building for a live showing.
The one thing we do know? That it's worth marking Feb. 15 on your calendars. No matter how you feel about the current, low-rated season, at least one (or two) of these 36 people will make you laugh, right?
See the Super Bowl spot below!