Super Bowl Brawler Bruce Irvins Has Overcome A Lot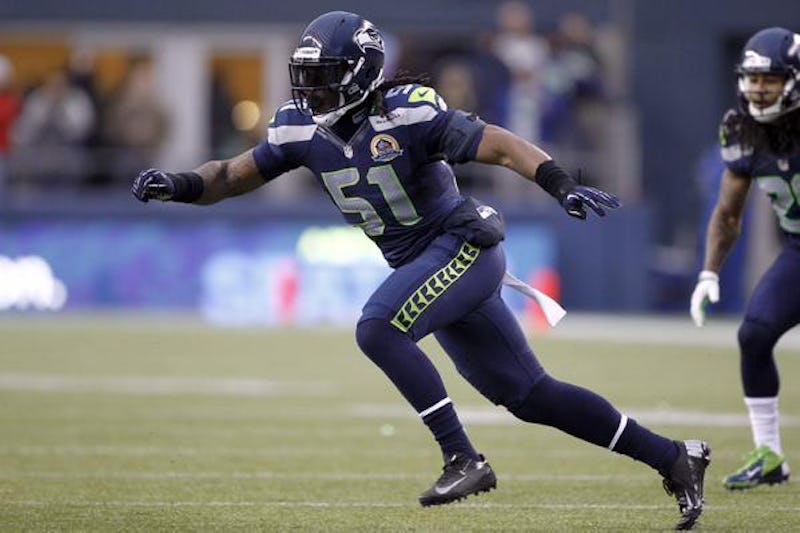 If you were watching the Super Bowl Sunday night like countless millions of Americans, boy did you get a treat. It ended in perhaps the most dramatic fashion of any Super Bowl in recent memory, with Patriots cornerback Malcolm Butler nabbing a heroic interception when the Seahawks were just one yard away from a game-winning touchdown. And then, as time ticked away, you saw something else: Bruce Irvin's Super Bowl brawl, a sad moment in an otherwise great story.
Just prior to the final play of the game — a jubilant Tom Brady dropping to one knee before the Patriots reared up in triumph — Irvin let his anger get the better of him, starting a shoving match that escalated into a brief brawl. He was ejected as a result, and that's a pretty significant bit of Super Bowl history, as nobody else has ever been booted from the big game.
It's no surprise if you haven't heard of Irvin before, or know nothing about the circumstances of his life and how he came to play in the NFL — a (very good, no doubt) third-year linebacker on a team full of outsized, bombastic talents, there are plenty of names that spring to mind when you think "Seahawks" before Irvin's. But with even just a glance at the road he traveled to reach the NFL, and play both in Super Bowls XLVIII and XLIX, you have to appreciate just how much more there is to the man, and to his life's journey.
It may not come as news to fans of the Seahawks, but for everyone else, it's worth a refresher. As detailed by Les Carpenter for Yahoo Sports, Irvin, now 27, grew up in Stone Mountain, Georgia, and attended a predominantly white high school that boasted a distinctly different culture from that which he found familiar. After overhearing some teachers speaking derisively about him, saying that they'd be happier if he left the school, he did just that. His dropping-out resulting in a truly destabilizing decision by his mother, however — she kicked him out of the house, leaving him to fend for himself.
And, as he told Carpenter back in 2012 before he was drafted by the Seahawks, Irvin went to some pretty dark places. He attempted to rob a drug dealer's house back in 2007, narrowly and luckily avoiding legal repercussions. After that, he ended up living out of a drug house (a step-up from being homeless, as he had been), and only decided to leave on the advice of a former fellow high school football player, who urged him to try to get into an Atlanta-area prep school. Irvin left the house without much of a plan in place, and he did so at essentially the last possible moment — just days later, the house was raided, and criminal charges were brought against its inhabitants.
I was foolish, man. It takes some people longer to realize certain stuff than other people. You never want to go through that situation that I went through, but a lot of people who did that stuff wouldn't be doing this stuff today. I beat the odds. It showed me a lot of stuff: life is not just about getting money or having fun. I'm not going to take this one life I got and wreck it.
That wasn't the end of Irvin's unlikely, hugely relieving story — he eventually came under the wing of a watchful mentor who helped him gets his education in order, attending a junior college where he demonstrated his football skills, and ultimately, he ended up playing for the prestigious, nationally profiled West Virginia University football program, an opportunity he's clearly made the most of.
So, why the long story? I guess it's just to say that you shouldn't always gloss over someone so quickly and casually on the basis of one bad moment, or one emotional outburst. In a way, Irvin's story is itself a testament to that fact. And while nobody enjoyed seeing such an exhilarating Super Bowl descend into chaos right at the end — well, I'm sure some people did — there are a lot less sympathetic moments to lose your cool than right after the fruits of months of grueling, literally dangerous work have been ripped out from under you.
Besides, what I'll remember about this game won't involve that little melee at all. Rather, it'll be Malcolm Butler collapsing to the ground, football in his arms, forever a hero to the people of New England. So hats off to the Patriots, and to the Seahawks, too. That was one hell of a game.
Image: JUCOFFrenzy/Twitter