This Is The Tiniest Breakfast Of All Time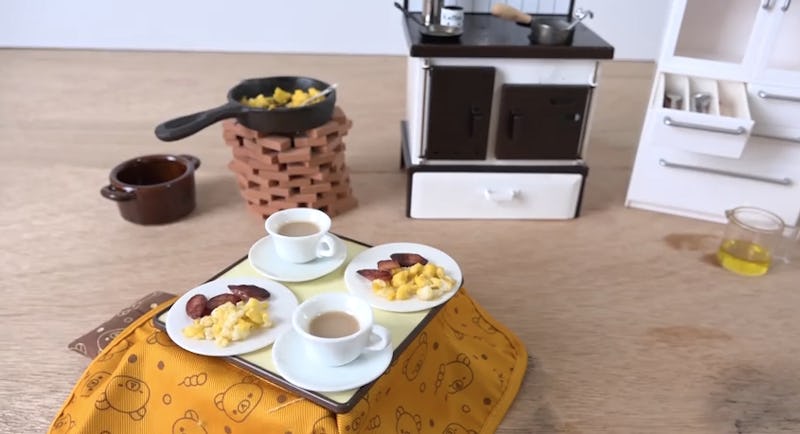 Everyone knows breakfast food is the best kind of food, but did you ever think it could be the most cutest food? YouTuber AAAjoken made a real, edible miniature breakfast out of tiny food, cooked in a tiny, fully functional doll's house kitchen in a demonstration of shameless adorableness. The video starts in the mini kitchen with the ingredients being showed off: a tiny sausage, and a little quail egg. There are also mini coffees, and tiny pots of boiling water. I mean, this is basically my 10-year-old self's dream. Actually cooking real food in a doll's house kitchen? If all tiny kitchens operated this way, being a kid just LEVELED UP. The practicality of it!
On a teeny tiny flame, the eggs are scrambled in a teeny tiny frying pan using the end of a single chopstick. The sausage is cut with a small razor blade and fried the same way. And yes, the flame is from a small lighter. I just want to make tiny meals all the time now. These mini-meals would never fill anyone up, but how precious is it? After watching the video below, your regular-sized food just wont seem quite cute enough. Stupid, dumb, big food.
Image: YouTube