They Took "Engagement Shoot" Literally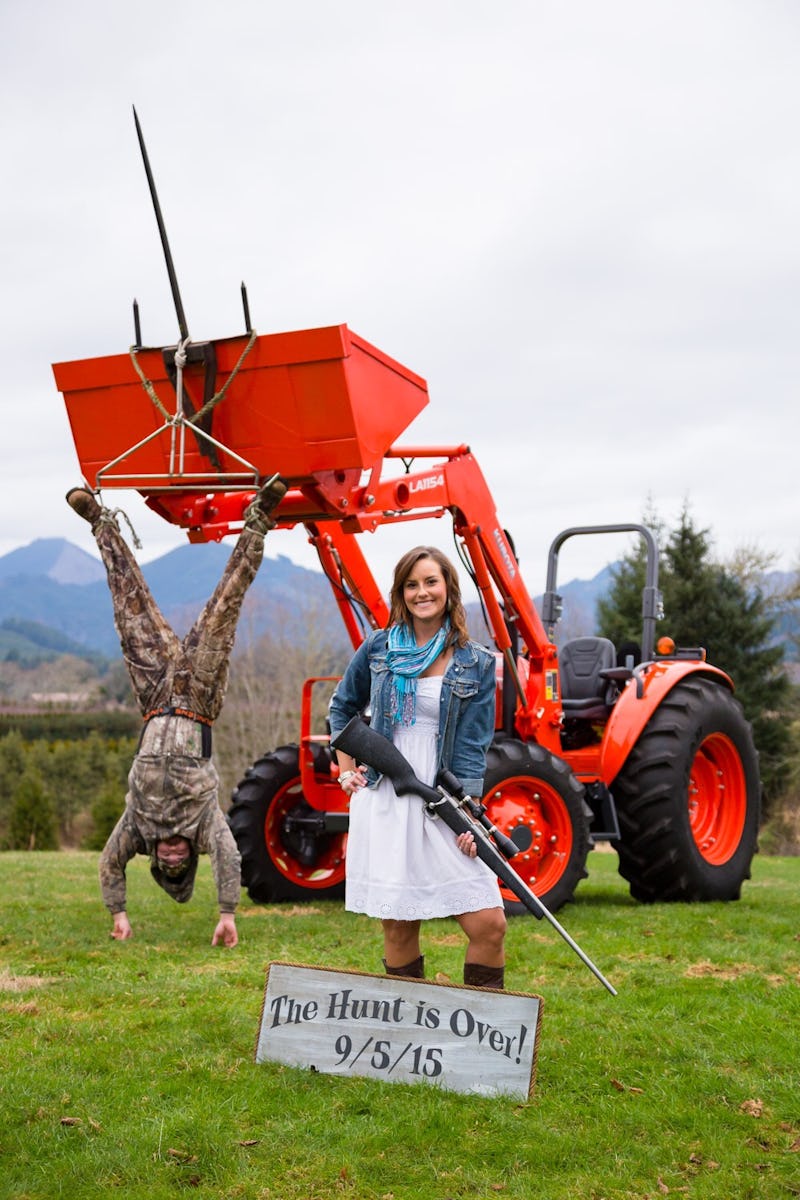 What would you do if your save the date photo was being posted all over the Internet? Well, if you're bride-to-be Stevie Beard, you just roll with it: the Oregon native's "The Hunt" engagement photo has gone viral and she is taking it in stride.
Beard and her fiancé, Brady Hogevoll, are elk-hunting enthusiasts and thought that it would be fun to incorporate the pastime into their save the date cards. They carefully planned out the logistics of the photograph — Hogevoll practiced tying knots that could hold him up, they asked to borrow the Hogevoll's family tractor, and Beard's father painted the sign — and left the artistic elements to photographer Joshua Rainey. Even with the preparation, the image was not easy to capture. Hogevoll could only remain upside-down for a few minutes at a time, and Rainey needed the perfect dusk-colored sky to counterbalance the bright orange tractor.
After seeing the final product, Beard sent the photo to the Rocky Mountain Elk Foundation, a hunting advocacy group, which in turn shared the image on their Facebook page. This one share caused the image's exposure to snowball, accumulating over 163,000 likes and 6.4 million views. Beard spoke with Oregon Live about the unexpected Internet success of her photo, say "At first, it's really shocking…You don't ever expect for your face or your picture to go all over the country." But the site reports that the bride-to-be is too busy planning her wedding to worry about any backlash coming her way, including critics who say that the photo glorifies hunting. Rainey was also initially taken aback by the extra attention — the increase in traffic to his site caused it to crash a few times.
Though hunting-themed engagement photos are nothing new, this one is really goes the extra mile and, more importantly, gives us a chance to collect the punny comments it has inspired. Here are my favorites:
"A husband-to-be from Oregon proved he is 'game' for a laugh by posing as a captured animal," The Telegraph
"She bagged a husband!" Random guy on Twitter
So while Beard and Hogevoll are busy taste-testing wedding cake, I will be still be here, trying to come up with a better/worse pun than The Telegraph. This might take a while.
Image: Courtesy of Joshua Rainey Photography,