How Video Game Fashion Shaped My Style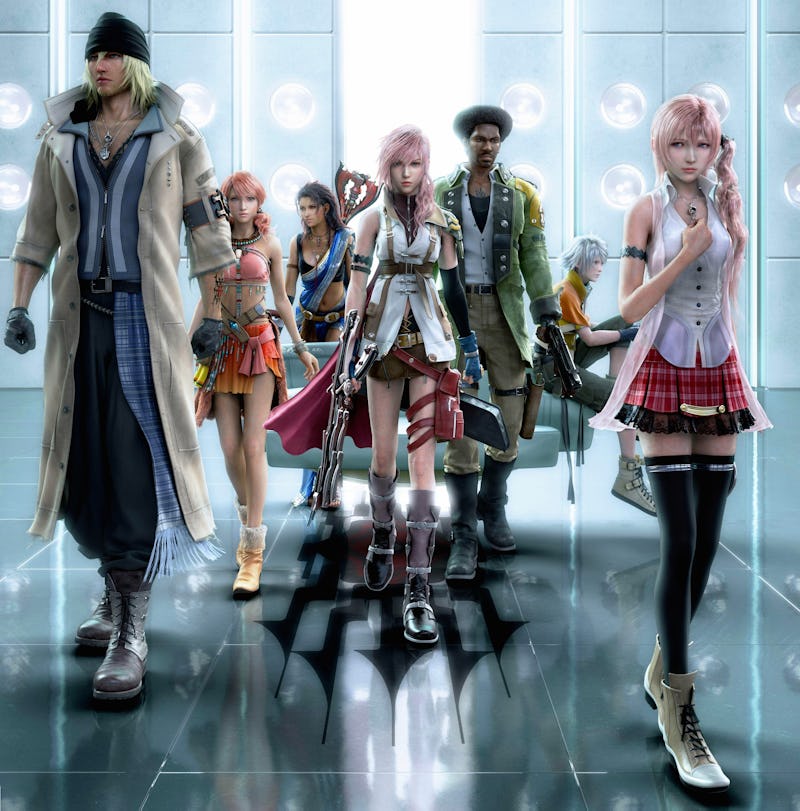 I have always been a gamer at heart — my mother made sure of that. She put in all those extra hours so that my brothers and I always had the newest game systems (even if it meant waiting in line outside overnight to get them on release day), and a TV big enough to do the graphics justice when it came time to switch over to multiplayer (just in case the whole family wanted in on the fun — and by "fun," I mean getting randomly chosen to sing "(You Make Me Feel Like) A Natural Woman" while playing Karaoke Revolution as your closest family members crack loving jokes behind you).
We grew up with the understanding that playing video games with others was more enjoyable, and our mother made that into a rule: If anyone else wanted to play, then we had to give them a controller; if we were playing a one-player game, then we had to save it and pick something else to play. But even as we came to understand the value of playing with others, we also began to appreciate the rarity of being able to play our favorite games by ourselves. For me, those games were mostly role-playing games (or as they're called in the gaming world, RPGs): Imaginary worlds filled with terrifying monsters and beautifully rendered landscapes, founded upon intricately structured plots and highly developed characters — with just as highly developed senses of fashion. It was through playing RPGs like Final Fantasy X that my own sense of style was developed — how my ideas of what fashion could be were broadened.
Because fashion isn't bound by physical limitation when being rendered digitally, the clothing and costuming in video games have virtually no limits. Spending however many hours I did playing my favorite Final Fantasy games (and I can assure you, you would probably gasp at the number), the avant-garde — sometimes bordering on "punk," often times rather pseudo-militaristic — styles of the outfits slowly influenced my own perception of style; as I grew older and began my long pilgrimage into the fashion world (one that would eventually lead me into the women's section, desperate for more options as a cis-male), I came to realize just how much these imaginary worlds had changed how I saw mine — how my notions of what styles of clothing looked good on me, or even what was appropriate to wear, expanded.
Well, to give credit where credit is due, I've decided to pay homage in the best way I can (because, you know, due to the lack of diversity in most video games, cosplaying's not really an option for me) — by highlighting eight of my favorite outfits in the Final Fantasy franchise and telling you how they've inspired my sense of style, explaining how some of their more surreal components could be translated into my personal wardrobe. So, here goes:
8. Tifa Lockhart (Final Fantasy VII)
Tifa Lockhart of Final Fantasy VII starts off the list at No. 8 with her simplistic look. You got your basics: Cropped white tank, black mini skirt, hiking boots. The steel details on the boots and her elbow — along with the boxing-style gloves she's got going on — let us know that she'll be ready to fight at any given moment. She's giving me comfort and ease, and I like it.
7. Auron (Final Fantasy X)
Then at No. 7 there's Auron, by far one of the coolest playable characters in Final Fantasy X. If I said that he made it onto my favorite Final Fantasy fashion list because of anything other than his haori, I'd be lying. I am in love with all the leather detailing that's been done to it — the double-belted strap around his waist, all of the extra belts that have been added on (especially on the end of the sleeve), and the elaborate design on the shoulder pad — and even though it would be a little hard to pull off on your average day, I think I could find the right occasion for it. Also, I want the dark seaweed-colored jumpsuit underneath! The oversized turtleneck with leather straps in the shape of a cross... *swoon.*
6. Serah Farron (Final Fantasy XIII)
At No. 6 we have the younger Farron sister, the sibling of FFXIII's main character, Lightning. Serah is dressed in attire that must be somewhat inspired by the classic boarding school uniform (albeit a more relaxed version, looking at those Converse-esque boots). I feel like she's giving me a lot of Avril Lavigne — and it's the layering that really does it for me. The sheer pink cardigan accents the plaid detailing of the skirt, and the slim fit woven tights really keep the "schoolgirl" idea present. Thigh-highs and a mini-skirt never looked so cute.
5. Snow Villiers (Final Fantasy XIII)
Snow Villiers of Final Fantasy XIII takes spot No. 5 with his very modern-day menswear look. That's what I enjoy most about this design — I could probably find something similar to all of these items (though, I'd really have to look) in certain stores now. Aside from the very "Final Fantasy" detail on the left arm of the trench coat, the rest of his ensemble keeps it pretty toned down — in a good way. It has just the right amount of flair to it, everything from the do-rag to the baby blue plaid scarf (or at least that's what I think it is) giving his outfit just the right amount of texture. And the popped collar really brings it home.
4. Aerith Gainsborough (Final Fantasy VII)
Oh, Aerith... It's the simplicity of her design that pushes this FFVII character up to the No. 4 spot. And I don't know if it's how this particularly gifted artist rendered her (mad props) or what, but she's killing in it with that button-down maxi dress. The detailing on the seams brings renewed purpose to her mini-bomber jacket, and the "prairie girl" look reaches a new level with all those ribbon bows in her hair. And the strapped leather boots — talk about "pretty in pink." Yes to all of it.
3. Tidus (Final Fantasy X)
I couldn't not place one of the main protagonists of my favorite RPG of all time at No. 3. I mean, there's just so much inspiration here: The cropped hoodie with the sleeve pocket, the two-piece overalls with the zipper details, the iridescent sword — and the coordinated asymmetry gives it even more of the "punk rock" feel you're getting from that dark olive green gauntlet he's sporting. Not only does his outfit reflect his in-game bubbly personality, but many parts of this ensemble could be easily translated into daily pieces that I would wear (legit) all the time.
2. Yuna (Final Fantasy X-2)
And then, of course, there's the other main protagonist of my favorite RPG holding down spot No. 2. What I love the most about this outfit is that it's basically a redux of her original clothing in Final Fantasy X. The sequel follows her and her all-girl team of awesomeness as they adventure out into the game's imaginary world Spira in search of hidden spheres of information (each girl has her own reasons for joining the group — Yuna's mostly being to find answers about Tidus, who disappears at the end of FFX), and her outfit takes on that adventurous vibe; from the ruffled half-skirt to the lace-up boots, she's ready for action, pistols in hand. If you're able to look past how revealing her top is (and I'll be the first to admit that the misogyny extant in female costumes is terribly depressing), you'll see that the space there is actually making room for a design that mimics the emblem that was on Tidus's shorts [cue audible "awww" from audience]. Oh, and don't forget about that gorgeous three-foot-long braided weave — yasss *snaps.*
1. Cloud Strife (Final Fantasy VII)
And last but not least, my No. 1 — Cloud, the crowd favorite and one of the franchise's most timeless characters, originally from FFVII. If gauntlets were appropriate to wear in public, this outfit would be my everything. The dark royal purple gives the whole ensemble an ethereal feel, while the finished leather gives it texture and keeps it rugged; the suspenders connect the skin-tight turtleneck to the harem pants, which effectually offset each other. And top all that off with some minimalistic zip-up combat boots — yeah, I would wear any of these pieces in real life, as is, and look badass doing it. Now all I have to do is find them...
(Yeah, I know... Video game designs are awesome.)
Images: finalfantasy.wikia.com (5); creativeuncut.com (3); zerochan.net; Deviantart/bente36