Let's Talk (& laugh) About Disabilities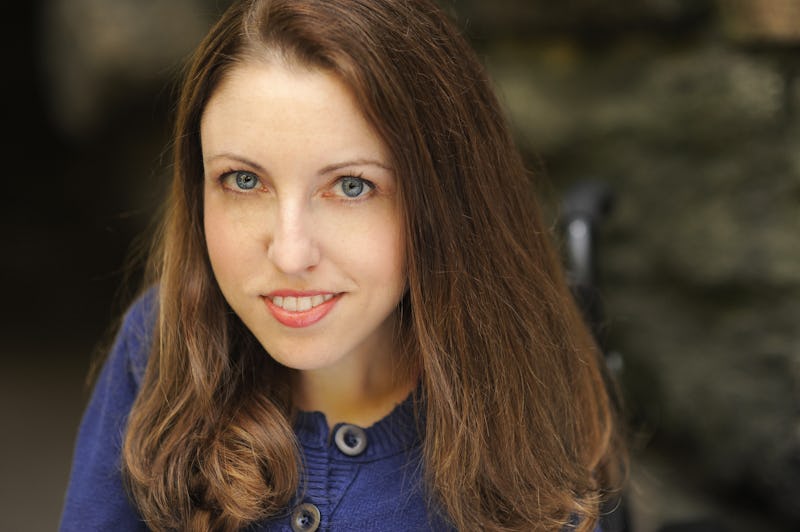 "I'm so excited for Monday. I'm going to be taking so many pictures and probably get kicked off of the show," Shannon DeVido tells me about her appearance on Monday's episode of The Nightly Show with Larry Wilmore . DeVido is an up-and-coming Philadelphia comedian and actor with Spinal Muscular Atrophy who uses a wheelchair — and has big things on the way.
It's very rare that we hear about comedians with disabilities as part of the discourse surrounding diversity in film and television. After just 25 minutes on the phone with DeVido, it becomes abundantly clear that the subject is about to blow wide open. This multi-talented comedian is already helping to change the way actors with disabilities are perceived by the public, directors, and casting agents.
DeVido is elated about her upcoming role in Difficult People , a Hulu Original Series produced by Amy Poehler and Billy Eichner, as it fulfills her life's dream of being yelled at by Eichner, and because she was cast in a role that did not call for an actor who uses a wheelchair.
I play this crazy storyteller... I get on stage and Billy Eichner and Julie Klausner are making fun of me ... Any actor with a disability has been pigeon-holed into playing a person with a disability and normally they're sad and pathetic characters. In this, I get to play a funky role. She wears glasses, so my agent submitted me and I just kind of fit the acting style they were looking for. And it turned out I was the right person for the part, and that I think that specific role is so exciting to me because of that one fact [that it didn't actually call for a wheelchair]. Very, very, very rarely do you ever hear a casting director make that call, and she did.
DeVido's appearances will not only help her star rise, but will help bring attention to the many talented comedians and actors with disabilities who are often over-looked. According to DeVido, part of the problem is that audiences are afraid to laugh at people with disabilities or people who use wheelchairs.
It's a mental perspective that needs to change. The more you see it the more you start to see a shift in that thought process. I still don't think it's OK for an able-bodied performer to make disability jokes, that's not what I'm saying. If I'm making disability jokes, it's OK to laugh at it.
DeVido wants you to laugh at her, but she also wants you to stare at her. The 32-year-old comedian has a popular YouTube series called Stare at Shannon. She uses her status as a person who uses a wheelchair by placing herself in hilarious situations (like going through drive-thru windows) to point out how the world reacts to people with disabilities.
My personal favorite is an episode in which she completes Troy Polamalu's insane bucket list. During one instance while filming, a woman pats her on the head, which according to DeVido is not an uncommon occurrence. "So many of [those interactions] were so patronizing, and it was amazing. These people think I don't know what I'm doing handing out lemons, and all of them had responses like, 'Oh you're cute! Oh, you're adorable.' I'm like, 'Oh, cool, thanks, later. You're going to be on the Internet!'"
DeVido also recently worked on Bent But Not Broken, A Disabled Sketch Show , that played at Philly Improv Theater and the Upright Citizens Brigade, which featured comedians with disabilities and comedy about disability culture: "It was really cool to bring that world into sketch because it really hasn't been done before."
DeVido's passion for changing the culture and conversation around people with disabilities through comedy comes from a very personal place:
So much of my teenage life was devoted to not being a person in a wheelchair, which sounds so strange because it's not like I ever wasn't. Once I kind of embraced who I was and was OK with who I was and becoming OK with making fun of it, then I feel like this whole new world opened up to me. And it's so fun to bend society's perspective for your advantage and that's what comedy is — taking something and molding it into something different and making people laugh. And making people laugh is the ultimate barrier knock down because if you can make someone laugh, it doesn't matter who you are or what you look like.
When it comes to aspiring comedians, with or without a disability, she's got some pretty solid advice. "Do stuff. Don't wait for other people to tell you, 'Go.' I think my world has opened up since doing my web series and finding people to play with. So don't sit at home watching. Comedians thinking, 'Oh that would be fun to do,' just do it. And do some improv!"
Images: Melissa Hamburg Photography, Shannon DeVido/ YouTube