Mayor Bitten By Weather-Predicting Groundhog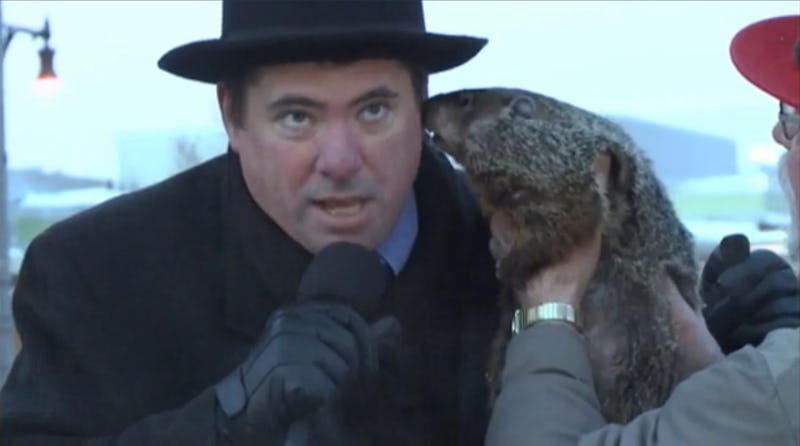 I would just like to say something to groundhogs for the record: When you eventually take over the world, which I have no doubt you will (you've already taken over my backyard), I am totally on your side. I mean it. I completely stand down to any animal that can burrow into the ground and create its own intricate network of underground tunnels using only its face and hands, which it appears groundhogs can do. It also appears that groundhogs are capable of delivering independent opinions on the matter of an early spring. The mayor of Sun Prairie, Wisconsin, was gifted with intimate rodent knowledge today when Jimmy the groundhog bit the mayor's ear and then apparently spoke to him.
According to The Associated Press, Mayor Jonathan Freund was presenting Jimmy at a Groundhog Day ceremony when Jimmy bit down on his left ear. Freund flinched but "soldiered on," placing the weather forecast of the community above his own pain and delivering the verdict: an early spring. When Jimmy's handlers, Jimmy and Maria Hahn said the mayor was mistaken — Jimmy had actually foretold six more weeks of winter — the city issued an official statement saying that only the mayor is qualified to interpret the groundhog's prognostications.
A press release from Sun Prairie's Director of Economic Development Neil Stechschulte said that "only the Mayor can translate Jimmy's prediction." The release explained:
At sunrise this morning, Jimmy the Groundhog whispered his prognostication to Mayor Jon Freund. While tradition holds that only the Mayor can translate Jimmy's prediction and that a clear sky generally means Jimmy sees his shadow and that winter will go on for six more weeks, the Mayor's translation this morning was clearly for an Early Spring. The break with tradition is unusual, but not unprecedented.
According to Stechschulte, Jimmy is not like other groundhogs across America. He is superior. In fact, Jimmy can actually predict the weather. Stechschulte said:
The translation by the Mayor is a critical part of the prognostication process. We count on Jimmy to actually predict the weather…not just have an automated response based on current weather conditions like other groundhogs across the country.
Though Stechschulte did not specify Jimmy's qualifications, he did say that Jimmy and Freund had "a back and forth conversation," after which the mayor had no choice but to confirm the groundhog's call.
Jimmy the Groundhog was very adamant in his prognostication this year, as he leaned into the Mayor's ear to make sure the Mayor heard him correctly. Mayor Freund stands by his translation, and we continue to put our faith in Jimmy the Groundhog.
"He says that he didn't see a shadow, and so it will be an early spring," Freund said at the ceremony ."Thank you, Jimmy."
When it comes to Freund's health risks, according to experts, dogs who are bitten by groundhogs have basically no danger of roundworm. However, the CDC says that groundhogs are the leading rodent source of rabies in America. From 1985 to 1994, they accounted for 86 percent of cases of rabies among rodents reported to the CDC. Even if Mayor Jon Freund is the groundhog whisperer — or perhaps the groundhog Pope — he might want to get checked out for rabies. After all, he's only human.
Images: NBC News screen grab (1); Giphy (1); Getty Images (1)