Proof That Puppies Are More Fun Than Relationships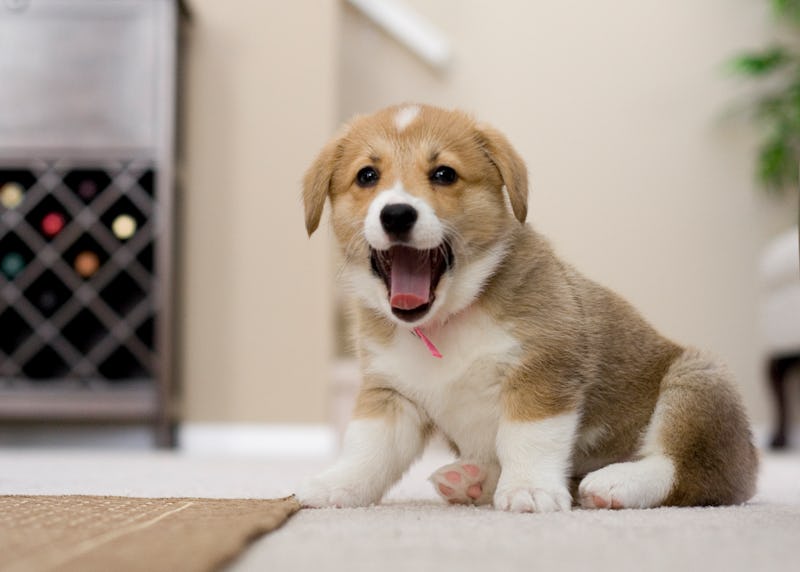 You've always thought your pet would make a better lifelong companion than any human, and now there's research to suggest you aren't alone. According to a recent survey by pet-sitting service DogVacay — just in time for Valentine's Day — more than 75 percent of people would rather snuggle with their pets than with their significant others. Sad but true. (Sad in that I feel bad for those who don't have pets to love, honor, and cherish like my little Chewbacca, who is and will always be the one true love of my life.)
Of the 3,000 responses DogVacay received, the survey also found that you — you party animal, you — also aren't the only one who would rather spend the weekend cozying up on the couch with Fido and that trusty bag of Cheetos than, you know, hanging out with actual people. A whopping 85 percent of people said they would rather spend a Friday night in with their pets than out at a party, giving the term "party pooper" a whole new meaning.
I can't say that I'm surprised by this research (though as an NYC dog daycare owner, I am a little biased). I love spending date nights with my dog. It's very similar to a regular human date night — even better, actually. He doesn't debate about what to have for dinner, he lets me have the wine bottle all to myself, and he can't keep his paws off me, leaning in at awkward moments for kisses (weird that it's usually when I have a mouth full of brownie bites).
So what does this mean for the day of puppy love (or cat love — we're not discriminating here) coming up on Feb. 14? It means, according to study results, that approximately 83 percent of pet owners will get their fur babies gifts for holidays, including Valentine's Day. No word yet on how many of those people plan on getting something for their SO, too.
This news comes on the heels of the National Retail Federation (NRF) revealing Americans plan to spend $700 million on their pets this year for Cupid's day of love alone. And I mean, as long as you're buying presents for everyone else in your immediate circle, why not throw a bone (get it?) to the one furry friend who understands you the most? I bought my dog a new red, plaid leash at 75 percent off at CWonder's going-out-of-business clearance sale, and I can see his reaction now. It will be similar to my 5-year-old face when I got a jumper that matched my cousin's (because they were two for one) from my grandmother for Christmas instead of the kleptomaniac Barbie I specifically requested when she asked me for a list.
And you know what that must mean, right? Love. Unconditional love.
Images: Ted Fu/Flickr; Giphy