This 3D Calligraphy Is Basically Handwriting Porn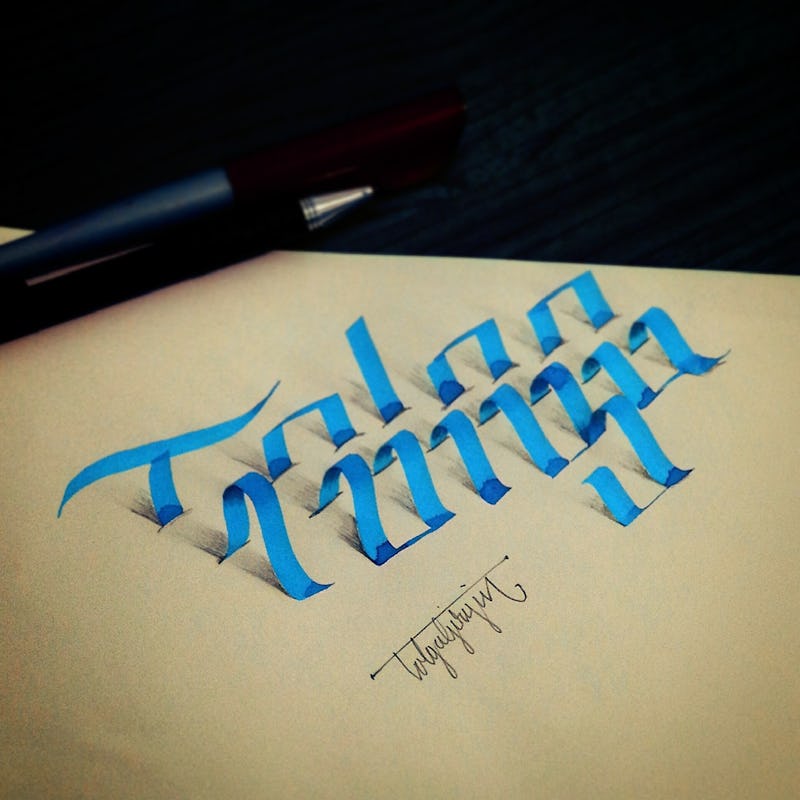 I've gotten so used to seeing amazing art created through computers and 3D printers that it's an exciting and refreshing change of pace to discover beautiful, mind-bending artwork created by hand, with simple materials. We can still use our hands, you guys! That's still allowed! No one knows this better than Turkish artist Tolga Girgin, an electrical and electronics engineer who uses his spare time to create amazingly realistic 3D calligraphy. His brightly-colored letters create the illusion that they are rippling and floating away from the page. Whenever I look at them, I find myself wanting to reach out and peel them from the paper, as if they were stickers. The amazing thing is that Girgin creates these minor masterpieces with nothing more than ink, pencil, paper, and his own powerful sense of light and perspective.
Calligraphy is an art that has been practiced in Europe, Asia, and other parts of the world for thousands of years. Girgin is carrying on the tradition with aplomb, infusing the ancient tradition with his own innovative spin. Although some of Girgin's work looks fairly traditional stylistically, he also practices "calligraffiti" a style which combines classical calligraphy with the urban aesthetics of contemporary graffiti. The results are the lively and dynamic pieces you'll find below. Take a break in your day to enjoy the gorgeousness—and try not to feel too bad about your own relatively lackluster handwriting.
Image: Tolga Girgin/ Instagram