Detroit Man's Inspiring Story Touches The Nation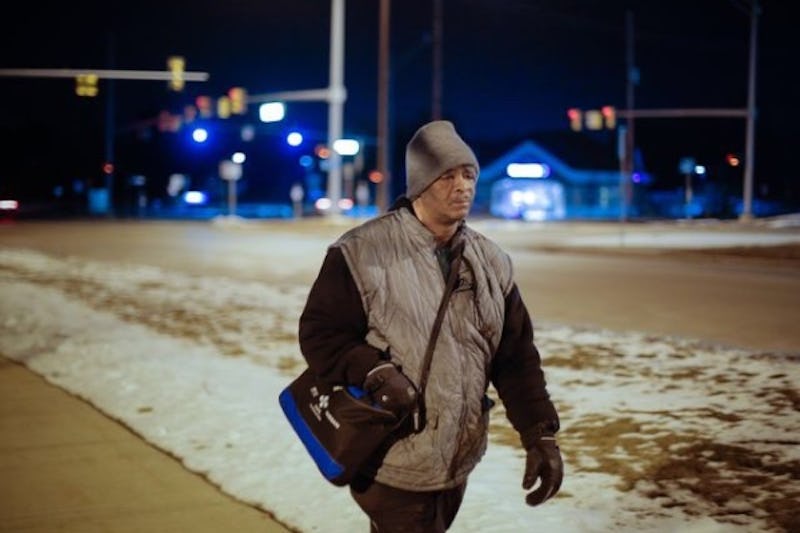 After reading the story of James Robertson, you might never complain about walking to the subway ever again. Detroit resident Robertson walks 21 miles every single day, rain or shine, to get to his factory job. Even more amazing than the sheer distance he walks on a daily basis is the fact that Robertson has a perfect attendance record at work. After his story was broadcast by the Detroit Free Press, people across the country responded with an outpouring of support, raising hundreds of thousands of dollars among other offers to help. When he learned that strangers were trying to help him, Robertson was shocked and humbled. Still, it's his story that's truly humbling.
Every Monday through Friday, 56-year-old Robertson commutes from his home in Detroit to his factory job in the suburb of Rochester Hills. He's been making the trek for about 10 years after his car broke down and the city's buses were downsized. While he's able to ride buses part of the way, they don't cover a large portion of his route so he has to walk eight miles to work for his 2 p.m. shift and 13 miles back when his workday ends at 10 p.m.
The Detroit Free Press published a cover story on him on Sunday. His story touched the country, inspiring thousands of Good Samaritans to come forward and offer their assistance.
One of these strangers was 19-year-old Wayne State University student Evan Leedy, who was moved by both Robertson's story and the countless comments online expressing the desire to help. Without hesitation decided to turn that desire into action. He told the Detroit Free Press:
I just used my phone. I created the go-funding site and within an hour we had $2,000. I set the goal at the beginning of $5,000. Right now my page has more than $30,000 (as of Sunday at 6 p.m.).
Then, two more people started crowdfunding campaigns, so he contacted them to coordinate and manage the funds. Leedy is even taking steps to ensure that the money goes directly to Robertson and will cover all necessary expenses. Leedy added:
I think some of it should be set aside for his insurance and gas and maintenance.
As of press time, Leedy's GoFundMe page, which you can donate to using that link, had amassed more than $200,000 in just two days.
Others who were touched offered help in different ways. The Rodgers Chevrolet dealership in Woodhaven offered Robertson a 2014 Chevrolet Cruz or Sonic (he gets to choose) after sales manager Darwin Filey read his story on Facebook. Filey told the paper:
When I saw the story I said, "Wow." Some people said you guys have got to do something. Then I called my owner and she read the story and said put something together.
Angela Osborne, a customer service specialist at the Rodgers Chevrolet said, "We were just impressed with his determination."
That determination has made Robertson the model standard at Schain Mold & Engineering, where he works molding parts. According to The Globe and Mail, Robertson has had perfect attendance at work for 12 years. Todd Wilson, plant manager at Schain Mold & Engineering, told the paper:
I set our attendance standard by this man. I say, if this man can get here, walking all those miles through snow and rain, well I'll tell you, I have people in Pontiac 10 minutes away and they say they can't get here — bull!
As if Robertson's daily walk and his incomparable work ethic weren't astounding enough, the man's humility will absolutely floor you. When he found out about the outpouring from strangers, he was shocked and touched, but when asked about a new federal program in Detroit that could provide a small bus to pick him up and drop him off at work, Robertson told the Detroit Free Press:
I'd rather they spent that money on a 24-hour bus system, not on some little bus for me. This city needs buses going 24/7. You can tell the city council and mayor I said that.
Next time you want to complain about walking somewhere, think of James Robertson and his determination. Robertson added:
My dad used to say, tough times don't last — tough people do.
Images: Help James Robertson Get A Car/GoFundMe, The Detroit Free Press/Screenshot