Fort Worth Is About To Have The Best Birthday Ever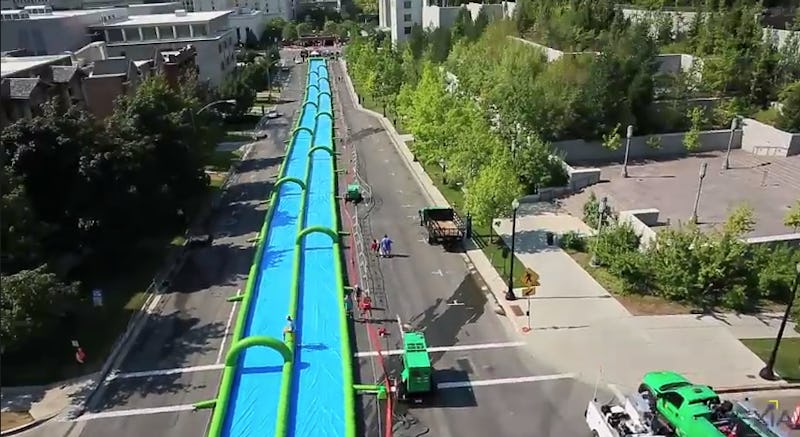 Austin and Dallas are indubitably two of Texas' most eminent cities, but there will soon be another contender for the title of Coolest Texan City — come June, the city of Fort Worth will celebrate its birthday with a giant slip n' slide extending 2,000 feet across its streets. Fort Worth's 166th birthday will be commemorated with PantherFest, a new festival launching on June 6 that will include Slide The City — a magical enterprise that brings giant water slides to city events. And though Slide The City's slip-n-slides are usually 1000 feet long, Fort Worth will have the honor of hosting a slide twice as long.
Mayor Betsy Price announced the attraction in a press release from the Trinity River Vision Authority (TRVA) — the organization will be in charge of the mammoth task of connecting every neighborhood in Fort Worth to the Trinity River corridor. Said Mayor Price:
We in Fort Worth know how to throw a party, and we're proud to partner with our friends at the Trinity River Vision Authority to commemorate Fort Worth's birthday. I can't think of a better way to celebrate than by turning our famous Main Street Bridge into a giant water slide. This should be a lot of fun.
The day-long PantherFest festival will have the usual fare of food, beer and live music, but the water slide is no doubt the main attraction. Slide The City told the Fort Worth Star-Telegram that the slide will be padded, and has,
[M]ore cushion than your grandpa's orthopedic sneakers.
The TRVA encouraged those planning to attend to:
[B]ring your floaties, and water guns (non-realistic of course), to squirt, spray, splash and get all attending soaked.
Longer than three football fields, the giant slide will be set up on the Paddock Viaduct Bridge along North Main. Admission to the festival is free, though a single slide will set you back $15. Those who want to splurge on an unlimited amount of sliding fun can purchase the superfluously named "VIP Slider Package," which starts at $50. Tickets go on sale on Feb. 20, so if you have the good fortune of living in Fort Worth or somewhere in its vicinity, I'd strongly advise marking your calendar on behalf of all of us.
For the rest of those outside Fort Worth whose cities will welcome Slide The City with open arms this spring and summer, we'll just have to settle for 1000 feet waterslides instead, I guess.
Image: Slide The City/Youtube (2); Getty Images