Makeup Hacks For Beauties With Hooded Eyes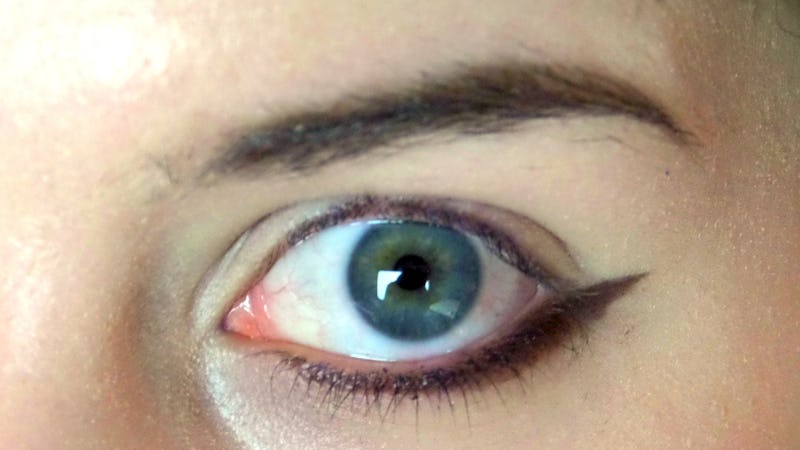 Hi, my name is Kelly, and I have hooded eyes. Mine aren't an extreme example; you can see some of my eyelids when my eyes are fully open. With some hooded eyes, you can't see any trace of an eyelid at all, as it seems to melt seamlessly into the brow bone. Either way, makeup for hooded eyes can be an extremely difficult task to master.
Maybe your eyes are extremely hooded, or you just wish you had a little more eyelid space for makeup. Maybe you're looking for some eyeliner tips for hooded eyes. Perhaps you've only just noticed this problem as you've gotten older, or you've struggled with it all your life. No matter where you are in your hooded eye journey, consider this your survival guide. I promise you, you can do all the eye makeup looks that everyone else can. Just follow these seven simple tips:
1. Invest in a primer that you love.
Not only are my eyes hooded, but they're also extremely creased and a million times more oily than any other part of my face. Really won the genetic lottery there. Anyway, the only thing that enables me to wear eye shadow without it sliding all over my lids and onto my brow bone is a good eye shadow primer.
There's a lot of options out there so you may have to try a few duds before you find your favorite. I've had success with both high-end primers from Urban Decay and the $3 primer from e.l.f. The important thing is to wear some sort of base, even if it's just concealer.
Urban Decay Eyeshadow Primer Potion , $17, Amazon; E.l.f. Studio Eyeshadow Primer , $7, Amazon
2. Only use smudge-proof eyeliner and mascara.
Those with hooded eyes know all too well the struggle of smudged eye makeup. You apply your 15 coats of mascara, or finally get that eyeliner on perfectly, and with one blink it's suddenly smeared all over your brow bone. Stop that from ever happening again with waterproof and smudge-proof makeup.
Fiber mascaras can be great because they don't smudge, but still come off easily with water at the end of the day. For eyeliner, I swear by Stila Stay All Day Waterproof Liquid Eyeliner (though it's still probably best to wait a second or two for it to dry before you blink).
Stila Stay All Day Waterproof Liquid Eyeliner, $22, Amazon
3. Tight-line your eyeliner on the upper lash line.
Tight lining is when you take your eyeliner and apply it right in your waterline where your lashes are, as close to your eyeball as it gets. It seems scary, but it gets easier with practice.
In this picture below, my upper lash line is tight-lined, but not my lower lash line. You can do both if you like, but when you have limited lid space it's really important not to waste it on a thick line of black eyeliner. I also find that, generally, leaving the lower waterline free of eyeliner makes my eyes look bigger (another plus for those with hooded eyes).
Laura Geller Gel Eyeliner , $18, Amazon
4. Flip your cat eye upside down.
Sometimes a proper cat eye can be hard if you have hooded eyes, especially if you also have one of those tricky eyelid creases or folds that gets in the way in the outer corner of your eye. Try doing an upside down cat eye instead.
In the picture below, I used a dark eye shadow and a small stiff brush to gently smudge a line from the inner corner of my eye, out past the outer corner, angling up towards the end of my eyebrow. (You could use liquid liner, but I find eye shadow or a pencil or gel eyeliner produces a softer, less harsh line.)
5. Don't be afraid to play with bold colors.
If you feel your eye makeup isn't standing out, it might be time for drastic measures. Try a bold color like electric blue or fuchsia. You can even use both colored mascara and eyeliner for a dramatic, cohesive look. I used Topshop Liner in Unparalleled and Maybelline Great Lash Mascara in I See Blue (a limited edition shade).
NYX Color Mascara in Purple, $7, Amazon
6. Blend above the crease.
This technique can make all the difference if you have hooded eyes. Ever put on a ton of eye shadow only to find it disappear as soon as you open your eyes? That's a common problem if you have hooded eyes, but it's easy to fix by simply extending the shadow's placement above your eyelid's crease towards the brow bone.
Observe: The picture below demonstrates how my sad my eye shadow (Trick from Urban Decay's Naked 3 Palette) looks when I restrict it to my eyelid.
But if I blend it upwards, halfway up my brow bone as seen below, it makes a huge difference (as in, you can actually see it now). This applies for both neutral shades and dramatic smokey eye looks.
7. Experiment (and Google J. Law).
The only way you'll know what works for you is by experimenting. Having decent quality products helps a lot too, but other than that it's all about practice and learning from mistakes. When you have spare time (so, not when you're rushing out the door for a date), try a variety of cat eye shapes and sizes, or see if extending your eye shadow out further from your eye helps.
Mastering eye makeup when you don't have much eyelid space isn't easy, but take solace in the fact that you're not alone. Jennifer Lawrence, Blake Lively, and Camilla Belle are just a few of the gorgeous celebrities who have hooded eyes, so you can borrow confidence (and makeup inspiration) from them.
Images: Kelly Dougher; Courtesy Brands