Corbin Bleu Goes From Disney Channel to Lifetime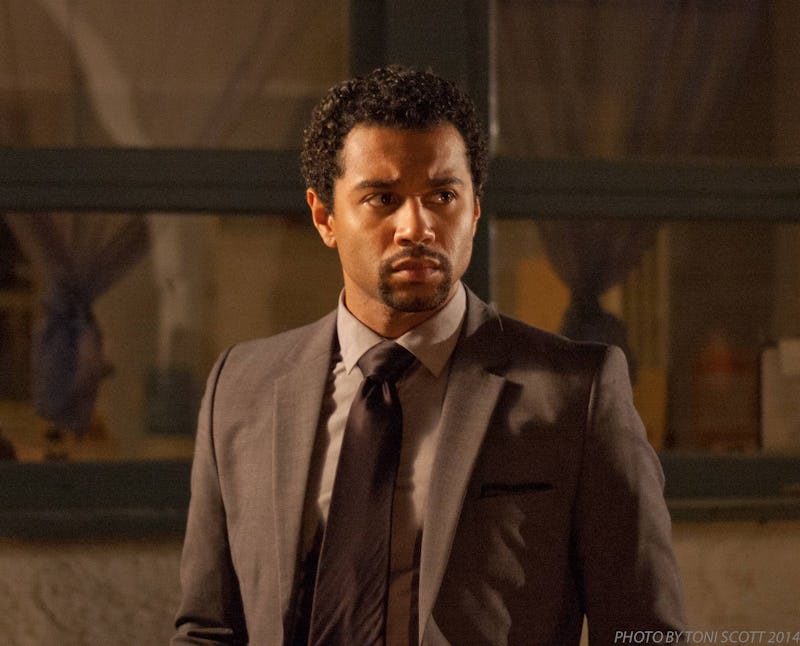 At the risk of sounding like every other nostalgic corner of the Internet, let me point out a startling fact: It's almost been 10 years since High School Musical premiered on Disney Channel. Can you believe it? The phenomenon introduced us to Zac Efron as Troy, Vanessa Hudgens as Gabriella, Ashley Tisdale as Sharpay, and a young actor named Corbin Bleu as High School Musical 's Chad. Bleu played Troy's best friend and teammate on the East High School basketball team. The gang graduated in the 2008 feature film High School Musical 3: Senior Year and Bleu's been pretty busy since then. He plays Marcus in the Lifetime TV movie Megachurch Murder , premiering Saturday, and has acted on Broadway, in several TV shows, and foxtrotted on Dancing With the Stars.
The 25-year-old Brooklyn native was born Corbin Bleu Rievers and started his career as a model for the Ford Modeling Agency in New York City, according to People's biography. As a child he appeared in commercials for companies such as Gap, Macy's, Target, and Toys R Us. In 1996, he and his family moved to Los Angeles, where he started getting lots of guest roles in TV shows, eventually leading to 2004's Catch That Kid and 2006's High School Musical.
These days, Bleu's all grown up, has shorter hair, and is engaged to actress Sasha Clements. Get familiarized with Bleu's work since High School Musical below, before watching Megachurch Murder on Lifetime on Saturday night.
Broadway
Famously in 2010, Bleu took over the lead role of Usnavi in the musical In the Heights, which was originated by Lin-Manuel Miranda, the show's music and lyrics writer. Those are big shoes to fill in the Bronx-set musical, but Bleu knocked it out of the park during his run as the main man in the barrio.
In 2012, he returned to Broadway to take on a starring role with even bigger shoes to fill — Jesus (yup) in the revival of Godspell, replacing Hunter Parrish at the Circle in the Square theater in New York City.
Dancing With the Stars
In the fall of 2013, Bleu made his dance-floor debut on the ABC competitive reality show and he finished as runner-up with pro partner Karina Smirnoff. It shouldn't be a surprise — not only is the actor a seasoned singer, but he was also one of the first students to study dance at the Debbie Allen Dance Academy.
"Once this is all over, regardless of the outcome, I now have a new skill under my belt," he wrote for People 's DWTS blog. "I can walk away from this saying I know all these ballroom styles. I've taken away a whole new group of friends. Everybody here has been a joy to work with. And I have Karina, who is definitely one of my new best friends. She's been incredible. I've learned a lot about myself throughout this whole process."
TV Appearances
Over the years, Bleu has had lots of guest roles in TV series, but since High School Musical, you may have caught him in Hannah Montana, The Good Wife, Franklin and Bash, Blue Bloods, Psych, and more. He was a series regular in the short-lived Mischa Barton-led CW models drama The Beautiful Life: TBL and the online revival of soap opera One Life To Live.
Image: Toni Scott/Lifetime