Malcolm-Jamal Warner Was Busy Before 'Megachurch'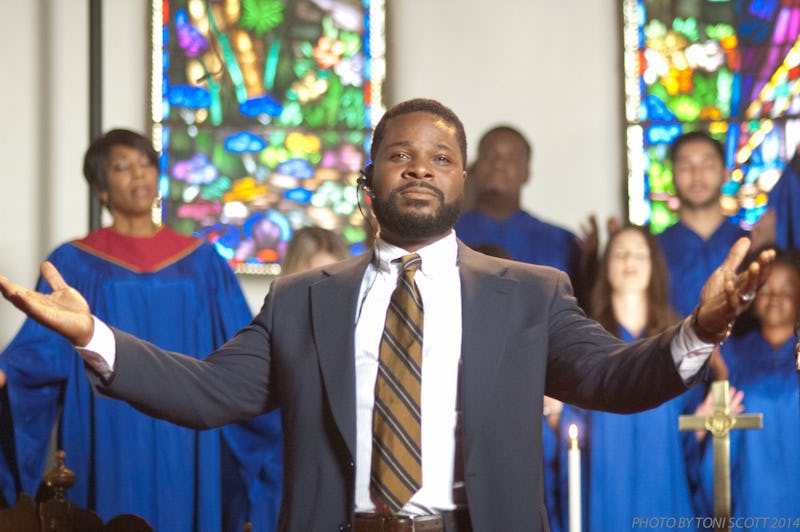 Though you may still remember him best from his role as Theo Huxtable on The Cosby Show , Malcolm-Jamal Warner has been involved in plenty of other projects since the series ended in 1992. Warner stars in a new Lifetime movie premiering Saturday night, Megachurch Murder, as Hamilton Spears, a charismatic pastor. Warner has also appeared plenty of hit TV series and movies — plus he's nominated for a Grammy right now.
Back in the '90s, Warner starred in the UPN sitcom Malcolm & Eddie along with comedian Eddie Griffin for four seasons. The duo played roommates and business partners who have very different personalities from each other. You may have also noticed Warner as a guest star in several TV shows, like as Shirley's ex-husband wearing a "Cosby sweater" on Community. He's also cropped up on HawthoRNe, Dexter, Touched By An Angel, Sliders, Listen Up!, Reed Between the Lines, The Cleaner, Key & Peele, The Michael J. Fox Show, and more.
But here are three of the biggest and most recent roles you'll know Warner from.
Grammy Nomination
That's right, Theo Huxtable is currently nominated for a Grammy in the Best R&B Performance category for the song "Jesus Children" with Robert Gasper. The tune is a re-imagining of a Stevie Wonder classic on the album Black Radio 2 and Warner has a spoken-word part on the song.
Warner plans on attending the Sunday night ceremony in Los Angeles and it'll be his first time at the awards show. "I'm excited about the song being nominated, and I'm excited that it gives a nice light on spoken word as well," he told Billboard. "I've been going to awards shows all my life. I tend not to go unless I'm working. This is nice to go because I'm up for something -- and it's cool since it's the Grammys."
American Horror Story: Freak Show
In one of the most highly anticipated seasons of the FX anthology series, Warner made a surprise guest appearance as Angus T. Jefferson for three episodes. He's a dapper paramour of Desiree Dupree (played by Angela Bassett) and he calls her "the most beautiful woman in the world." Aww. There's a certain revelation in the finale dealing with Desiree and Angus that I won't spoil, but it's worth the wait.
Sons of Anarchy
During the seventh and final season of the acclaimed drama series, Warner donned some biker gear and went by the name of "Sticky." This bad dude is the vice president of the Grim Bastards Motorcycle Club.
"I don't get a chance to play bad guys or guys like that very often," Warner told Variety. "It's been fun to be able to play this role."
Image: Toni Scott/Lifetime