'Megachurch Murder' Isn't That Far-Fetched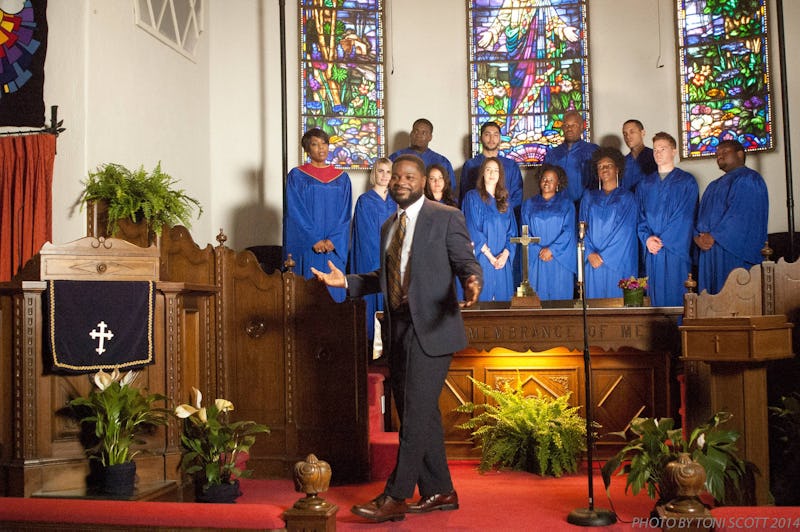 There's a certain image you get into your mind when you hear the term "megachurch" — stadiums filled with people, Sunday morning church on TV, and perhaps the omnipresent pastor Joel Osteen or T.D. Jakes. Lifetime is adding some more things to that list — murder, intrigue, and a drunken pastor's daughter — in a new TV movie called Megachurch Murder, premiering Saturday night. Charismatic Shaker Pointe pastor Hamilton Spears (played by Malcom-Jamal Warner) leads a seemingly perfect congregation, until tragedy strikes and his daughter Hannah (Shanica Knowles, who is Beyonce's cousin) uncovers a conspiracy that could expose family betrayal. So is the dramatic plot of Megachurch Murder based on a true story? If it sounds familiar, that's probably because the Lifetime movie is based on William Shakespeare's classic play Hamlet.
Hannah is indeed the Hamlet character and that makes the church Denmark. Clever, eh? The script was penned by screenwriter Kendall Clark, who worked for sitcom legend Norman Lear and teamed with old friend and procducer Sean Dwyer to make the film. "We based the story on Hamlet, but Kendall and I discussed what would comprise a kingdom now and came up with the church setting," Dwyer told the Laguna Beach Indy. "We felt that an African-American church would offer the greatest connection to America at large for us: there is the music, the passion, the diverse constituency."
Even though Megachurch Murder is based mostly on Shakespeare, that doesn't mean there haven't been similar megaproblems. Here are three murder cases that have taken place in very large and pronounced places of worship.
Rev. Dr. J. Frank Norris
In the 1920s, Norris led the country's first-ever megachurch at the First Baptist Church of Fort Worth, Texas. The reverend was a true showman, who regularly preached to his congregation of 10,000 about fundamental values. Then one hot July day, Norris allegedly shot an unarmed man named Dexter Elliott Chipps in his church office.
The reverend stood trial for the crime and was subsequently acquitted because no gun was found at the scene and Norris said that the man had attacked him, so Norris was acting in self-defense. The case is detailed in the book The Shooting Salvationist: J. Frank Norris and the Murder Trial that Captivated America by David R. Strokes.
Greg McDowell
In 2013, Floyd Palmer allegedly gunned down 39-year-old prayer group leader and volunteer Greg McDowell at the World Changers Church International outside Atlanta. Witnesses told CBS News that Palmer shot at McDowell as he was standing at the pulpit and continued shooting even as the victim collapsed. McDowell was shot a total of 12 times. He will face trial for felony murder charges, among others.
Pastor Zachery Tims, Jr.
One humid August day in 2011, Tims was found dead in his W Hotel room in New York City's Times Square. According to The Christian Post, the pastor of the 8,000-member, Orlando-based New Destiny Christian Center allegedly had a "white powdery substance" in his pocket. His mother Madeline asked that his cause of death be kept private, while Tims' widow Riva spoke to The Christian Post about his struggle with substance abuse. "I had no idea it was so much," she said. "I'll put it this way: It's one thing to have a struggle; it's another thing to have a lifestyle. When it's a struggle, there's grace. But when it's a lifestyle, there's no grace."
Images: Toni Scott/Lifetime; Getty Images