Shawn & Angela Are Finally Getting A Happy Ending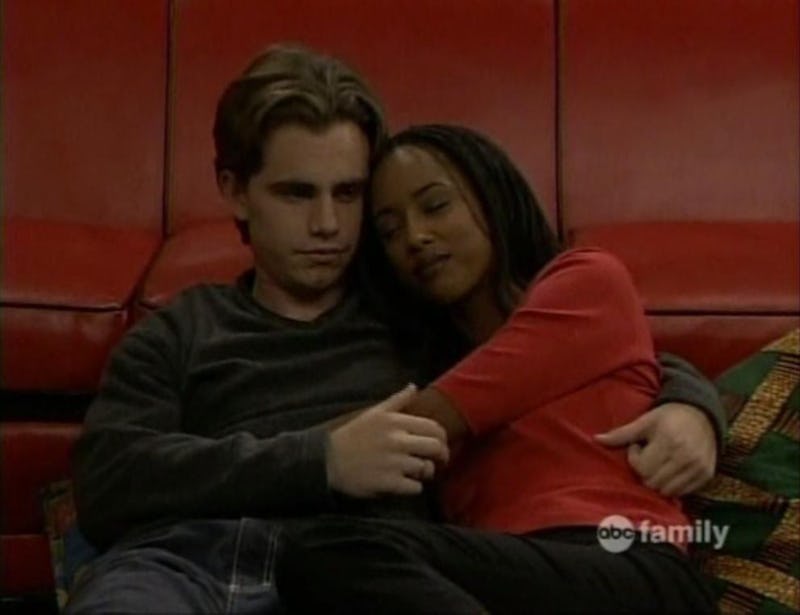 We all know that when it came to Boy Meets World, the couple that had the grand, enduring, star-crossed childhood romance story was Cory Matthews (Ben Savage) and Topanga Lawrence (Danielle Fisher). I mean, seriously, is there any ABC Family child of the '90s who didn't want a relationship like Cory and Topanga's? Well, yes, there were a few of those. And those few of us are the ones who were rooting for Shawn Hunter (Rider Strong) and Angela Moore (Trina McGee) to make it instead. (Spoiler Alert: They didn't.) Shawn and Angela met in their senior year of high school and, in the background of Cory and Topanga's highs and lows, they had a passionate, tumultuous, epic love story that would put Logan Echolls and Veronica Mars' to shame. And now Trina McGee is coming to Girl Meets World , along with Blake Clark a.k.a. Chet Hunter a.k.a. Shawn's deceased father. I'm crying, you guys.
Whether or not you're still a fan of Disney shows, you can't deny that many of us are tuning into Girl Meets World for all the nostalgia feels of seeing where our favorite Boy Meets World characters are now. From Stuart Minkus having a son named Farkle Minkus, who is best friends with Cory and Topanga's daughter Riley Matthews, to Shawn Hunter building a father-daughter relationship with Riley's real best friend Maya Hart that may yet be leading up to a romantic relationship with her mother Katy, Girl Meets World practically encourages you to break out the tissues even when the plots are taking too light-hearted an approach to serious issues or, worse, too heavy-handed an approach to those same issues. But Shawn and Angela. Shawn and Angela.
After seasons and seasons of watching Shawn play the field, kiss numerous girls, and have deep relationships that only lasted for an episode and paled in comparison to his relationship with Cory — and after seasons and seasons of watching Topanga only have other friends when they needed Cory to pine after her from across the room — it was nice to see Boy Meets World answer both problems with the character of Angela, an African-American woman who not only won Shawn's heart but also Topanga's friendship. The two women were so close that they were like family, and in addition to talking about their romantic woes with the ultra-close Shawn and Cory respectively, they also covered every topic from weight gain to their hopes for the future.
Like Shawn, Angela had been abandoned by her mother when she was younger in a move that left emotional scars to this day. Like Topanga, she was a practical breath of fresh air compared to Shawn and Cory's shenanigans. Like the entire cast, she could be kooky and wacky and still deliver a poignant lesson and performance at the end of the day. And, especially for me, Angela was an icon that I could look up to: an African-American woman on a children's TV show who was living the dream. She was attending college, she was dating my childhood TV crush, she had a hair game I could only hope to emulate, and she was a three-dimensional character not defined by her relationships with Shawn, Topanga, and Cory, but enhanced by them. And then she left.
In Girl Meets World, Angela makes her return in the episode "Girl Meets Hurricane" and, considering Shawn was ready to propose the last time they parted, there can be no doubt that it's not just Riley's life that Angela will be shaking up. Meanwhile Chet Hunter, who died in Boy Meets World Season 6, will probably be returning as some kind of spirit guide to help Shawn make a decision about Angela and about his own life — hopefully a decision that will result in both Rider Strong and Trina McGee signing on as series regulars in Girl Meets World Season 2. It's clear from how many Boy Meets World stars keep returning to the sequel series that this beloved show from our childhoods was beloved to them as well, and why would they turn down the chance to share those same lessons and that same love with the new generation?
Besides, Angela and Shawn never got the happy ending that Cory and Topanga did and, if you ask me, they both sincerely deserve it. Not just because the small child in me needs to see this couple work out after identifying with them, and with Angela, so strongly in my youth, but because if there's anyone in this world who has earned his happy ending then it is Shawn Patrick Hunter.
Image: ABC; Rebloggy; Giphy