'TVD' Season 5 Crash Course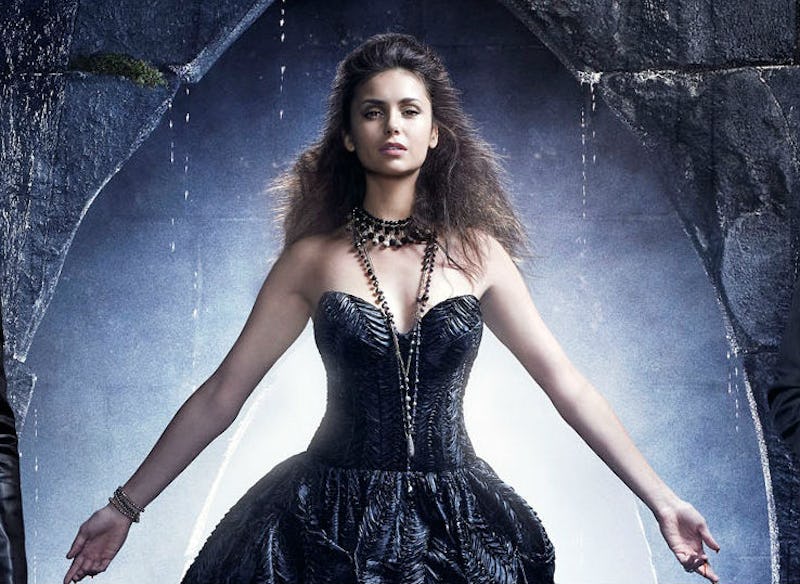 It's that time again: Mystic Falls is calling us back for the Season 5 premiere of The Vampire Diaries and oh boy, are things going to get bloody. And messy. And confusing. This could be a problem if your summer of fun has made your TVD memory a little fuzzy (hey, it happens to the best of us). Lucky for you, we remember what went down last season and we're here to give you a quick crash course. Just think of it as one of those "Previously, on The Vampire Diaries" rolls... but with GIFs.
As you may sort of remember, through the haze of beach blankets and the fading sunscreen smell in your tote bag, the last time we saw the TVD gang, Elena, Bonnie, Matt, Caroline, and Rebekah were graduating. In typical Vampire Diaries fashion, the occasion was anything but happy. Where most people's graduation days include money from grandparents, sore faces from smiling for approximately 1,000 family photos, and the sweet release of the grad night after party, these young ladies were faced with blood, violence, ghosts, bombs, and the ultimate vampire cure.
It's pretty complicated, but here's what you absolutely must know before watching the season premiere:
1. GRADUATION HAPPENED
Despite all the circumstances that threatened the happy day, Caroline and Elena will be moving from high school to college, which is funny because with all the vampire stuff going on, it's hard to remember they go to school at all.
2. JEREMY IS ALIVE
Bonnie's spell did save Jeremy after all, so he's, you know, around.
3. BONNIE, HOWEVER, IS NOT ALIVE
Bonnie died, but because Jeremy still has the ability to ghosts (an ability I wish he would just lose already), Bonnie's haunting the halls of the high school, hoping to continue bothering Jeremy for all eternity.
4. MATT AND REBEKAH FOREVER... UNTIL SUMMER'S OVER
At the end of last season, Rebekah saves Matt from being blown to smithereens by kissing him as a distraction while she pushed him off a bomb trigger. Then, they agree to spend their summer travelling together. Of course, we know that can't last because Claire Holt has a permanent residency in New Orleans now thanks to The Originals.
5. KLAUS LETS TYLER COME BACK
When Klaus returned to Mystic Falls to cheer on Caroline at graduation, he brought with him a very important present: He's decided not to banish Tyler from Mystic Falls. Tyler and Caroline can reunite.
6. BUT KLAUS KISSES CAROLINE AND MAKES HER QUESTION EVERYTHING
He gets the last laugh every time, that bastard. Klaus gives Caroline back her "first love" while claiming that he will be her "last love." And even though he's rudely moving to New Orleans, we're inclined to believe him.
7. STEFAN IS TRAPPED IN A VAULT IN THE RIVER
Funny thing happened when Stefan confronted the Season 4 tormentor and shape-shifter Silas: it turns out Silas' real form looks a lot like Stefan. That's right: double doppelgangers. This had better be good, writers.
8. THE CURE WENT TO...
...Katherine in a surprise twist. After the cure switched hands about a million times, Elena used it on Katherine just as the vampiress was about to rip out her heart.
8. ELENA REALLY, REALLY LOVES DAMON
After questioning their love all season, Elena finally tells Damon that she really, truly loves him. No sire bond. No brain-washing. Just pure, unadulterated vampire lovin'.
9. THE VAMPIRE DIARIES PREMIERES THURSDAY NIGHT AT 8. BRING SNACKS.
Seriously, snacks are important.
Images (GIFs): Fanpop (4), Tumblr (6)