This DIY Mineral Powder Surprisingly Works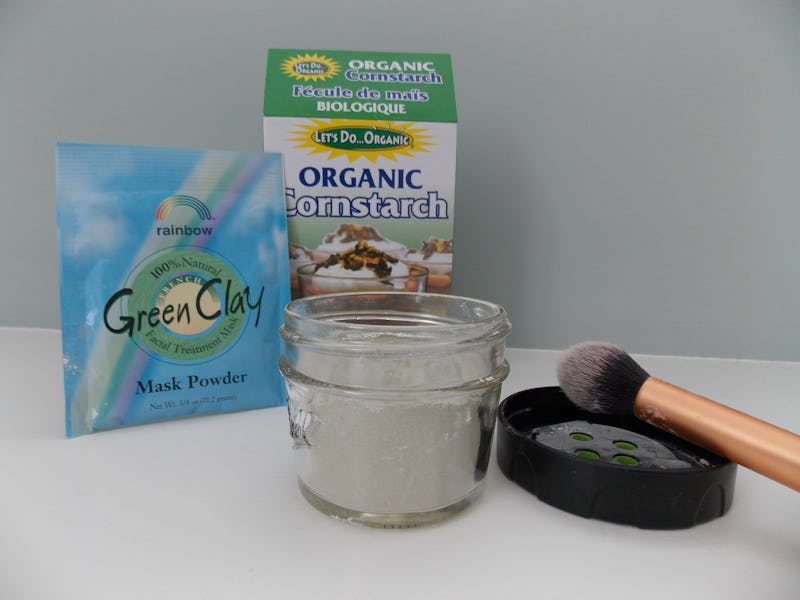 For me, makeup is a hobby. Whether I'm getting ready for a long day early in the morning, or glammed up for a night out on the town, I like to set aside at least an hour to sitting in front of a vanity and deciding what kind of face I want to apply. Albeit, at least 15 minutes of that hour is wasted dancing and singing into mascara bottles with the help of my getting ready playlist and a pair of speakers. Nevertheless, I like to apply makeup carefully and thoughtfully so I can enjoy messing around with my cosmetics and ultimately put my best face forward.
So, it probably comes as no surprise that I'm a little bit of a makeup junkie. While I admire people who limit themselves to a five-product beauty routine, sticking to the bare essentials, my mentality is "the more the better." My collection is not nearly as extensive as some professional makeup artists' or other fellow beauty junkies, but I do admit to occasionally splurging on the latest Urban Decay Naked palette or a cult classic MAC lip color. That being said, I'm a huge advocate of purchasing dupes in place of original products (I swear, sometimes the cheaper dupes are even better than the expensive, original products). Plus, I've been known to adore products from brands like E.L.F., NYX, and Rimmel that offer similar pigments and consistencies as NARS, Dior, and YSL at cheaper prices. I may be a junkie, but I do know the value of my dollar.
While I was feeding my makeup craving one afternoon on Pinterest, I found a recipe to make translucent powder via the blog/site Great Oak Circle. I questioned why it was on my feed, juxtaposed between photos of runway models and street style shots. Out of pure curiosity, I clicked on the link and then questioned my choice again when I saw that the blog post was from November of 2012. But I continued and read on, slowly but surely becoming intrigued by the idea that mixing French green clay with cornstarch would make a translucent powder. I read through the post again, and bookmarked the page, deciding I would try out the recipe. A voice inside me told me that nothing could be better than the Rimmel Stay Matte powder that I pay five bucks for every month, but another voice said that giving this recipe a shot might just surprise me.
Within a week, I ordered the ingredients and vowed to document my findings. As not to ruin the ending of this article, let's just say the results were quite surprising.
THE DIY PROCESS
Out of convenience (and, obviously, laziness), I ordered the ingredients online. Thanks to Amazon, I could order both the organic cornstarch and the French green clay from the same vendor for a total price under $10. I could have bought the full bottle of French green clay like the original recipe pictured, but my skepticism told me to order two small packets — which are actually individually used as face masks when mixed with water. The recipe says you can use any kind of jar to store the powder in, but I purchased a set of 4 Ball Dry Herb jars with caps, only because I figured a wider brim would make using the powder easier.
Once I had all my ingredients, I emptied the .75 ounce packet of French Green Clay into the jar and measured about the same amount of cornstarch on top. I mixed the two powders together and it took a good minute or two of mixing to really see the white powder of the cornstarch mix evenly with the green clay. The recipe also volunteers organic hot chocolate mix to create a tinted version of the powder, but because my olive skin tans so easily, I wanted my mix to stay translucent in the event that it would be the wrong color for me come summer. Then — for extra measure — I shook the jar around a bit to really mix the two together.
The process was easy enough: Mix together the same amount of the two ingredients and voila! I didn't expect for the powders to be as fine as they were, so there was a bit of a mess after combining the two. At first I definitely thought the powder would be too green on my face, but it seemed to be fine after a good swirl with my brush. After I had created a mess, I attempted to correctly apply the powder.
THE APPLICATION
I did my makeup like I would any other day, sans any kind of powder. I put on a dab of concealer and some blush, but besides that I did not apply any additional face products. After eyes and lips were done, I reached for my new green powder. I used my Real Techniques contour brush to apply it, but with great difficulty. Even though I barely touched the bristles of the brush to the powder, I knew it was too much. After tapping off the majority of what was there, I applied the powder to my T-zone, the oiliest place on my skin: Across my forehead, down my nose, and on my chin.
To my surprise, the loose powder didn't leave green streaks across my face, but blended easily and flawlessly over my concealer. Additionally, I could barely tell where I had applied it already because it effortlessly matched the tone of my own skin. Also, it did not look heavy and it felt like I was wearing no powder at all. Admittedly, I was so delighted that the pessimist in me grabbed a tissue paper and wiped my finger down my nose. When I wear my usual powder, it gives off a tint that usually ends up on the collars of my t-shirts. This powder didn't have any tint at all.
But remember, any kind of makeup looks great and is fabulous when you first apply it. The real test is in its longevity.
THE TEST OF LONGEVITY
Morning
I applied my makeup at 9 a.m. and went about my day, making sure to inspect the state of my powder throughout. In the morning, I attended classes and ran some errands around campus, but walked quite a lot. The weather was brisk and in the 40s, with a strong wind shield. My skin usually isn't as oily in the winter because of the colder temperatures. Although, I do tend to get shiny by the afternoon, no matter if I'm wearing a full face of foundation and layers of powder or even just a swipe of concealer. By the end of the morning, my face looked just as it did when I applied my makeup. You can imagine my delight! But the rest of the day was yet to come.
Afternoon
The afternoon was arguably the real, true test of this powder. If it lasts throughout classes, work, commuting, and lunch, it would be a keeper. The powder worked well early in the afternoon, and I didn't spot any oil or shine. But unfortunately, by around 3 p.m., I did see some oil around my nose, chin, and forehead area. While I had hoped this powder would be the powder of my dreams, leaving my face as matte as a marble sculpture, there was bound to be a time where it would eventually be defeated by my oily pores. That being said, the oil that did form wasn't as bad as it is usually, and I bet other people wouldn't notice that much — especially since I was inspecting my face with a maximizing hand mirror. I went about my day until I was getting ready for the night.
Evening
Because I started to get a little oily towards the end of the afternoon, I reapplied some powder to my T-zone so as not to look too shiny at night. Because I was attending my school's basketball game, I figured it would be best to touch up because I know how unforgiving bright, fluorescent lights can be. Once I had arrived at the stadium, I met with my friend who immediately complimented my skin. She said it looked clear and fresh. She is well aware of my troubles with oil, so this was extremely surprising and flattering. I told her about my natural powder experiment and she was impressed. At the end of the day, I inspected my skin in front of my vanity and was yet to be disappointed with how the powder looked. Besides the messiness of the application, and the fact that it could be problematic when applying on-the-go, I couldn't find one reason to really dislike it. Which is how I came to an overall conclusion on this homemade product.
CONCLUSIONS
To my surprise, this powder actually did what it claimed to do. While everyone's skin is a different tone and texture, I thought my super oily olive skin would for sure be the powder's enemy, when in actuality it worked better than most powders I have ever tried. I tend to have a slick face by the early afternoon, and carry around blotting sheets and powder everywhere I go. Admittedly the season is winter and the air is dryer than in warmer months, but this powder barely let any oil seep from my pores. The little that formed around my nose and on my chin was only later in the day, and normally I would touch up my powder by that time anyway. While it's easy for makeup brands to call powders translucent, they most often feel heavy and look cakey on your face. This powder did neither to me, and was completely invisible when blended in to the rest of my makeup.
Ultimately, I'm really glad I came across this Great Oak Circle recipe (which also features alternatives to the ingredients if you have any allergies). It also produces a whole ton of powder, even if you buy small packets of the ingredients like I did. No longer do I have to update my translucent powder every month; I'm almost positive this cornstarch and green clay concoction could last me the rest of the year. And even though it may not have the added power of SPF, the powder is made of completely natural and organic ingredients.
This powder might be my new Holy Grail product. While I'm sure there are other powders I might like just as much, if not even more, the overall benefits of this one outweigh any I've experienced with store-bought products. It's cheap, all natural, comes in bulk, is long-lasting, and truly translucent.
It's like the powder I've been waiting to meet my whole life — and I even made it myself.
Images: Author, Giphy