Wanna Get Your Lips On 'Shark Tank's The Lip Bar?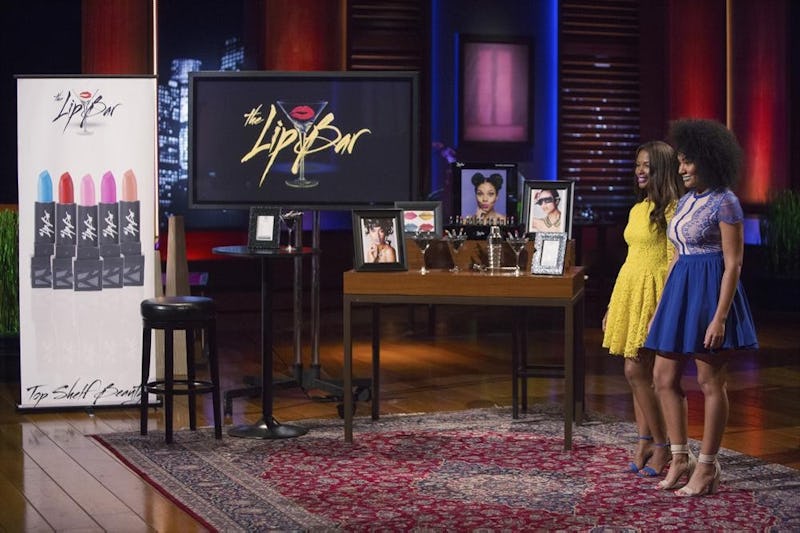 Female-targeted products don't always have the best luck on Shark Tank, which is disappointing, to say the least. But I'm hoping that The Lip Bar will change that on Shark Tank this week, when it appears during Friday night's episode. Representatives of the vibrant lipstick company will enter the Tank hoping to seal a sweet deal with the sharks. Unfortunately with Lori Greiner sitting in as the only female shark during the episode, The Lip Bar might have an uphill battle trying to convince the other sharks why a new product like this is needed in today's market. I don't think Mark Cuban cares whether the "Sweet Shiraz" or the "Purple Rain" shade goes better with his complexion.
But of course, you don't have to actually use or even personally care about a product to want to invest in it. As long as the sharks are seeing green during The Lip Bar's presentation, they'll be interested. Plus, they really are nice-looking lipsticks that I'm sure many women would die to get their lips on. Take a look at everything you need to know about The Lip Bar, and you too may want to give them a shot.
1. Pour These Onto Your Lips
Lip Bar Lipstick, $13, Amazon
As you might have been able to guess, everything about The Lip Bar is cocktail inspired. The "Bar Menu" includes shades like "Cosmo" and "Amaretto Sour," which are designed to look just as colorful as their namesakes. The cart in the product's web store is called a "Bar Tab." Just as a bartender makes your drink to order, The Lip Bar lipsticks are also handcrafted by founder and mixologist Melissa Butler in her very own kitchen. However, made with a mix of natural ingredients that includes Vitamin E, avocado oil, and shea butter, these lipsticks are probably healthier for you than anything you could get at your local watering hole.
2. You Can Order These Up Now & Even Make It A Double
Bar Menu, $11, The Lip Bar
Unlike regular bars, you can't visit The Lip Bar IRL. For that, you have to go online. The lipsticks are available for purchase through The Lip Bar's official website, Urban Outfitters' online store, and the NYLON Shop. Each online destination has different shades currently available. A tube of lipstick will set you back $20, and the Lip Liqueur costs $18, although it's only available for pre-order, shipping Feb. 13, 2015. Does that mean The Lip Bar did snag a Shark Tank investor after all?
3. From Banking To Mixing
She may be young, but as you can see, The Lip Bar founder and mixologist Melissa Butler has done a lot for the brand since launching it in 2011. For years, Butler, a Detroit native, was fed up with wearing cosmetics with chemicals and seeing women not embrace a bold lip color. She quit her job, moved back home, and started experimenting with making lipsticks in her kitchen until she perfected the formula, even though she didn't have a chemistry background at all. Butler is a former analyst at Barclays, in case you were wondering. It seems like it's been a good career move for her so far.
4. The Lip Bar May Soon Come to You
So selling lipstick is great and all, but in today's world where everyone and everything are competing for your attention, you have to do something different to stand out. Enter The Lip Bar Truck, a mobile cosmetic bar for people all over the nation to learn about The Lip Bar, try on a few shades, and hopefully buy a couple of sticks, too. Butler and her team launched an Indiegogo campaign in 2013 to raise money for the truck. Unfortunately, the campaign only raised about $13,500 of the $27,000 goal. Luckily, Bethenny Frankel gave The Lip Bar's dreams wheels again, because when Butler appeared on Bethenny to discuss The Lip Bar and pick up some tips to take the company to the next level, Skype donated $10,000 to get the The Lip Bar Truck rolling. Now if only actual bars came to you this way, life truly would be perfect.
5. The Lip Bar Has Sparked A Famous Fan
Purple Rain Lipstick, $17, Amazon
The Lip Bar may still be just getting off the ground, but it already has its celebrity admirers. Jordin Sparks has been seen in the "Purple Rain" shade a couple of times on Instagram.
Come to think of it, I wonder if Prince has any thoughts on this lipstick?
Images: Michael Desmond/ABC; declasse-type-bitch/Tumblr