Tina Cohen-Chang, You Are SO Annoying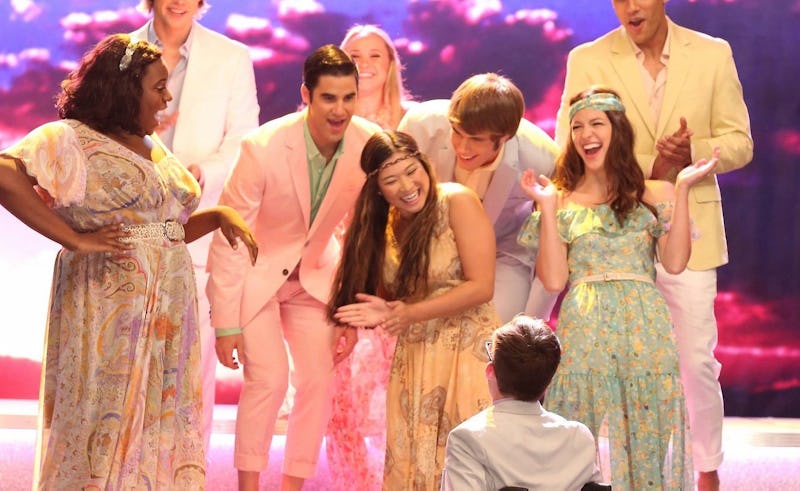 The second Beatle-mania episode of Glee 's fifth season aired tonight on FOX with the appropriate title, "Tina In The Sky With Diamonds," because, you guessed it, it was all about Tina Cohen-Chang (Jenna Ushkowitz) and her difficult life. It's prom week at McKinley High and Tina's been nominated for prom queen, resulting in a full-scale personality change that's even worse than Tina's normal "Pity Me" attitude. Glee keeps trying to give Tina relevant storylines that really just end up with Tina feeling sorry for herself, which we could feel bad about if she didn't turn into a blank-zilla every time.
This week, in the wake of her nomination, Tina tells Sam that she can't go to prom with him because she wouldn't win as his date (girl, you are so wrong) which is just too rude to even comment on. She then convinces (basically forces) Kitty, who's also been nominated for prom queen, to back her in the race because "it's her time" and Kitty is only a sophomore with plenty more opportunities left to win. Surprisingly, Kitty agrees, because she knows she's cool (duh, she's dating Artie) and she doesn't need being crowned prom queen to validate her (because duh, she's dating Artie). Kitty's fellow Cheerios aren't pleased with her throwing her voter-influence behind a glee-clubber instead of one of two other Cheerios nominated or campaigning for herself, so they start campaigning for her by pasting her face onto Olivia Munn's body on a poster. Tina throws a fit, Kitty has a realization that no one believes that she didn't betray Tina's trust because of her "habitual lying." Tina wins anyway and gets slushied Carrie-style after she accepts the crown. Really though, she deserved this.
The history of every annoying thing Tina has done has lead up to this moment. Even though it's mean and I wouldn't wanted that to happen to me at my prom, Tina had this coming.
Tina pretended to have a stutter to trick Artie into dating her because they had "something in common"...
And was offended when he dumped her because of it. She then started dating Mike Chang.
She decided to go goth...
To be different, basically.
She let herself have a crush on Blaine...
And then rubbed Vicks on his chest while he was sick and sleeping and she was crying. (Hello, he's gay and Kurt is his soul mate. Uncool, Tina Cohen-Chang.) She also got mad when he wouldn't turn straight for her.
She made this face every time someone else got a solo and she didn't...
ESPECIALLY when Mr. Schue invited Santana back to play Rizzo in Grease instead of asking her. And basically any time Rachel/Mercedes got a solo and she didn't.
So tonight she got massively slushied. She was super dramatic about it for about five minutes before her fellow New Directions cleaned her up and Kitty literally took her prom dress off of her back and gave it to her. Tina STILL didn't get a solo tonight (her celebratory rendition of "Revolution" got cut short by the bell, thank god), but until next time...
[Images (GIFs): Tumblr, Glee Wiki]