Help Choose A Name For This Little One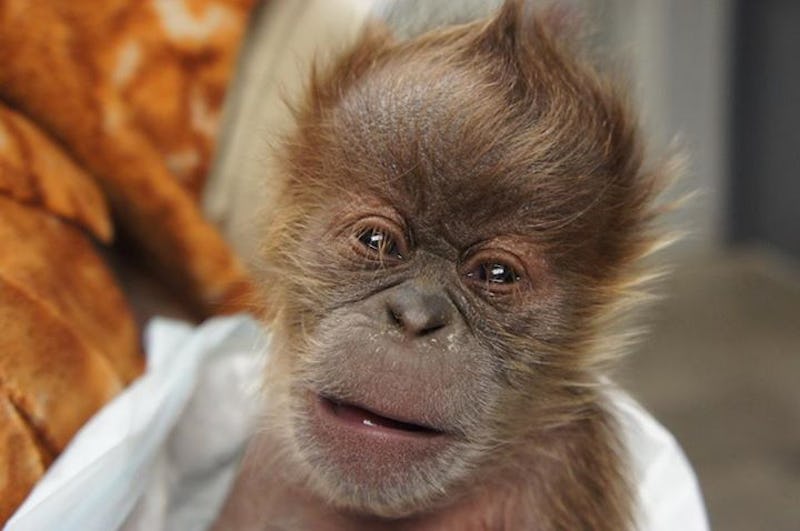 Baby naming ceremonies for humans can be pretty meh, but a baby naming ceremony for an orangutan? It's basically a community-wide party. Last month, the Como Zoo in St. Paul, Minnesota, welcomed its littlest, cutest, orangest addition — a female orangutan — who the zoo officially unveiled on Wednesday. Along with her public debut, there's now a public naming contest for Como Zoo's baby orangutan. She may be a little bundle of fur right now, but she clearly has big personality, and now voters are tasked with choosing a worthy name.
On January 7, the Como Park Zoo and Conservatory's 28-year-old Sumatran orangutan Markisa gave birth to her little girl at the University of Minnesota Veterinary Medical Center. After the planned C-section, both mother and daughter are healthy and bonding, along with father Jambu, comfortably at the zoo. But since Markisa's an orangutan, she needs a little help in the baby-naming department.
How fortuitous, because us humans jump at the opportunity to help name adorable little animals. Sometimes that responsibility can be abused (I'm looking at you, kids who named your pets things like Sassy Mittens or Mr. Poop), so the zoo is utilizing a democratic electoral process for naming their newest addition.
The Como Zoo launched an online voting contest and fundraising campaign with the goal of choosing a befitting name for that spunky little face above. Would you want to let that face down? The zoo certainly doesn't, so it's chosen three name choices that are worthy of the little ape. Each name means something significant, but only one can embody the spunky spirit of the newborn. The candidates are:
Aanjay (pronounced "on-jay"), which means "unconquerable"
Cinta (pronounced "chin-tah"), which means "love"
Kemala, which means "magic stone"
Voting will be tough, because these are all good choices. This baby orangutan is clearly all the traits referenced by the names: unconquerable, loveable, and magical. It's too bad there isn't a name that encompasses all three.
If you want to participate in naming this sleepy little baby, just enter a donation amount (proceeds go toward Como Friends, a nonprofit organization that helps support and enhance the Como Zoo), type in your name choice, and submit. The name backed by the highest donation amount will be the winner. Voters can submit their choices through February 16, when the winning name will be announced.
Just look at mommy and baby there and try not to melt into a puddle of warm feelings and happy thoughts. If you're interested in voting, consider which name would go best with mom Markisa and dad Jambu to complete the family. If you're not interested in voting, then look at this face and perhaps reconsider.
By voting and donating, you'll be contributing to building a better life for her and her family. And who wouldn't want the best for this little bundle of joy?
Images: Como Park Zoo & Conservatory/Facebook