Are These Really The Most Romantic U.S. Cities?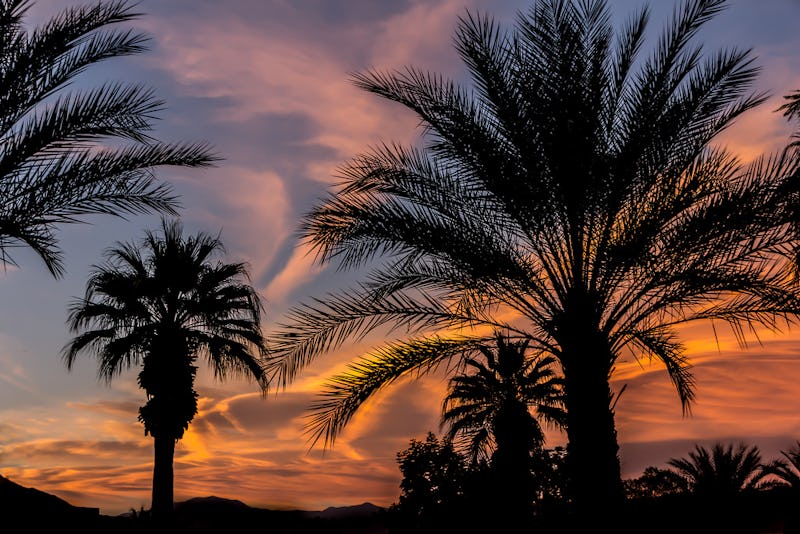 If you're dining out for Valentine's Day but haven't made your reservations yet, good news: OpenTable can point you in the right direction. In preparation for the most heart-strewn day of the year, it's released its ranking of the 25 Most Romantic Cities in America. And you know what? They're actually pretty surprising. Seriously, you guys — I did not see most of these results coming.
Now, granted, it's true that I haven't been to a lot of these locations; as such, maybe I should be reserving my judgment a little more. Still, though, the reason I find them all so surprising is the fact that very few of them seem to have a reputation for their romantic atmosphere. Be that as it may, though, OpenTable's users have spoken: These places are the winners. For the curious, the OpenTable Most Romantic Cities Index was calculated using three variables: The percentage of restaurants rated "romantic" by OpenTable user reviews; the percentage of tables seated for two; and the percentage of people who dined out for Valentine's Day last year. Perhaps this ranking might more accurately be referred to as "The 25 Top Cities with the Most Romantic Dining Experiences," but whatever. Do with that what you will.
Perhaps the most surprising thing to me was the place that took the top slot. I don't really know how to lead you into it gently, so I'll just go out and say it: It's Atlantic City. That's right. A city in New Jersey won the award for being the most romantic city in the entirety of the United States. As someone who resides here, I'll admit that Jersey isn't nearly as bad as it's often made out to be; like all places, it's got its good points and its bad ones. But Atlantic City? Seriously? I live near AC. It can be fun…but I think calling it "romantic" is a bit of a stretch. It might have been once, especially back in its heyday as a resort town; it's been on the decline for a while, though — and besides, there isn't really much to do there but gamble now. Maybe it's just me, but I don't find tossing away large amounts of money — or even moderate amounts of money — particularly romantic.
Again, though, maybe that's just me. Check out the top 10 below, and head on over to OpenTable for the full list of all 25 most romantic cities.
1. Atlantic City, NJ
I've already been over what I think about this, but that's not to say that AC is the worst place ever; far from it. It's an interesting place to people-watch, and there are some pretty tasty restaurants there. The Daily Dot felt pretty much the same way about AC as the winner as I did, but they also included a rundown of some of the best places to eat — head on over there to check it out.
2. San Antonio, TX
Obviously the big draw for San Antonio is the Alamo, but the food? That's also worth going for. The River Walk not only connects a lot of the major tourist destinations, but moreover, it's lined with amazing restaurants. Yum.
3. Providence, RI
When I was a kid, I mostly knew Providence as the nearest big city to where the Pawtucket Red Sox played. It's a surprisingly cultural and historic place, though; I'd go for the theatre alone (hi there, Trinity Rep!), but there's something for everyone there. Talk about a good date location mecca.
4. Key West, FL
Into good writing? Both Hemmingway and Tennessee Williams had houses in Key West. Also there's a haunted doll down there. Tread carefully.
5. Birmingham, AL
A lot of Southern cities made their way onto the list (there are a whole bunch more when you look at the full 25), so perhaps it's not surprising that Birmingham did, too. Me? I'd visit for the history, but according to OpenTable's user database, there are a lot of great places to eat there, too.
6. Louisville, KY
Kentucky Derby! Kentucky Derby! Kentucky Derby!
7. Newport, RI
I've got a lot of friends who swear that Newport is the best. I've not been myself; apparently it's a lovely little seaside town, though. Check out the Newport Mansions.
8. Palm Springs, CA
I've never been to Palm Springs, but people tell me the spas are to die for. Sounds like a terrific place to kick back.
9. Austin, TX
I'm actually tickled to find Austin on this list. You know the saying "Keep Austin weird?" It's accurate: Austin is a wacky and unique place. If you're looking for some offbeat romance, this is definitely the place the go.
10. Lahaina, HI
Lahaina is on Maui; it's one of the most luxurious of the Hawaiian islands, although in recent years there have also been concerns of overdevelopment. It's terrific for water sports, though, so knock yourself out if you're into that. Me? I'd actually suggest visiting the Big Island instead — it's less populated, but still with loads to do (volcanos, water sports, spas, whatever).
Images: tburling, Robert S. Donovan, Mark Pouley, Jim Nix Nomadic Pursuits, 808armada/Flickr; Getty Images (5)