'New Girl's Is Losing a Loftmate After Season 4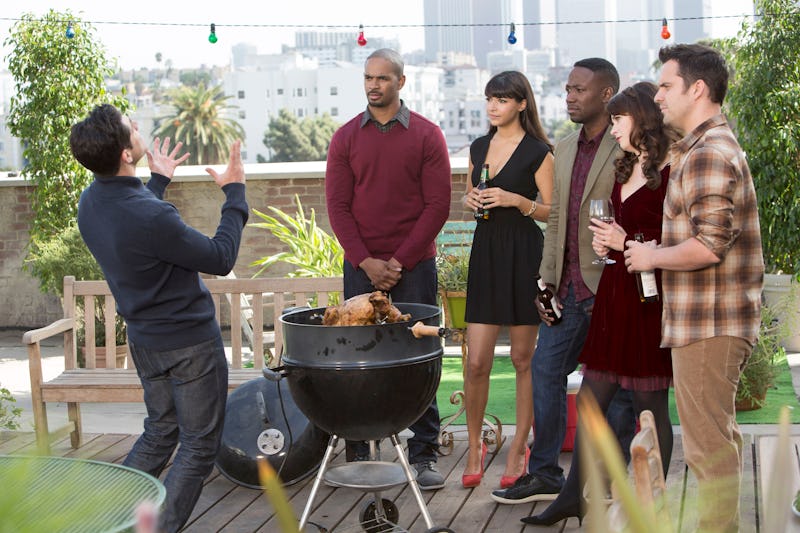 I might as well just come right out and say it — Damon Wayans Jr., who plays Coach, is leaving New Girl at the end of Season 4, which means are beloved loftmates will be down a number next year. TVLine exclusively reported this rather depressing bit of news, stating that it was the actor's decision to leave the FOX comedy. (If you recall, Wayans first left New Girl after the pilot to star in ABC's Happy Endings and returned shortly upon its cancelation.) But fans can take comfort in knowing that there's absolutely no bad blood between either party. "I'm so grateful to have had the opportunity to come back to New Girl in Season 3 to reprise the role of Coach," Wayans told the site in a statement. "Working with this incredibly talented and funny cast and crew has been one of the best experiences of my career."
However, that's not to say that Coach won't still be popping up on the series still from time to time. In fact, executive producer Liz Meriwether assured viewers that she's are currently working on an exit strategy for the character "that will leave the door open for many more returns." So, in a way, it's not a total goodbye. But it'll still serve as a pretty big loss nonetheless. Which is why, in honor of this beloved cast member's departure, I've decided to list some of the many, many reasons we'll definitely miss Coach's dynamic presence on the show.
He Has Some Killer Dance Moves
Seriously, get this guy out onto the dance floor and he will bust some legit hardcore moves. No one will be able to compete with that.
He Cares About His Friends' Health
Remember how he attempted to change Nick's very poor eating habits by repeatedly knocking dumplings out of his hands? Not only was it downright hilarious, but it showed just how much he cares about his friends' well-being. That's real love right there, folks.
Deep Down He's a Real Softy
Sure, he may act all tough on the outside most of the time, but no one has a bigger heart than Coach. He's always there for the people he loves and cares more than they'll ever know (even though he'll never admit it).
His Charm Knows No Bounds
I mean, just look at that smile. No one he got hired to be on this show… twice!
His Bromances Are Legendary
Can you imagine what this goodbye is going to be like? I'm tearing up just thinking about it.
Did I Mention the Whole Dancing Thing?
Because it's pretty important. We love you, Coach! Never change.
Images: Nicole Wilder-Shattuck/FOX; Giphy (4); prettybutt/Tumblr; newgirl-all-day-son/Tumblr