Barneys and Bruce Weber Break Down Ageism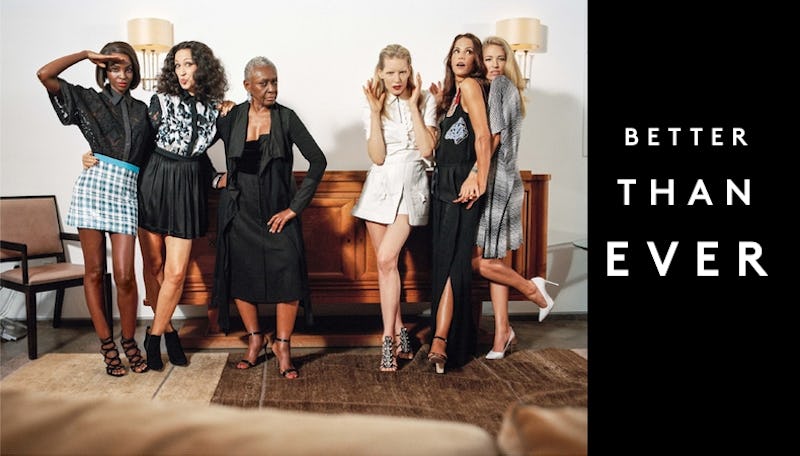 Our culture is not kind to aging. A shot for a wrinkle, a cream for a sag, a hue for a gray. And in the modeling world especially, the prime years seem to be before these men and women hit 20 years old. Pass 25, and you're a goner. But 2015 is evidently a year of change. From Joan Didion for Céline, to Joni Mitchell for Saint Laurent, it's clear that we're beginning to embrace the power that comes with age.
Enter Barneys and Bruce Weber's 2015 campaign that features fashion's most iconic faces of ages 30-60, from Brooke Shields, To Christie Brinkley, to Stephanie Seymour in a mansion in Miami. The fun and flirty campaign features the ten women amidst a sea of men, in uniforms raging from a cop, kick boxer and yes, a birthday suit.
This campaign, titled "Better Than Ever," is made up of a series of collaborations between Barneys and Weber, who aim to "break the mold of traditional fashion photography, highlighting a diversity of age, background, and ethnicity," according to the campaign's website. And this is not new to the duo—they previously photographed a group of transgender men and women for their Brothers, Sisters, Sons & Daughters campaign.
The playful nature of this campaign shows that age brings forth a playful attitude for life and that confidence is the true key to beauty. Barneys Creative Director Dennis Freeman said, "Never, in a million years, has a 20-year-old model walked into a room and had the same affect these women do."
If I were ever invited to a girl's getaway to Miami, I would definitely call up these women to join me. Blow up zebras and boxing gloves included.
Images: TheWindow