Proof The 'Parks and Rec' Cast Is The Best On TV
The unthinkable will soon take place: By the end of February, Parks and Recreation's finale will air, and the beloved show will leave all of our lives forever. Luckily for us, this final season's been all types of amazing — and it's not like they're not going out in style. Because following the final episode of Parks and Recreation , there will be a very special episode of Late Night With Seth Meyers: Specifically, one which will feature the entirety of the main cast gathered to say goodbye to the show with us.
Are you ready to laugh? Are you ready to cry? Because, honestly, I have a feeling we'll be doing a lot of both that night.
According to NBC's press release on the night, the cast saying goodbye after the final Parks and Rec episode will be: Amy Poehler, Aziz Ansari, Nick Offerman, Aubrey Plaza, Chris Pratt, Adam Scott, Jim O'Heir, Retta and executive producer/co-creator Michael Schur — so, literally, the whole gang. The final episode, as well as that episode of Late Night airs Tuesday, Feb. 24, which is way too soon.
Though it'll be exciting to see the cast of this show all together one last time, it'll certainly be a bittersweet experience as well — especially considering there's a lot to miss about these characters when they ultimately leave us, including but not limited to:
Leslie Knope's Laugh
OK, technically this laugh is attached to Amy Poehler and will presumably be going with her. Still, Leslie has a very special type of delight embedded in her that I will always treasure.
April's Misanthropy
On the flip-side of Leslie's energy. Sometimes we'd all just rather bury our frustrations with the human race in booze and cuddle up with a dog, April. We're with you on that, people can be terrible.
Ron's Code For Living
He's Parks and Rec's own Ernest Hemingway.
The Soft Spots the More Prickly Characters Have For Their Friends
Ron and April aren't fooling anybody: They love their Parks Department crew almost as much as Leslie does.
Chris Pratt's Prattfalls
His name makes his inclination towards physical comedy all the sweeter. I'm sure Marvel will give him the chance to do a whole lot with his talents, but I'm gonna miss seeing them tied up in the doofy greatness that is Andy Dwyer.
Donna Meagle's Baller Spirit
Is there any Parks character more elusively epic than Donna Meagle? I'm pretty sure half the A-listers in Hollywood are in love with her, an entire Pink Floyd album was inspired by her, and I'd looove a chance to chill in the hot tub at her Seattle condo sometime. This is a woman who truly knows how to treat herself.
Ben Wyatt's Geekiness
It is a travesty that we won't get to hear what Ben Wyatt thinks about the actual Game Of Thrones ending — no matter what that turns out to be.
Garry/Jerry/Larry/Terry's Fantabulous Home Life
The only thing that can balance being so under-appreciated in your work life is to be married to Christie Brinkley in your home life. And the baffled looks on your co-workers' faces every time they witness it.
Tom's Flair For Naming Things
He's always had big dreams, and we've seen him achieve some of them. I'll always keep his weird names for everyday things close to my heart. DJ Roomba, too.
Most of all, though....
I'll miss how much they love each other.
Remember when Chris Pratt and Aubrey Plaza both teared up while talking about saying goodbye to each other? Yeah, I'm still crying about it, and will be well past Feb. 24.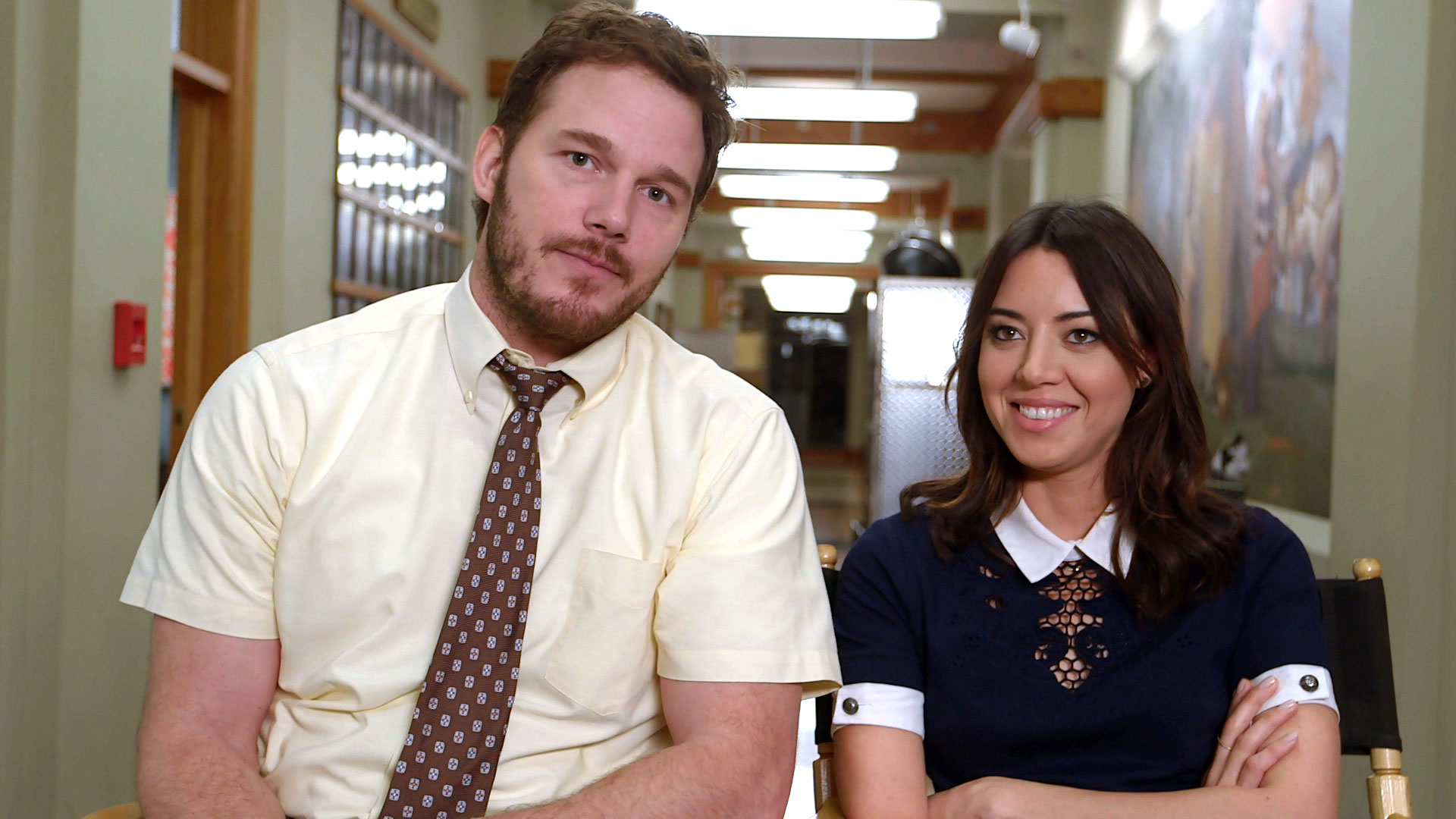 Yep, crying.
Images: jimharprs/Tumblr, annalikesthings/Tumblr, niallydia/Tumblr