Wait, Is 'Happy Endings' Coming Back To ABC?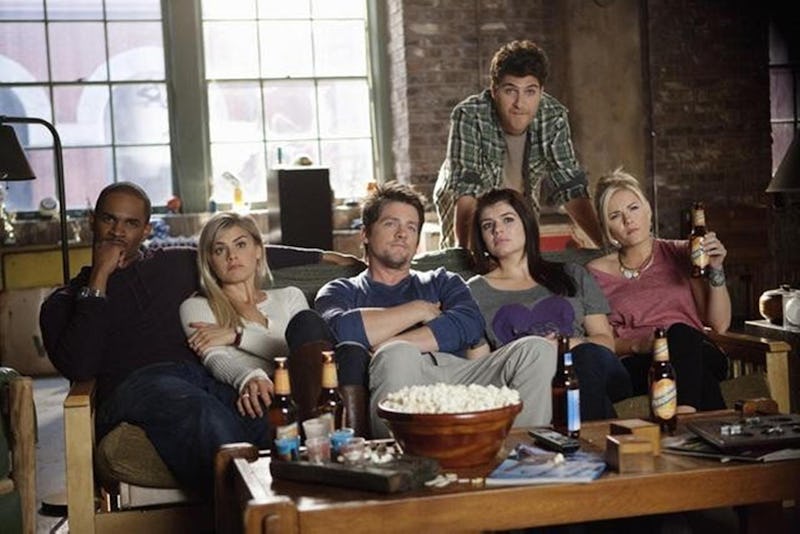 Do dreams really come true? Is it possible that the stars could align to create something so much more perfect and beautiful than anyone ever imagined? Do you believe in fate!? Anything is possible and maybe unicorns are real because something truly magical could be afoot: Is Happy Endings coming back?
It may seem unlikely after the show was unceremoniously axed in 2013, but, these hints are too insane to ignore: On Friday, after months of inactivity, the official Twitter account for the Happy Endings writers posted an impossibly cryptic tweet. The tweet itself is a link to a live countdown to something, but what? Could it be? Could the impossible perhaps be within our reach? Are the writers counting down to the return of Happy Endings
Though the question purely speculative at this point and there are really no hints apart from the tweet (and the @happywrites account's subsequent retweets of fans absolutely freaking out over the cryptic countdown) there's a small, tiny reason to believe that the answer is a definitive maybe and that THIS IS WONDERFUL NEWS.
So, let's investigate the facts.
After three seasons on ABC, Happy Endings was cancelled back in 2013, reportedly due to the show's low ratings and network concerns that the show just wasn't working for ABC's target audience. Early on, there was hope that the series might get picked up by another network, and a surprising network campaign to "save" the show, but time ran out. It appeared the show was gone for good, and the cast moved on to other projects: Eliza Coupe booked a role on Benched, Adam Pally started appearing on The Mindy Project, and Casey Wilson moved to Marry Me. Meanwhile, New Girl snatched up Damon Wayans Jr, Elisha Cuthbert nabbed a spot on NBC's new lesbian comedy One Big Happy, and Zachary Knighton has appeared on Parenthood, It's Always Sunny in Philadelphia, Wilfred, and Weird Loners.
But now, Here's the thing: Wayans is leaving New Girl. Pally is leaving The Mindy Project . Benched is cancelled, Marry Me might be next, and as much as the idea of an Ellen DeGeneres-produced lesbian comedy warms my lesbian heart, One Big Happy may not make it (but then again it might!) Wayans is reportedly shopping around for potential projects, and Knighton might be tied down with Weird Loners, but guys... the rest of the cast could be available for a potential return to Happy Endings.
PLEASE PLEASE PLEASE be available for a return to Happy Endings if that is what is indeed happening here! I don't care what it takes because THIS JUST NEEDS TO HAPPEN.