Good News For Burrito Lovers Everywhere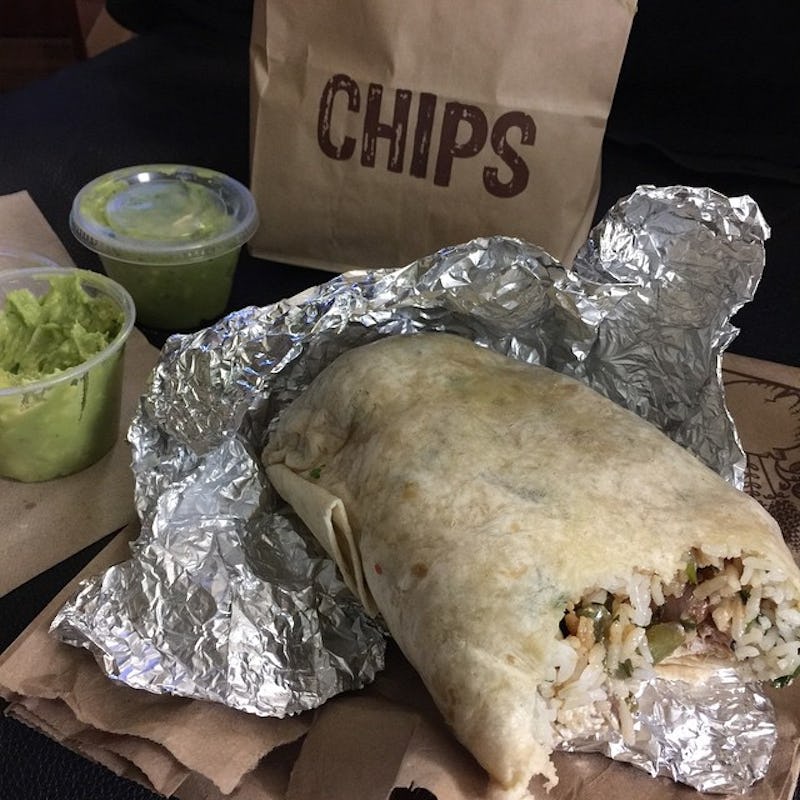 Good news, folks, your burrito-loving prayers have been answered. It was awesomely announced earlier this week that Chipotle is looking to open more than 4,000 locations that are significantly smaller in size than their current restaurants, and will offer takeout-only menu options, Quartz reports. Which is great news for basically everyone, because more Chipotle equals more general happiness, and that is something I think everyone can get behind, no?
These mini Chipotles will require less investment upfront and will still accommodate the growing demand for takeout that many of the chain's American customers are seeking. Currently, a typical Chipotle restaurant with a seating area and the whole shebang costs $800,000 to build, so this will make it easier for the beloved burrito chain to add more restaurants in high-traffic locations, as well as smaller yet-to-be-Chipotle'd neighborhoods that haven't been given the chance to become as obsessed as the rest of us.
According to Quartz, during Chipotle's July 2014 earnings call, co-CEO Montgomery Moran described the plan as follows:
"We're looking at some sites right now in the United States as well where these stores will be really, really, really small and where we would have very, very little ceiling… There are a number of reasons why we think that that is a good idea, one of which is that where as we used to be a mostly a dining restaurant 14 years ago, and I'd say about eight years ago, we were 50/50 dining and take-out. Now we're about two-thirds takeout."
Ah, a food chain executive after our own hearts. I mean, this statement could not be more on the nose. How often are you grabbing your burrito with a side of guac and chips and taking a seat inside the restaurant, anyway? It's not even really a restaurant. It's a cafeteria setup, much like Subway, and sometimes even eating in your car is more fun than actually dining inside the establishment.
The bottom line here is that the world needs more Chipotle, and it seems the company has found a brilliant way to deliver on that, and sooth our salsa-filled souls in the process.
Image: joedphotography/Instagram; Mike Mozart/Flickr; Giphy